[Another way to get immersed in mediated experiences, from PlayStation.Blog, where you'll find many more pictures and a 2:31 minute video (note: the creators didn't take John Oliver's pledge!) –Matthew]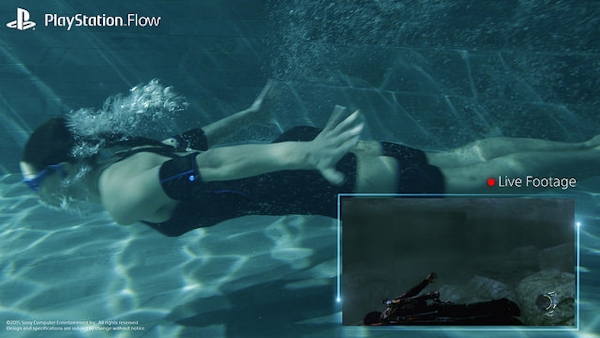 Introducing PlayStation Flow
A watershed moment in wearable tech
By Ariel Ingannare, Wearable Tech Manager
Posted 1 April
At PlayStation we've always been dedicated to bringing gamers immersive experiences. From innovative features like Remote Play and Share Play to the endless possibilities of the upcoming Project Morpheus, PS4 is continually creating new ways to play.
Here at the PlayStation Wearable Entertainment Technology (P-WET) group we are ready to add to that list of innovations, as we announce the latest breakthrough in fully-immersive gaming – PlayStation Flow.
PlayStation Flow combines PS4 gaming with real-life swimming. When you get to an underwater section of a game like The Last of Us Remastered you can hit pause, head to your nearest pool, dive in and resume playing through PlayStation Flow. With underwater environments in games becoming more and more realistic, we think that PlayStation Flow provides a natural enhancement to player experience.
The system consists of four PlayStation Flow Sensors, constructed using the latest composite fabrics. They attach comfortably to your biceps and thighs and track your swimming, sending real-time updates of body movements back to your PS4 via Remote Play.
The PlayStation Flow Goggles stream game data from your PS4 via Bluetooth and display gameplay once activated poolside. Our PlayStation Waterproof Earphones deliver stunning sound even underwater to complete the immersion.
We know that players want to get back to the action as soon as possible, so we're also proud to introduce the PlayStation Flow Body Dryer – the perfect accompaniment to PlayStation Flow. It uses ionizing technology to dry you within seconds.
For a deeper understanding of how it all works check out the video, and stay tuned for more information from the PlayStation Wearable Entertainment Technology group.
With Project Morpheus and more on the way it's a very exciting time for PlayStation innovation. Watch this space for more immersive experiences as we continue to push the boundaries of play.