[From Gizmodo Australia, where the story includes more images and a 0:41 minute video; coverage in the International Business Times notes that Samsung is also discussing partnerships with other airlines and with train operators]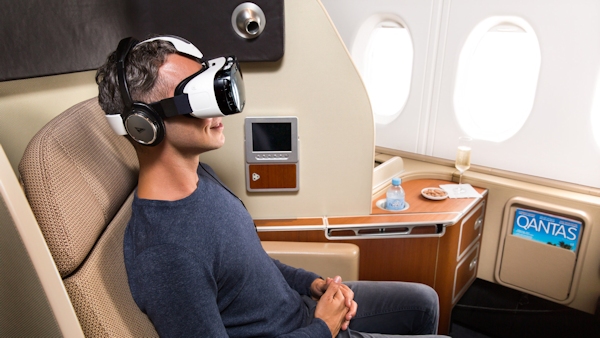 Qantas To Use Samsung's Gear VR For First-Class In-Flight Entertainment
Campbell Simpson
January 29, 2015
If you're lucky enough to fly in first class, your pointy end long-haul flight is about to get even fancier. Qantas is going to be using the Samsung Gear VR, and the accompanying Galaxy Note 4, for in-flight entertainment for its first-class customers.
Starting out as a pilot program on Qantas' LA to Sydney and Melbourne to LA flights, where the Aussie carrier uses both Airbus A380s and Boeing 747s, the Samsung Gear VR will be offered to first-class passengers to enjoy Qantas-created 360-degree videos and other content. Around a dozen Gear VR headsets and Galaxy Note 4 handsets are being used for the initial partnership — four on the outbound flight, four on the inbound flight, and two each for Qantas' Sydney and Melbourne first-class passenger lounges.
Only the A380 flights will be equipped with the headsets. The Gear VR will be used with a Qantas app on the Note 4, showing immersive videos created by Qantas to show off the airline and Australia — including a 360-degree look at the Qantas first-class lounge in LAX, runway-side videos of A380s landing and taking off, and a virtual reality boat ride down a Northern Territory river in Kakadu co-shot with Tourism NT and video production company Jaunt.
The Samsung Gear VR definitely has real-world applications for flying — paired with some noise cancelling headphones, it has the potential to entirely block out the outside world and distract you with a movie or interactive curio. It already has one unknowing, glowing testimonial from a Reddit user stranded on the tarmac in Abu Dhabi for 15 hours, who passed the time by watching the Gear VR and eventually fell asleep with it still on his head.
In the air, Qantas and Samsung expect the passengers to use Gear VR for short stints rather than for the entire length of the plane journey — at launch the content is relatively basic, for one, but it's also not feasible to wear the headset for such a long period of time. Because of that, the relatively small number of headsets per plane won't be a restriction, even if the A380′s 14 first-class seats are all occupied. It's the novelty of the experience that's the real drawcard, of course.
Qantas marketing chief Olivia Wirth says it's a "unique" experience, and one that its airline competitors have no equivalent to. Samsung is apparently a "natural partner" for Qantas in this area, and the Gear VR is itself a unique product in the world of smartphones. Not convinced? Qantas is pretty sure of itself: "Once you've experienced it, you'll appreciate it." All you have to do is book a first-class ticket on one of the eligible flights. (Easy, right? They run for about $20,000 return.)
The Gear VR officially launches in Australia next month for $249, although it's had a bit of a difficult birth. The trial will run for three months from mid-March, with Qantas lounge staff and first-class cabin crew trained up on how to operate the Gear VRs and instruct customers how to use them. More content will be added over time as the Gear VR matures and as both Samsung and Qantas evaluate how it's used onboard and in lounges. There's a lot of potential for the Gear VR's virtual reality video — imagine an interactive guide on how to navigate the terminal you're landing at and make your connecting flight.
Samsung Australia marketing boss Arno Lenoir says it's a serious partnership, too, not just a fleeting one-off thing; the two companies will be working with each other more in the future. There's no word as to whether Samsung will dip its toes into the more serious in-flight entertainment hardware space currently ruled by Panasonic, but time will tell. [Qantas]