[From BBC News, where the story includes more pictures and a 1:09 minute video of the Podrift being set up and tested; for more information see the Podrift web site]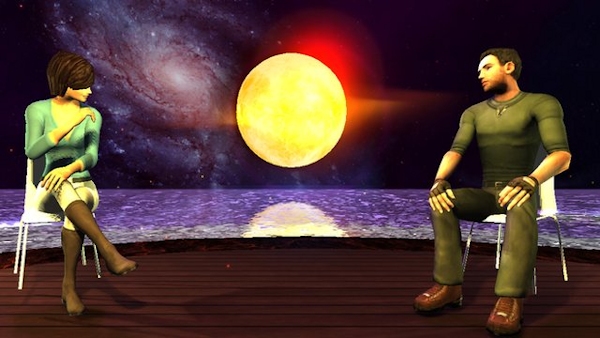 Podrift: Is podcasting ripe for virtual reality?
By Dougal Shaw Technology reporter
20 October 2014
The key to podcasting's success is, arguably, its simplicity. A new technology called Podrift wants to revolutionise the genre by giving it the virtual reality treatment – but is it just a gimmick?
Imagine if instead of just listening to the Ricky Gervais Show podcast, you could step into a virtual 3D world created by the hit show's hosts?
You could walk around that world while listening to the musings of Stephen Merchant and Karl Pilkington.
You could crouch next to Gervais as he quizzed Pilkington. Stare up his nostrils. Sit on his lap.
Well that's the kind of experience that Podrift wants to offer – using avatars, virtual reality headsets, and depth-sensing cameras.
The name Podrift is an amalgamation of Podcast and virtual reality system Oculus Rift.
Oculus was recently bought by Facebook and has also collaborated with Samsung, allowing its Galaxy Note 4 smartphone to become part of a virtual reality headset.
The team behind Podrift believes it has created a new kind of medium that combines the intimacy of the podcast, with the immersive qualities of virtual reality, and that it has the potential to become a popular, new form of entertainment.
How it works
Podrift's project lead Leonard Burton demonstrated the technology for the first time at a recent event in London, hosted by VR specialists Inition.
"There are two presenters within a virtual space, where viewers can enter," he says.
Each one is fitted with an Oculus Rift headset, he explains, so they can see each other in the virtual environment.
Their real-life movements are tracked with depth-sensing Kinect cameras, so their movements are replicated in the virtual space.
The real-life presenters could be in the same room, or in different parts of the world – with a good data connection, it does not matter.
The virtual space they meet in, can be designed in advance.
"We want Podrift users to be able to step into the imagination of the people who are talking," adds Mr Burton.
"But we also want to keep the conversational feel of the podcast, and the sense that you are eavesdropping."
As the team is in the early stages of development, its demo is a generic, bland, Breakfast TV news set.
But the possibilities are endless, says Mr Burton.
"If you've got something where it's grand gestures, you might want to be on top of a volcano," he offers.
"If you want something slightly surreal you could be riding a whale through space."
Podrift's technology records the encounter between the two avatars in the chosen setting.
People with the Oculus Rift kit can then download the recording, and replay it, while wandering around the 3D experience. Skirting the volcano or riding the whale, while listening to the interview.
For those who don't have Oculus, the video can be exported as a 2D experience to YouTube or other video-sharing platforms.
Gimmick?
But not everyone is convinced this virtual reality model will work for podcasting.
"Podrift is interesting tech, but as a way to connect podcast audiences it seems a bit of a stretch," says Todd Cochrane, head of podcasting specialists RawVoice, who set up the People's Choice Podcast Awards.
A sceptic of the use of "virtual avatars" for speech content, he thinks "adoption into Second Life may be more appropriate".
This is something of a damning comparison, as virtual world Second Life has become synonymous with virtual reality's false dawn. After creating a huge buzz when it was launched in 2003, it has failed to live up to its potential. Other than a hardcore of loyal users, few are giving it a second chance.
Comedian Andy Zaltzman also knows a thing or two about what makes podcast audiences tick. His hit satirical show The Bugle, which he has made with John Oliver since 2007, gets more than 200,000 downloads per episode.
Since Oliver moved to the USA to work on The Daily Show, the pair have recorded it together from different sides of the Atlantic.
"Frankly, this kind of technology is exactly what the humble medium of podcasting needs," says Mr Zaltzman, somewhat tongue-in-cheek.
"No longer would listeners of The Bugle have to picture me and Mr John Oliver sitting in windowless recording studios, lonely hotel rooms, or tragically solo sheds whilst we record.
"Instead, they would be able to join in with us as we heroically surf giant waves, jump up and down on top of the United Nations building to try to knock some sense into it, or lounge around like the sun-kissed demigods we categorically aren't, surrounded by a gaggle of adoring non-scantily clad Florence Nightingales."
Comedy start
In fact, the original idea for Podrift came from a comedian.
Popular LA comedy blogger and podcaster Duncan Trussell mooted the idea of marrying podcasting with Oculus Rift technology in a podcast, and invited listeners to help him achieve it.
"For some fans it was just an excuse to talk to him," explains Mr Burton. "Once they were gone, there were not many of us left.
"Trussell remains our ambassador and test subject.
"We do this all out of our own pockets, bootstrapping it where we can."
Immersive Future
With the proof-of-concept achieved, Burton says the next phase will be to do a pilot with Duncan Trussell, then hopefully take it to Kickstarter to try to get financial backing to take the technology to the masses.
Only then it will start to become apparent if the idea of Podrift has any general appeal.
The danger, of course, is that it will be perceived to spoil the simple joy of the podcast.
After all, in the virtual reality Podrift, the last vestige of reality, is the human voice. And many fans of the genre will tell you that is all you need
SIDEBAR: VR's mainstream promise
Broadcasters including the BBC have recently been experimenting with Oculus Rift as a way to enhance conventional broadcasts.
3D cameras have been used to create a virtual reality experience of Fiona Bruce reading the news, and a behind-the-scenes experience of Springwatch Live.
These experiences use real camera footage and are more realistic – but once you have donned your Oculus Rift goggles, you cannot walk around the scene.
You have a panoramic view as you twist your neck – but you are rooted to the same spot where the cameras were placed.
The animated world of graphically enhanced studios and avatar presenters is obviously less realistic, and more like a video game.
But it has the advantage that it creates a world you can move around in.