[From Businessweek, where the story includes more images]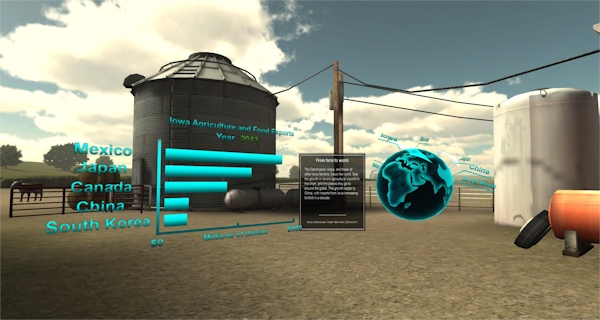 [Image: As you walk around the farm, floating graphics add context. Courtesy Gannett Digital]
A Newspaper's First Trip Into Virtual Reality Goes to a Desolate Farm
By Joshua Brustein September 22, 2014
Against the odds, the Des Moines Register has just become one of the first newspapers to move into virtual reality.
Gannett (GCI), publisher of USA Today and dozens of regional publications, has released its debut report made specifically for the Oculus VR headset: an interactive view of a farm in Iowa designed to accompany a series of newspaper articles being published by the Register this week. It's the very start of what will likely be a wave of journalistic experiments with virtual reality in the next few years, and this project shows that there's still some thinking to be done about what news organizations should be trying to accomplish in the medium.
The project, called Harvest of Change, centers on a farm run by four generations of the same family. The idea was to pick a single subject that could illustrate the tensions wrought on the heartland by climate change, immigration, genetically modified crops, rural depopulation, and general economic uncertainty. Once you strap on an Oculus headset, it's possible to explore an exact reconstruction of the farm using a keyboard or an Xbox controller and turning your head from side to side. The virtual environment serves as a way to navigate through multimedia content. As you walk around the recreation, there are various icons that allow you to watch 360-degree videos, look at archival photographs, and read short passages about farming in modern-day America.
To do this, Gannett got two interns to spend the summer creating a virtual version of the farm in Unity 3D based on photographs; hired a former Electronic Arts designer to add art; contracted with a firm to take a series of panoramic videos in Iowa; and assigned a writer and photographer from the Register to do the reporting on the farm. The Oculus headsets aren't yet available to the general public, so Gannett is hosting events in Des Moines and at the Online News Association's conference in Chicago this week where people can use the headsets.
The goal is to bring journalism to a video game atmosphere, says Mitch Gelman, vice president of product for Gannett Digital. The company gave me a preview last week, and it seems to have succeeded in creating a faithful representation of the setting. If the overall project fell short, it was largely for editorial—not technical—reasons. Virtual reality's promise is that it transports you to another place and time. You just don't feel like you're visiting an extraordinary place when Gannett gives you virtual access to a largely unpopulated farm.
Nonny de la Peña, a former Newsweek reporter, has been experimenting with virtual reality journalism for several years—she calls it "immersive journalism." De la Peña has picked subjects like a food bank where a man suddenly goes into diabetic shock or a refugee camp in Syria. In each case, the goal is to throw viewers into a situation they are unlikely to experience on their own.
I spent my time on the virtual farm wandering around looking for things to do, which I guess is probably a fair recreation of what I might do as a teenage member of the Dammanns, the family profiled in the series. You don't actually interact with most of the content in the virtual farm. That comes in the form of videos, which you access by walking up to icons and clicking a button, sending you to panoramic video shots narrated by members of the family. Instead of building into a narrative, the videos seem more like exhibits in a museum.
"This was the biggest challenge we faced: how to take the serendipity of a video game, when you have absolute control, and also tell a story with a beginning, middle, and an end," says Gelman.
The trope about media and technology is that the first works for a new medium are always made for the medium that came before: Early movies were essentially rebroadcast stage plays, and Internet newspapers started off as slavish recreations of the dead-tree versions. Harvest of Change gets beyond that by creating an environment that wouldn't be as convincing without the 360-degree views and interactivity of virtual reality. But when it comes to telling a story, it falls back on classic video journalism.
This is a nascent attempt, and Gelman's team—along with similar people at other news organizations—will inevitably learn which types of stories are told best through virtual reality. They have some time. We have at least several years until people start expecting to get their journalism through a VR headset.