[From 9News (KUSA TV), where the story includes a 2:06 minute video news report]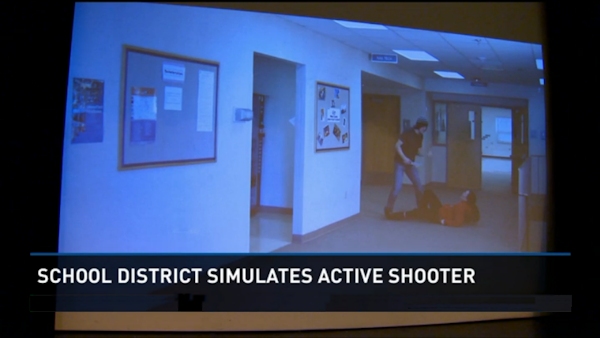 JeffCo teachers go through active-shooter training
Christine Noel — June 16, 2014
KUSA – Bear Creek High School staff and faculty are learning life-saving skills in case there is ever an active-shooter situation on campus.
Jefferson County Schools has partnered with TI Training, a technology company based out of Colorado that develops training for law enforcement agencies all over the world.
Through the company's school-safety program, simulators are used to arm teachers with the training and knowledge to protect students in critical situations.
Jefferson County Schools has been working hard over the past several years to help prevent school shootings and to ensure student safety. With school shootings commonly occurring in America, Jefferson County schools asked what the district could do to best prepare themselves if the unthinkable happens on one of their campuses.
It's a scary situation no teacher or principal ever wants to face, but it's a reality that cannot be ignored: violence sweeping through the halls of schools all across the country.
"Are we prepared? It's a question I ask myself every day," said John McDonald, executive director of Security & Safety Management at Jefferson Co. Schools. "It's a new reality that educators have to be trained and prepared."
Because of the rise in school violence, McDonald reached out to TI Training for guidance and life-saving education. The tech company recently added a free school safety program to help combat school violence. Monday, educators learned to fight a violent reality with virtual reality.
This is done with simulators. Teachers are trained to deal with escalating situations, from students yelling at teachers, to intruders threatening others with weapons.
"What we are doing has saved lives, and will continue to save lives," said McDonald.
For educators at Jeff Co. Schools, the training is valuable. McDonald says he hopes no school leaders will ever have to use it, but if they do, he says, they'll be ready.