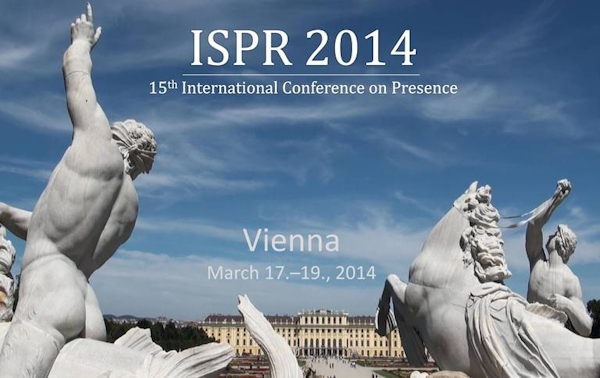 Join us at the ISPR 2014 Presence Conference in Vienna, Austria from 17th to 19th of March 2014!
Following a series of 14 successful Presence conferences, this year's conference will retain the single-track format and pleasant social environment of previous conferences while featuring expanded oral presentations, poster presentations, panels, keynote presentations and hands-on demonstrations of presence applications, services and projects. We expect a wide range of international experts with both academic and practical backgrounds.
All the important details are on the conference web site (and on Facebook).
Registration fees for the ISPR 2014 Presence Conference at Vienna University are a low € 229 for academics and € 179 for students including a renewal of your annual ISPR membership. Use our online registration system to register for the conference and the social dinner and to purchase extra copies of our hard-cover proceedings.
If you are not able to make the event this March, renew your ISPR membership for one more year using the online membership form.
We look forward to seeing you in Vienna!
Anna Felnhofer & Oswald D. Kothgassner
(Conference Chairs)
Matthew Lombard
(ISPR President)