[From The New York Times; for more on the film "Her," which is earning high praise from critics, see the official web site, a detailed background article in Vulture, and "8 futuristic tech predictions from Spike Jonze's new film 'Her'" in Digital Trends. For more on the topic, see "Telepresence and Sexuality: A Review and a Call to Scholars" in Human Technology.]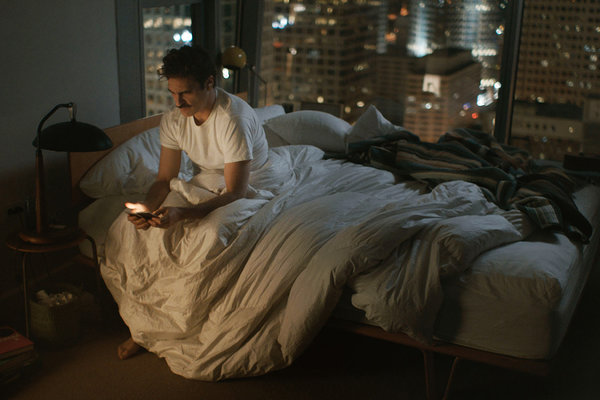 [Image: Joaquin Phoenix, as Theodore in "Her," a love story about a man and a computer-operating system]
'Interactive' Gets a New Meaning
By Alex Hawgood
December 24, 2013
It may be the most memorable sex scene of the season.
In "Her," the near-future romance film written and directed by Spike Jonze, there is an awkwardly remarkable moment in which the lead character, Theodore (played by Joaquin Phoenix), has an intimate encounter with Samantha (Scarlett Johansson) after returning home inebriated from a failed blind date with another woman. Filmed with a close-up lens, it shows Theodore gently edging Samantha into arousal by telling her what he wishes to do to her body. As things become increasingly explicit, the screen turns black, leaving the audience lingering in darkness as the characters reach their aural climax.
Samantha, it should be mentioned, is a computer-operating system. But that doesn't seem to subtract from the carnal abandon.
This may sound like futuristic sci-fi dystopia to some, but such sexual-techno prospects are increasingly the here and now. Next-generation sex toys in the vein of "Her" have started to appear in the marketplace. Take the Limon, a sleek lemon-shaped vibrator that could be sold at the MoMA gift store. Released this month by Minna Life, a design firm based in (where else?) San Francisco, it is billed as a tactile "couples' vibrator" that can record and customize intensity levels.
Or consider RealTouch, a USB-connected sex toy said to have been designed by a former NASA engineer that promises "interactive sex" with another person over the Internet. It comes in two parts: one modeled after a woman's lower anatomy, and one modeled after a man's. Designed to be paired with a webcam, one device captures sensations (using technology that is similar to that of a touch screen) and then transmits it digitally to the other, as if the two were in the same room.
For the pleasure seeker, stimulation is rendered in a series of 1's and 0's.
A similar, but more reciprocal-minded device comes from LovePalz, a Taiwan company that bills itself as offering "the world's best interactive toys for Internet love." Unlike RealTouch, it is wireless, which has its obvious advantages, and comes with hubristic-sounding names that may be a tad hard to live up to: Zeus (for him) and Hera (for her). It features something called responsive "air pump" technology.
Big-name corporations have also joined the high-tech sex party. Durex, the condom manufacturer, is experimenting with a novelty product called Fundawear, a pair of his/her underpants with vibrating nodes that can be remotely activated by an iPhone. A YouTube video dramatizing the product, subtitled "touch over the Internet" and "the future of foreplay," has been viewed more than 6.7 million times since it was published in April.
Sex doodads such as these are among the subjects explored in "Sex//Now," a reimagining of HBO's "Real Sex" series from the 1990s that will focus on the digital footprint of evolving sex-and-relationship practices. (The title is a nod to URL formatting.)
Chris Moukarbel, a filmmaker who splits his time between Los Angeles and New York and is the show's director, said he wanted to resurrect the series after seeing a rerun from 1997. "Peep shows used to be all over Times Square, but I realized at that moment they had all vanished since that episode," Mr. Moukarbel said. Those live girls "had been replaced by a computer screen." The pilot episode of "Sex//Now," scheduled to be shown on HBO on Jan. 2, is split into two segments, with the first half exploring the phenomenon of do-it-yourself adult webcam models, and the second on RealTouch.
"We're experiencing an unparalleled technological revolution, and we're learning that social desire feeds technological change," Mr. Moukarbel said.
The future, in fact, could be even closer to the Siri-like sex partner depicted in "Her."
That's the conclusion of a report, "The Future of Relationships," published this month by the Museum of Sex in conjunction with Sparks & Honey, a trend-forecasting firm in New York. The report makes the case that forward leaps in augmented intelligence and video-game interactivity will let people "get attached to and develop real relationships with their hardware and software."
Among the trends it highlights are: "long distance foreplay," in which partners need not be in the same room; sophisticated "relationship forensics" systems that can comb through a partner's hookup history; "teledildonics," sex toys operated by computer technology; and bedroom data mining that purports to metricize sexual performance and even love.
"We're on the brink of a new way of defining those spaces of intimacy," said Terry Young, the founder of Sparks & Honey. "If you fast-forward five to 10 years, it's fascinating to think about what teenagers might constitute as intimate relationships and how relationships will be radically different."
Some of that has already begun to happen. Love Plus, a dating-simulation game developed for the portable Nintendo DS console, allows a player to caress another's hair using a touch pad or to go on a flirtatious study date. Much like how Samantha is programmed to be adaptive to Theodore's personality in "Her," these virtual sweethearts modify their personas in real time based on the player's likes and dislikes. The game is popular among otaku, Japanese slang for reclusive computer nerds, who often post screen shots of their Samanthas online or go on real-life dates with their video-game console.
More socially accepted forms of A.I.-mediated intimacy are being beta-tested on our iPhones as we type. Last year, Apple had to pull Boyfriend Maker, a program geared toward young women that promised users the opportunity to "pamper your boyfriend and show him your affection with hugs and kisses," because of the ribald back-and-forth offered up by the chatty boybots. (The game is available on Android, and there is even a Tumblr dedicated to the virtual Romeo's weirdest and most comical pillow-talk fails.)
There is also Spreadsheets, an iPhone app that purports to measure whether one is good or bad in bed by logging the bumping and grinding captured through a smartphone's internal accelerometer and microphone. It has been downloaded more than 8,000 times in over 115 countries since being released in August.
But while the high-tech gizmos get the most attention, it's really the person-to-person technologies that just extend our sexual reach that remain the most popular (see apps like Grindr, Tinder and even Instagram, which recently added a new feature that allows users to send private images directly to each other).
"People don't want technology to inhibit the sexual experience," said Lux Alptraum, the owner of Fleshbot, an online bible for sex culture. "It's not going to work unless it's seamless feeling. At the end of the day, actual people want to be in an actual room having actual sex."
"The act itself hasn't changed — at least not yet," she said.