[From Billboard]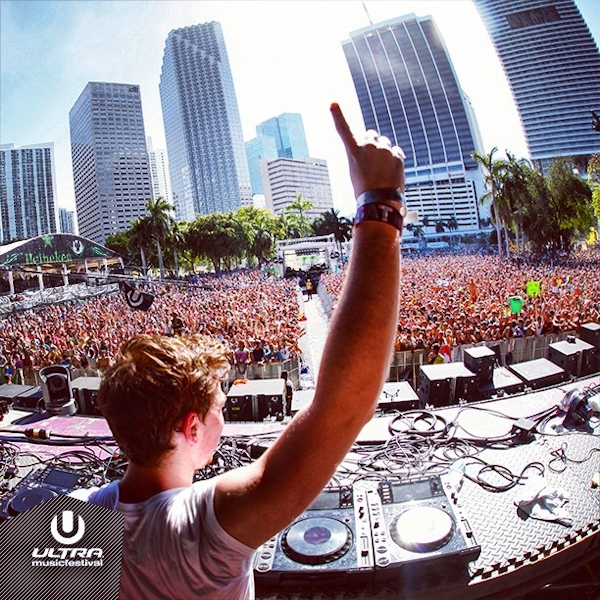 LessThan3's Virtual Event Platform to Beam Ultra Music Festival Around the World
By Kerri Mason | February 15, 2013
Ultra Music Festival unveiled its Phase 3 lineup this morning, adding fan favorites like Arty and Tommie Sunshine to an already impressive roster of artists, from EDM and beyond. The festival will take place in Miami over two weekends, March 15-17 and 22-24.
Also part of this morning's press release was the introduction of a new element to the UMF experience; one for fans who can't make it to South Florida this March. The festival announced that its website will be enhanced with what it calls a "cutting edge virtual environment," where the international online audience can check out live feeds from the festival's many stages, and interact with each other.
The robust platform was developed by LessThan3, an EDM-focused startup supported by StartX, a non-profit dedicated to building the businesses of Stanford University graduates. Led by founder and alum Ari Evans, the company has primarily been known as a content provider, including a record label, and a site with blogs, videos, reviews, and other features. It's now expanding its capabilities, says Evans, to address what it sees as an industry problem.
"For the past couple of years, the music industry has seen declining track sales but increasing live event revenues," he says. "However, physical events are limited in space and now major festivals like Coachella and Ultra Music Festival that completely sell out are searching for ways to provide an engaging experience to a wider audience."
The yet-to-be-named live platform will "far surpass the experience of watching a simple live video feed on a plain white webpage," according to Evans. Using LessThan3's customizable technology, events will be able to offer a virtual experience that fits with their brand, both aesthetically and through real-time orchestration of the virtual show. The idea is "to match the magic of being in person at the event," he says.
The platform also allows fans to do things they might not be able to in real life, like setting off virtual fireworks, lighting effects, and fog machines; or hoisting their country's flag. While those features have not been confirmed for UMF, they are possible under the platform — and could even be activated for a fee, opening up a virtual revenue stream. "The platform does provide paid opportunities, including the ability to 'shout out' a loved one on the big screen and other such premium room manipulations: 'VIP' camera angles and behind-the-scenes footage, and more."
In addition to Ultra, LessThan3 has already signed up other EDM clients: Artists including Zeds Dead, UMEK, Wolfgang Gartner, Nadia Ali, DJ BL3ND, and Richard Durand; and headphone manufacturer SOL REPUBLIC (who could use the technology for a live product launch or demonstration, says Evans).