[From Retail Digital]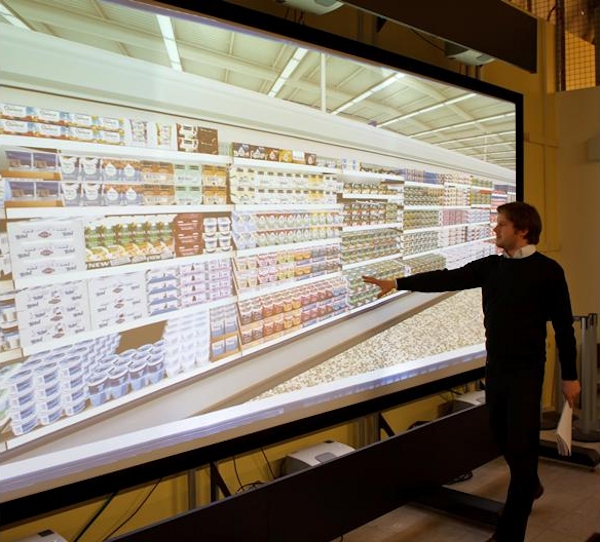 Retail Technology
Tesco goes the virtual reality way in UK
Partners with Red Dot Square
3 Feb 2013 Shukti Sarma
Supermarket Tesco is to use virtual reality technology to plan how their category ranges appear on shelves. With the new approach Tesco will no longer require physical product specimens from each of their supplier manufacturers. This will cut the planning process enabling significant time savings for their colleagues and suppliers.
Tesco is the first UK retailer to integrate the technology of virtual reality company Red Dot Square into their existing systems and ways of working. They will use it to drive efficiencies and identify sales opportunities in its UK and Ireland stores. Red Dot Square's technology connects with industry standard shelf planning software to create a 3D environment with photo realistic products sat on shelving within a full store or category aisle. This provides a more accurate view of what shoppers will actually see in different stores.
Tesco's investment in the partnership includes the remodelling of meeting space at their Welwyn Garden City Merchandising Centre where range planners will be able to experiment with different arrangements, instantly changing how products will appear on the shelf. Different store channels, markets and regional plans can all be created and reviewed side by side.
Users can easily assess the effectiveness of their arrangements by visually incorporating key information including commercial data, shopper and customer insights to allow for instant and collaborative decision-making.
Tesco and Red Dot Square have been working together for 12 months to trial and modify the software for Tesco's unique requirements. Tesco will now be able to formalise the internal sign off review process and deliver immediate store plans to support the UK and ROI markets before looking beyond to other geographical markets.
Mike McNamara, Group CIO at Tesco, said: "Virtual merchandising allows us to pack virtual shelves with virtual products at the press of a button. Because we no longer have to go through the laborious process of laying out new merchandise assortments physically, we can now try out infinitely more range and format combinations.  For our customers this means we can tailor our store ranges to local needs at the same time as maintaining good planogram management so necessary for efficient operations."
Jeremy Cohen, CEO at Red Dot Square said: "Tesco are leading the way in demonstrating how virtual reality technology can drive greater efficiency and more effective ranging choices based on sales and shopper data."