[From Uwishunu; some of us walked over to see the Experience Wall during the recent ISPR 2012 conference]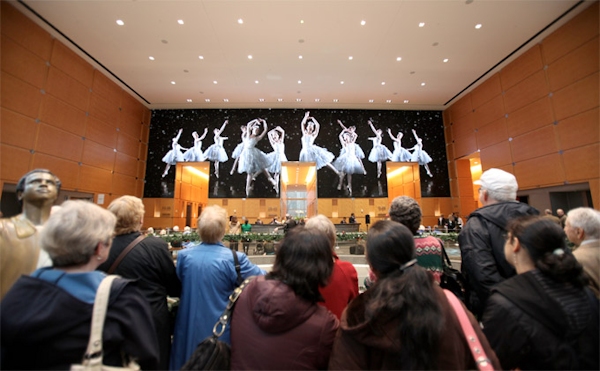 [Image: The Comcast Holiday Spectacular, a unique-to-Philadelphia high-tech holiday show screened on the world's largest four-mm LED video display, opens for the 2012 season on Thanksgiving Day. (Photo by Joseph Kaczmarek courtesy Comcast Center)]
The Comcast Holiday Spectacular, A Festive Film Experience Screened On The World's Largest Four-Millimeter LED Screen, Returns For The 2012 Holiday Season On Thanksgiving Day
Posted by Allison Stadd
November 15, 2012
Other cities have ice skating rinks, festooned store windows and soaring Christmas trees.
But Philadelphia has something all its own.
Celebrating its fifth year, the Comcast Holiday Spectacular returns to Philadelphia for the 2012 holiday season starting Thanksgiving Day, Thursday, November 22.
Since its debut in 2008, more than a half million people have seen the show.
This stellar holiday experience that captures the wonderful spirit of the season is a completely unique, and free, 15-minute show screened on the Comcast Center's Comcast Experience video wall, the world's largest four-mm LED video display with incredible resolution that's five times that of an HDTV. Pretty freaking awesome.
The high-tech holiday show screens classic holiday images including enchanting scenes from The Nutcracker performed by the renowned Pennsylvania Ballet, a magical sleigh ride through the snow-covered Pennsylvania countryside into Center City Philadelphia and performances by some of Broadway's best-known dancers.
A wintertime soundtrack in the background includes the majestic sounds of a 64-piece orchestra, the harmony of the Commonwealth Youth Choir's Keystone State Boychoir and Pennsylvania Girlchoir and more.
You really have to see it to experience it (but you can get a video sneak peek [in the 1:09 minute video here]). The Comcast Holiday Spectacular will run from Thanksgiving Day through New Year's Day, daily, from 10 a.m.-8 p.m. at the top of each hour (excluding 5 p.m. on weekdays).
Fun fact: the Philadelphia Thanksgiving Day Parade route runs literally right by the Comcast Center, so you can catch the parade action plus the opening day of the Comcast Holiday Spectacular at the same time.
It's one of the most exciting aspects of the holiday season in Philadelphia, and one we can truly call our own.
Bonus: children will receive a free waterless temporary "Snowman Symphony" tattoo that when displayed will be valid for a one-time treat at either Termini Brothers Bakery or Di Bruno Bros., both located in The Market & Shops on the concourse level of Comcast Center during the show's run. Regardless of whether or not you visit the show with kids, make sure to stop by The Market & Shops for a bite to eat from Percy Street Barbecue, Di Bruno Bros. and the like.
Comcast Center Holiday Spectacular
When: Thanksgiving Day through New Year's Day, 10 a.m.–8 p.m. (except 5 p.m. on weekdays) every hour on the hour, seven days a week; shows are 15 minutes long
Where: 1701 JFK Boulevard
Cost: Free
More info: www.visitphilly.com