[From Iowa State University]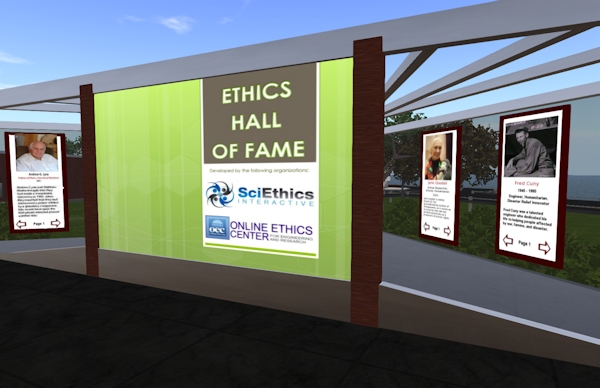 SciEthics Interactive project to release free simulation, mid-November
October 25, 2012
AMES, Iowa — More than ever before, scientists and engineers are faced with complex moral and ethical dilemmas. Unfortunately, university course offerings centered on ethical issues are not commonplace. To help educators address this curriculum shortcoming, researchers at Iowa State University and West Chester University of Pennsylvania are creating a virtual world where science and engineering students can confront ethical issues in an engaging and safe environment. Join educators from across the country as the first of these National Science Foundation-supported simulations is released to the public during a November 14th Google+ event.
The first simulation set for release on November 14th, in the SciEthics Interactive project is called TransGen (Transgenic) Island. The virtual exercise is centered on the scientific and moral issues of genetic modification. In this simulation, the fictitious company TransGen is leading the field in genetically modified salmon production. Within the virtual environment, students are able to gather data, analyze the data, and produce a final report. While doing so, they must deal with ethical issues in data integrity, environmental impact, and animal welfare. In addition, the students consider public health issues to make an important decision for the future of genetically modified organisms.
Larysa Nadolny, assistant professor in the Iowa State University School of Education and co-creator of SciEthics Interactive, says, "The prospects for teaching and testing ethical behavior in virtual worlds is frequently discussed, but currently there are no simulations for posing ethical dilemmas in the fields of science and engineering. The simulations we're creating connect learners with high quality scientific content, while encouraging engagement in ethical thinking."
SciEthics Interactive is a series of virtual world role-playing simulations that connect instruction in science content with ethical decision-making in an engaging, three-dimensional setting. The simulations are built to run in the OpenSim environment, an open source server platform already widely available at universities and schools across the country. The SciEthics Interactive simulations cover broad scientific concepts that are easily integrated into a variety of science and engineering courses. And most importantly, TransGen Island and other simulations will be readily available for use in any OpenSim world, free of charge.
The virtual exercises allow participants to interact with objects that are typically too large, too small, or too far away for contact in real life.
SciEthics Interactive team member Seth Kahn noted, "Now students can work in a virtual lab without the expense of having to build one or the risks inherent in maintaining one. And they can do it from anywhere."
TransGen Island has already received notice from the virtual worlds community, winning second place in the Concept Building category of the Federal Virtual Worlds Challenge sponsored by the U.S. Army.
Join the research team on November 14, 2012 for a live demonstration of the project and a discussion of research findings. Be the first to get TransGen Island for your class. Sign up at www.sciethicsinteractive.com for an invitation to the Google+ Hangout On Air event, 7 a.m. PST/9 a.m. CST/10 a.m. EST.
For additional information, contact:
Larysa Nadolny, SciEthics Interactive Principal Designer
Assistant Professor, School of Education
Iowa State University
LNadolny@iastate.edu
515-294-9928
Joan Woolfrey, SciEthics Interactive Principal Ethicist
Associate Professor, Department of Philosophy
West Chester University of Pennsylvania
JWoolfrey@wcupa.edu
610-436-2841