[From VentureBeat]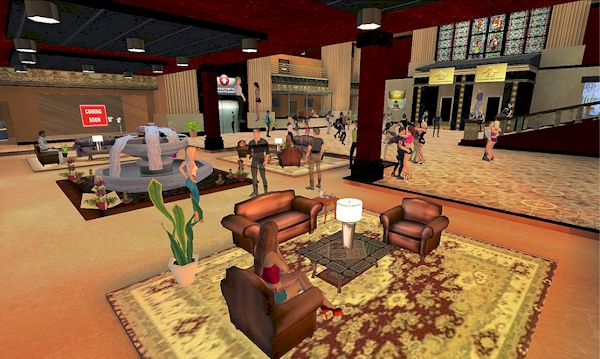 Utherverse nabs a patent on scalable virtual worlds that can host unlimited users
October 25, 2012
Dean Takahashi
Utherverse is announcing today that it has won a patent to build a "scalable" virtual world, or one that can support an unlimited number of players in a single region of an online place. That could allow virtual worlds to achieve a critical mass for events like a convention or a concert.
In the past, you couldn't do something like hold a concert in a 3D simulated world. A band like U2 could put on a "live" concert inside the world with a maximum of 50 to 100 users. That's not enough to support a real business model. With the new technology, the band could play a concert for 10 million fans, all inhabiting the same virtual world venue. They might sell tickets for 25 cents and pull in revenue of $2.5 million for a single event. Utherverse says this kind of scale allows virtual worlds to become economically viable.
The company hopes to use the patent and the worlds it can build to get rid of what it calls "the flat web" and take us all into a 3D universe for cruising the web. It wants to enable everybody to do that in parallel. That's a tall order, and one that many virtual world companies have died trying to build.
"Prior generations of online games and virtual worlds have been forced to limit the number of players in an area to only a few dozen at most," said Brian Shuster, the chief executive of Utherverse. "This technology removes these population limits and allows Utherverse to have concerts and conventions that hundreds of thousands of users can enjoy together and simultaneously."
Vancouver, Canada-based Utherverse was founded in 2003 and has 60 employees. Rivals include Second Life and IMVU. But many virtual worlds have gone by the wayside while the survivors are online games such as the massively multiplayer online World of Warcraft.
Current state-of-the-art technology limits the number of avatars, or virtual characters, that can occupy the same virtual space. Exceeding the number of avatars that can be rendered and displayed by the end user's computer may cause significant lag (or a slowdown in animation framerates) or a crash. Utherverse claims it can allow total flexibility in numbers of users.
"Imagine if websites were limited to displaying their content to only 50 people at a time. There would be no Facebook, no Google, no YouTube," said Shuster, comparing the Internet and to virtual worlds. "We now have technology that will allow virtual worlds to host millions of users simultaneously. This will be explosive for the success of the Virtual World Web, and it will transform the Internet from a flat web experience to a 3D, immersive environment within the next few years."
The technology allows a server to determine the maximum number of avatars permitted in a region. If the number exceeds that limit, then the server spawns a new dimension of the region. Those dimensions, in contrast to other virtual worlds, are fully interactive with each other.
Utherverse intends to use the patented technology to create its own immersive Virtual World Web, where people can walk around and meet each other beyond the limits of their own physical bodies, their geography, material possessions, or even their education. Shuster says that his company is not a patent troll as it fully intends to use its own patented technology.
"In our case, we are a relatively small company that has spent a huge amount of money and manpower in developing a technology that was so revolutionary that it was granted as a patent," said Shuster. "This patent will protect our investment from an entity like, for example, Google or IBM, from simply saying that we came up with a great idea, and then steamrolling us by deploying it."
The company has raised $15 million to date from Shuster, who launched his first Internet company, World Wide Internet Network, as an ad company in 1994. Since then, his companies have generated $250 million in income. He introduced a lot of early technologies such as banner ads, pop-under ads, and affiliate programs. He created one of the first web-hosting companies in history, Webjump.com, which he sold to TheGlobe.com in 1999.
By 2003, he found he was running into obstacles and decided to invest in 3D web solutions. The result was the startup Utherverse and its focus on the Virtual World Web, which debuted in the fall of 2009. To date, the company claims to have more than 10 million registered users. It hosts 100,000 user-created commercial virtual worlds and a million private virtual worlds.
Some of these are pretty risqué, like the most popular world, the Red Light Center Transport (which explains why the company has so many users). Another top world is Silken Exposure, and another is the Slave Humiliation Club. Then there is the tame Utherverse Transport place and the Universal Welcome Center.
The patent is No. 8,276,071 for a "multi-instance, multiuser animation platform." It was granted to Gary and Brian Shuster and is their 80th patent received. They've also received several other patents related to virtual worlds: No. 8,049,756 for "time-dependent client inactivity indicia in a multiuser animation environment," No. 8,259,117 for "avatar eye control in a multiuser animation environment," and No. 8,167,724 for "guest management in an online multiplayer virtual reality game."