[From BostonInno; more information is available here]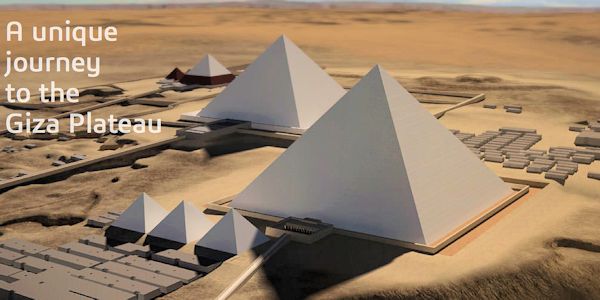 Proving History Isn't Static, Giza 3D Premieres With a Virtual Reality Tour of the Pyramids
May 8th, 2012 by Lisa DeCanio
The Pyramids at Giza are familiar to most of us – we've seen photos of them on the pages of our history books and watched recreations of them in movies – but very few of us have actually experienced them in person. Now, though, you'll be able to travel to Giza right from the comfort of your own computer.
Today marks the premiere of Giza 3D, an interactive 3D recreation of the Giza Plateau, engineered by Waltham-based software design firm Dassault Systèmes in collaboration with Harvard and the Museum of Fine Arts. The web app has digitized approximately 100 years of research by the Giza Archives project at Harvard, taking real archeological data to reconstruct the Giza necropolis, from its temples to its underground burial chambers.
Giza 3D is part of Dassault Systèmes' Passion for Innovation initiative, which aims to solve the problem that "outstanding ideas do not come to fruition due to lack of appropriate resources." The outstanding idea back in 2005 was to discover how the pyramids were built, explains Mehdi Tayoubi, vice president of interactive strategy for Dassault Systèmes.
"We didn't say the pyramid was built like this, but it is the most accurate to date," he explains. "We have pushed the virtual reality to its limit."
In 2008, Professor Peter Der Manuelian, an Egyptologist at Harvard University was brought on board. Medhi jokingly calls him a "geek," describing the professor's fascination with how technology, and 3D tools in particular, could be used to invent a new discipline – virtual archaeology.
With a full-time team of about 10 engineers at Dassault Systèmes, Professor Der Manuelian worked to incorporate 85,000 digitized photographs, maps, drawings and other archaeological remains into a near-complete virtual rendition of Giza.
Professor Der Manuelian has already begun using Giza 3D in his classes, utilizing Harvard's 3D virtual reality theater, which features a massive 23-foot screen. "No two classes are the same," he says, describing how one session may focus solely on the Sphinx, while another class may choose to analyze burial chambers. "We want teachers to forget about PowerPoint and static images," adds Medhi.
"It allows us to ask new questions," says Professor Der Manuelian, describing the impact Giza 3D will have on researchers. "We can approach Giza from many different ways – different points chronologically, above and below ground – and rebuild archaeological context. It's a tremendous aid."
Medhi echoes that sentiment, explaining how the portion of Giza 3D that is being released today is less than 10 percent of what the project hopes to digitize. As more and more researchers, professors and Egyptologists from across the globe get on board, Medhi hopes to gain more content for the project.
Where will Giza 3D be in another five years? "Hopefully much farther along," jokes Professor Der Manuelian.
So, for those of you that thought history was boring, Giza 3D just might change your mind. "There are always surprises," says Professor Der Manuelian of the discovery that goes into exploring Giza 3D. "It's a wonderful, ancient jigsaw puzzle." Underground burial chambers, tomb treasures and more ancient secrets await at your fingertips, allowing you to customize your intimate experience with one of the Seven Wonders of the Ancient World.
"This kind of thing was not possible through a book or a TV documentary," says Medhi.
Giza 3D premieres this evening at a special gala at the Museum of Fine Arts. You can also access Giza 3D straight from your desktop, as well as any 3D TV to get the full experience.