[A press release from Altadyn via Market Wire; background information including role of "sense of presence" is available at the Altadyn web site here]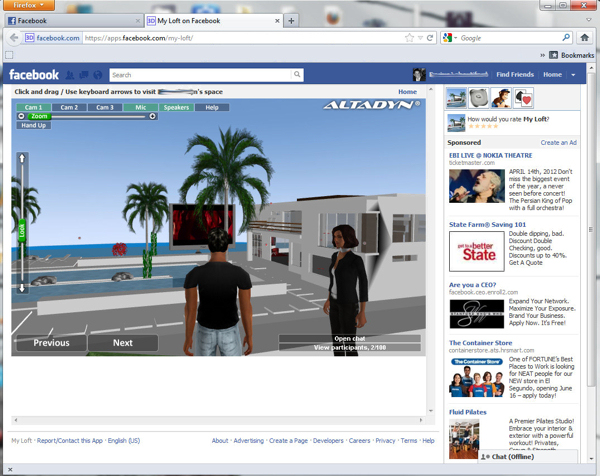 ALTADYN® Adds Third Dimension to Facebook®
IRVINE, CA–(Marketwire – Apr 27, 2012) – Social Movie Watching in Your 3D Virtual Home, Social Photo Viewing of Your Holiday Pics During a Facebook® Hangout With Friends and 3D Immersive Social Gaming Are Among Enabled Apps, Thanks to ALTADYN®'s Patent Pending Platform
ALTADYN® the leading provider of 3D web technology, today announced a new development platform. Offered in PaaS mode (Platform as a Service) on the cloud, the new platform has been designed for web developers, including Facebook® app developers, who want to create easily accessible sophisticated applications where users enter 3D immersive spaces and socialize virtually with each other.
A first sample Facebook® app, namely "My Loft," has been developed to showcase the features. "My Loft" source code is available free of charge for all registered users of the Development Platform within their free account. App developers can use My Loft source code as a basis for developments to which they add value with:
their own content: variety of creative avatars and variety of 3D spaces,
customization features: enabling creative custom homes,
their own application purpose: gaming, hangouts, photo viewing, video watching, concerts, dance floors, meetings, events, etc…
The ALTADYN development platform is featured this week on BBC World News, Click program:
http://news.bbc.co.uk/2/hi/programmes/click_online/9714258.stm
Commenting on ALTADYN's new Facebook® app, the BBC World News presenter says: "Over the past few years, these spaces (3D social live spaces with avatars) have become more simple to create and now you can even design one using a Facebook® app. The use of avatars has several advantages over video: it tends to use less bandwidth and allows more people to get involved with a little less personal preparation."
Some of the features available in the ALTADYN 3D engine, integrated in its small Java applet, include:
Voice/IP
Chat
Desktop Sharing
Live Feeds on screen
Manipulate 3D Objects
Laser pointer
Auto-animated objects, or user-triggered animations
Basic physics
Multi-Functional Avatars
Import your own 3D Buildings or furniture or use our library
ALTADYN's patent pending technology is based on a disruptive technology that makes high-end 3D immersive spaces for collaboration accessible to users with mainstream computers both in enterprise and consumer environments. The platform is cloud based and delivery can be in the form of ready-made dedicated AMAZON® EC2 images.
It's free to develop, test and prototype with ALTADYN's API. License for apps with less than a 100 daily users are even now offered for free. For mainstream applications, different packages are available including packages with unlimited users, through pre-configured AMAZON® EC2 images.
To watch a sample video : http://youtu.be/wOUyMPuS2CI
To learn more: http://ALTADYN.com/developers-api/
To read a more detailed Press Release: http://ALTADYN.com/PR/ALTADYN-adds-3D-to-Facebook.pdf
About ALTADYN®
ALTADYN® is emerging as the leader in 3D social collaboration with applications such as Social Hangouts, Enterprise Gamification, Web Conferencing, Virtual Events or trade shows, Live Meetings, Virtual Classrooms and more. ALTADYN's platforms, such as 3D-VirtualEvents.com, are the only web 3D platforms which are immersive, interactive, and do not require any download or installation and work with any browser on any computer. ALTADYN®'s customers include National Defense University, US-Air Force, Saint-Gobain, Old Dominion University, Saint Joseph University, Cubic, Aptima, Dell Inc., Crawford & Co and more. ALTADYN operates globally with offices in Irvine, California, and Paris, France. For more information, visit http://www.ALTADYN.com/.