[From TechWeekEurope; the 3D Focus article includes detailed information]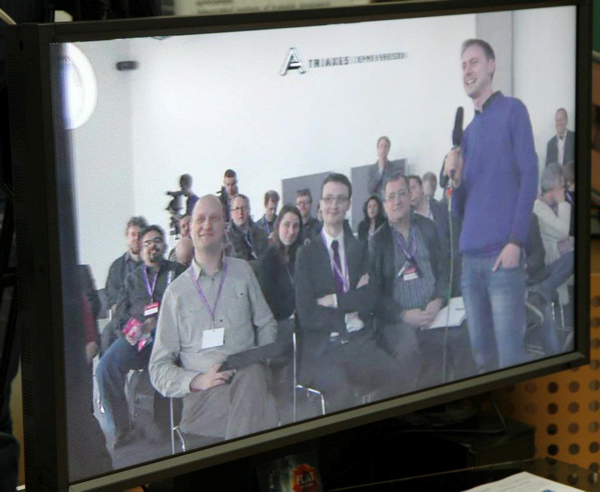 Glasses-Free 3D Teleconference Links UK And Russia
Telepresence just got more immersive….
On March 26, 2012 by Max Smolaks
A 3D teleconference that didn't need the participants to wear special glasses linked London and Russia yesterday, in the first experiment of this kind in the world.
It was possible due to a host of inventions by Russian company Triaxes Vision, based in the Siberian city of Tomsk. During the experiment, the guests of the 3D Storytelling conference, a broadcast and gaming industry event held in London, could see and talk to an audience at Tomsk Polytechnic University.
According to the participants, the display looked like a window, opening into a different room thousands of miles away, and creating the illusion of real presence, reports Russian agency RIA news.
Like being there
The project was a collaboration between Tomsk Polytechnic and Ravensbourne College in Greenwich, London, which specialises in the area of digital media and design. Students, teachers, industry experts and journalists from both countries used this opportunity to discuss the future of 3D technology in real-time.
"Triaxes Vision has developed a system (including software and transmission codec) that allows videoconferencing in 3D without the use of glasses. It works like this: a stereo camera is filming the audience in Tomsk, London is then receiving this feed through a modified TV console, which transmits video in the 3D format to the special display. Unique software lets both sides see a crisp, 3D picture without the use of glasses," said Marina Pinzhina, deputy director at Triaxes Vision.
According to Pinzhina, this is the first system of this kind in the world. "At the moment, no one else can film 3D video and transmit it to another country in real-time, minute by minute," she added. "It's a completely immersive experience."
According to 3D Focus, Triaxes has been working on glasses-free 3D solutions for over 13 years, and achieved an impressive result by using two depth maps and proprietary algorithms in both their DepthGate software (for post conversion) and NetJet software (for real time conversion). The experiment used the 28-angle 3D screens manufactured by Dutch company Dimenco.
Triaxes Vision is part of the Elecard group, a Russian corporation founded in 1988, specialising in video and audio encoding. In 2007, it has opened its second office in San Mateo, California.