[From The Miami Herald;  the Cisco press release, which includes links to images, video and other coverage of the event, is available here]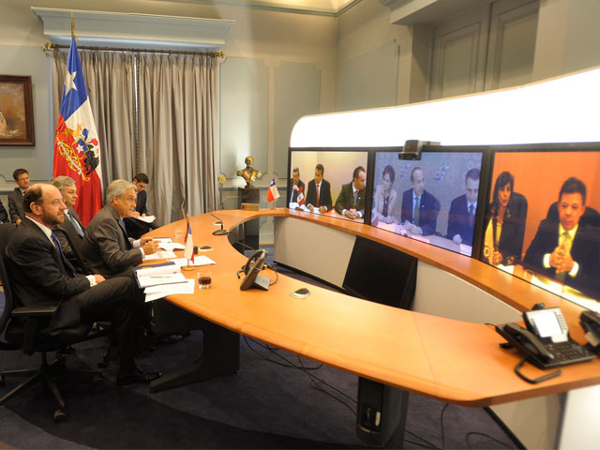 Region's first 'virtual summit' should set the trend
By Andres Oppenheimer
aoppenheimer@MiamiHerald.com
March 7, 2012
The presidents of Mexico, Colombia, Peru and Chile did a smart thing the other day, which could save Latin America a lot of time, money and insufferable speeches in the future: they held the region's first virtual summit.
The four leaders, who are preparing to launch a free trade bloc in June that will be known as the Alliance of the Pacific, met March 5 behind closed doors via video-conference. They were each sitting at a semi-circular table at their respective presidential palaces, flanked by their respective foreign and economy ministers, facing television plasmas where they could see their counterparts in a similar setting.
Colombian President Juan Manuel Santos later told reporters it was a "historic" meeting, because "we don't know of any other virtual presidential summit in the world." Asked about it, a White House official told me that, indeed, President Barack Obama has used "secure video conferences" for bilateral talks with the leaders of Great Britain, Afghanistan and other countries, but has not participated in any virtual summit involving several participants.
Whether it's a first or not, it's a great idea, for reasons that go far beyond the potential savings.
Latin America may have the world record of annual presidential summits. And, from what I have seen covering dozens of these meetings over the past three decades, most of these summits are a sequence of emotional speeches that are full of patriotic fervor, but rarely — if ever — produce any concrete results. There are more than a dozen Latin American regional and sub-regional economic summits a year, plus several political ones, not counting Latin American summits with U.S., European and Asian countries, and bilateral summits.
Most of them are expensive exercises of political tourism, in which presidents take huge entourages of journalists aboard their presidential planes to chronicle their speeches tailored for domestic consumption. In fact, much like at the United Nations, presidents at these summits don't talk to one another, but to their audiences back home.
[snip]
My opinion: It's about time presidents are held accountable for wasting millions of dollars a year in personal propaganda trips, without any visible results for their nations.
A combination of regular virtual closed-door summits and a once- or twice-a-year on-site meeting where presidents could lump together several of their annual summits would be great.
At the very least, it would change the nature of these summits from pure show business to serious work meetings.