[From The New York Times' Bits blog]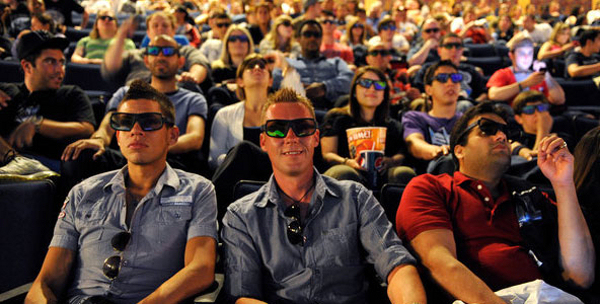 IMAX Chief Envisions the Future of 3-D in Theaters
By Nick Bolton
January 25, 2012
DAVOS, Switzerland — For the IMAX Corporation, the future is brighter, larger and in 3-D.
The company is developing prototypes of new laser technologies that will allow for drastically larger and brighter screens by 2013.
"We have purchased the rights to parts of 10,000 patents from Kodak that will throw much more light on screens than you see today," said Richard L. Gelfond, IMAX's chief executive, in an interview at Documented@Davos, an event held by Scribd and Mashable. "We have developed cameras that are filming the screen and giving real-time feedback to the projectors to optimize the experience."
Today's IMAX screen sizes span 80 to 90 feet. The new technology is expected to widen the screens to 140 feet.
Mr. Gelfond said IMAX engineers had been experimenting with futuristic applications for theatrical, live sports and musical events.
Acknowledging that 3-D has its critics, Mr. Gelfond said he saw future applications that made sense for 3-D in the home and in theaters.
"I think the killer 3-D application in the home is going to be sports," he said, adding that it didn't make sense for people to wear 3-D glasses for everything, including, say, the Nightly News. "In terms of theaters, I think 3-D will be one of a variety of tools used to enhance certain kinds of movies."
Noting that video-game sales are surpassing movie sales, I asked Mr. Gelfond if he could envision a day when people go to an IMAX theatre to play an interactive video game on a 140-foot screen, rather than lean-back with popcorn and watch a movie.
"We've looked into multiplayer gaming in an IMAX experience, but I don't think the economics are there right now," Mr. Gelfond said. "It's not tomorrow's application, but I think down the road it's something that could happen."
"This is why we're at Davos: to dream," he said. "By dreaming we move a step closer to reality."