[A press release from Nanyang Technological University]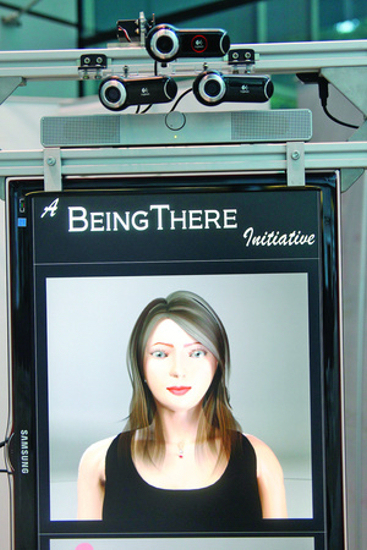 [Image: A robotic avatar with mobile video conferencing capabilities developed by NTU researchers. Photo by Ernest Chua]
Enter the virtual world of avatars, dolphins and fashionistas at NTU
NTU's centre of new media research showcases discoveries that can be applied to improve everyday life
Published on : 11-Oct-2011
In a room resembling an IMAX theatrette on Nanyang Technological University's (NTU) campus lies a new virtual world with practical applications that the public can immerse in and interact with – and go wow!
Called the Immersive Room, it is the latest star attraction at the Institute for Media Innovation (IMI). It was opened this afternoon by Dr Tan Chin Nam, former Permanent Secretary of the Ministry of Information, Communications and the Arts, and Chairman of the Media Development Authority (MDA), and current Chairman of the MDA's International Advisory Panel. The Immersive Room, and the other innovations by IMI, will be open to the public on Wednesday and Thursday.
The Immersive Room showcases innovations like:
• A CROWD SIMULATOR that helps to predict human behaviour during an evacuation;
• VIRTUAL DOLPHINS which can help autistic children hone their social skills;
• 3-D STEREO DIGITAL ART which showcases meteorological phenomena.
At the opening of the IMI's Immersive Room today, NTU also showcased its other 3-D research such as digital fashion and a robotic avatar used for telepresence, which could one day replace videoconferencing for remote face-to-face communication.
Said NTU president Professor Bertil Andersson, "Virtual reality is one of the most important technologies of the future. It will produce a great leap forward in many fields, like communication, entertainment, engineering and even healthcare.  The new Immersive Room is an important new facility that will enable our researchers to test-bed cutting-edge instructional and research applications within an immersive virtual 3-D environment with interactive elements, enabled by new media tools.  This system will bring us to the next level of 21st century interactive digital media (IDM) technologies."
The innovations fit into NTU's 2015 strategic plan to establish the university in five areas known as the Five Peaks of Excellence.  Under this blueprint, NTU will make its mark globally in new media, sustainability, healthcare, innovation and to be a knowledge hub of the East and West.
Prof Andersson today also welcomed Dr Tan Chin Nam as NTU's advisor in helping drive its New Media peak of excellence.
Immerse yourself in virtual worlds
Visitors to the Immersive Room, which has a curved projection screen all round, will be able to interact with their virtual environment, as a motion capture system records the real-time position of the user.  
For instance, one will be able to experience what it would be like to control and direct a crowd in a simple evacuation scenario.  Virtual crowd simulation research is a potential application that could help security and civil defence teams better manage emergency response. The crowd simulator allows researchers to model and predict human behaviour, while testing different parameters such as the evacuation rate in varying crowd densities.
An immersive virtual environment like The Immersive Room can also be a powerful educational resource, such as for children with Autism Spectrum Disorder (ASD). NTU and NIE researchers, in collaboration with the Underwater World Singapore, have come up with a 3-D immersive version of a Virtual Pink Dolphin game, to help autistic children improve social interactions by interactively learning and playing with virtual dolphins.  The dolphins will follow the hand gestures and commands of the child, simultaneously immersing him in the joy and excitement of meeting an actual dolphin. 
Those into 3-D art will be blown away by 'Le Phenomene Atmospherique", a 3-D stereo animated film  about meteorological phenomena.  The film recently premiered at the famous Ars Electronica Festival for digital arts in Linz, Austria.  The film is one of the outcomes of interdisciplinary new digital media art-based research at NTU that delves into innovative applications of 3-D stereoscopy technologies and their evocative possibilities. 
Become a virtual fashionista
Professor Nadia Thalmann, Director of the IMI is a research pioneer of virtual humans over the last 30 years. Her work tapping on the synergy between art, fashion and computer graphics has resulted in the "3-D Virtual Try-On" – an exciting interactive application that will allow visitors to test out clothes in 3-D. If you have ever wondered how well a designer outfit fits you, soon you'll be able to virtually try it with the aid of her new programme. For designers, it means they can have a virtual model wear their latest paper design and use different fabrics to see which one fits the design best and how the outfit flows.
Professor Thalmann said, "While the application is still in prototype phase, its real value proposition lies in bringing such a 3-D virtual environment directly into the design industry's production process, helping to shorten design cycle times and cut physical sample costs.  This would revolutionise the fashion industry as we know it today, as it would help designers save on materials and money, reduce time to market, and cut the industry's carbon footprint, making for a more sustainable planet."
Get connected virtually and physically
Also unveiled at today's event is MAVEN (Mobile Avatar for Virtual Engagement by NTU), an android with mobile video conferencing capabilities developed by Associate Professor Gerald Seet of NTU's School of Mechanical & Aerospace Engineering, and a key researcher at the IMI. 
The prototype android is a remote-controlled device on wheels, combining a computer, the Internet, an LED screen, microphone and cameras. A user can control MAVEN remotely via the Internet, and be present albeit virtually: imagine rolling it around the office and having discussions with your colleagues in real-time, even though you're physically far away.
MAVEN is poised to revolutionise future communication by taking mobile videoconferencing to a higher level of interactive mobility.  As your face is projected on the LED screen, just like in videoconferencing, its advantage is that you can  speak, listen and see the people around MAVEN  with the aid of a microphone and three overhead cameras that gives 180-degree frontal vision. 
NTU's intensified thrust into IDM research and development comes at an opportune time.  An industry survey by Deloitte Consulting has estimated that the IDM sector will hit double-digit growth, achieving an estimated S$1.7 billion in value-add by 2015.   The long-term sector outlook continues to be strong for the remainder of the decade, as niche IDM services are gaining regional, if not global presence and recognition. 
For more information about the New Media Village @ IMI, visit: imi.ntu.edu.sg
Media contact:
Feisal Abdul Rahman
Senior Assistant Director (Media Relations)
Corporate Communications Office
Nanyang Technological University
Tel: (65) 6790 6687
Email: feisalar@ntu.edu.sg
About Nanyang Technological University
A research-intensive public university, Nanyang Technological University (NTU) has 33,500 undergraduate and postgraduate students in the colleges of Engineering, Business, Science, and Humanities, Arts, & Social Sciences.  In 2013, NTU will enrol the first batch of students at its new medical school, the Lee Kong Chian School of Medicine, which is set up jointly with Imperial College London.
NTU is also home to four world-class autonomous institutes – the National Institute of Education, S Rajaratnam School of International Studies, Earth Observatory of Singapore, and Singapore Centre on Environmental Life Sciences Engineering – and various leading research centres such as the Nanyang Environment & Water Research Institute (NEWRI) and Energy Research Institute @ NTU (ERI@N).
A fast-growing university with an international outlook, NTU is putting its global stamp on Five Peaks of Excellence: Sustainable Earth, Future Healthcare, New Media, New Silk Road, and Innovation Asia.
Besides the main Yunnan Garden campus, NTU also has a satellite campus in Singapore's science and tech hub, one-north, and is setting up a third campus in Novena, Singapore's medical district.
For more information, visit www.ntu.edu.sg