[From The Korea Times, where the story includes additional images]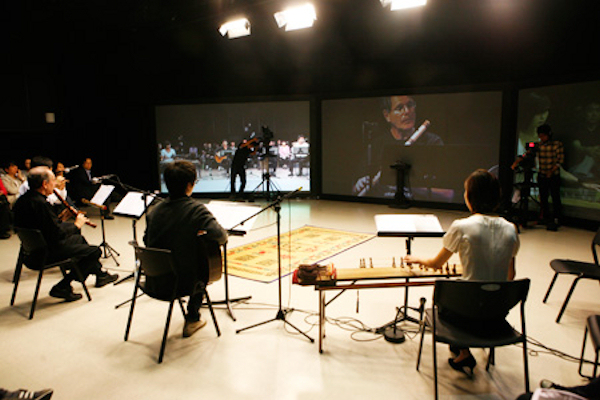 [Image: Musicians in Ansan, Gyeonggi Province, perform with players in New York, shown in the screen in the background, in a real-time telepresence concert on Monday morning or Sunday evening in the United States.]
Telepresence inspires new cross-border music-making 
By Lee Hyo-won
09-27-2011
ANSAN, Gyeonggi Province ? Cross-border music-making traditionally meant artists embarking on worldwide tours to reach audiences or musicians from different corners of the world gathering in one place to collaborate.
But in this digital age, a live rock concert in London can attract full-house audiences in Sydney via satellite transmission (just as David Bowie did in 2003) or the principals of telepresence videoconferencing, widely practiced for international business transactions, can be applied to the performing arts.
It was 10 a.m. on Monday in Ansan ? or 9 p.m., Sunday in New York ? but for audiences at both ends it was time for a concert. Yet this was no ordinary performance; the other half of musicians due to perform appeared in real time via an in-person video solution. Think of a super sophisticated version of Skype applied to the live stage: three large screens were installed before the players to transmit what was going on in New York and audio from both sides were heard simultaneously through speakers.
The program began with "Watermill" by Teiji Ito, a piece originally written for the New York City Ballet. Ralph Samuelson's pristine "shakuhachi" (Japanese flute) tunes pierced through the still air of the studio until Steve Gorn's "bansuri" (Indian flute) and Yukio Tsuji's percussion beats joined in via telepresence for a moment of deep meditative musing.
The challenge of bringing together artists from far ends of the globe to play ? especially without a rehearsal ? certainly did not proceed without its fair share of technical glitches. The rhythm went off beat at times while the sound was not always fully in sync.
But in Henry Cowell's "The Universal Flute," it was easy to forget that Samuelson was in Korea while Gorn was in the United States ? the two artists exchanged eye contact during the dynamic interplay, albeit through the screen. Moreover, the finale, an eclectic rendition of the Korean folk piece "Milyrang Arirang," led by "haegeum" (Korean two-string fiddle) player Kang Eun-il et al in New York, was marked by spontaneous combustion ? chamber music-making at the highest caliber in which artists harnessed their talents for fully integrated harmony.
This reporter's eyes were closed, but could clearly see that this was the opening of a new era.
It was certainly amazing to see Park Sook-ja's rendition of a 19th-century court dance being introduced to New Yorkers in the heart of Gyeonggi Province, but the performance elicited more than awe for the marvels of technology. It was difficult not to be moved by the urgent desire of artists to collaborate across the barriers of time and space, and how time-honored traditions have found ways to manifest themselves through new channels.
"The sound quality was not always so good, but I felt like I saw (Park's dance) myself," Tsuji told the Korean audience after the performance, and asked Park questions about the nature of the dance.
'Culturehub project'
The Culturehub project is an initiative of the Seoul Institute of the Arts, the arts university in Ansan, to connect with artists of the Great Jones Repertory Company based in New York's La Mama Experimental Theater.
"We are currently using Polycom Codec Box to take part in such telepresence projects, not only for music but also for dance, talk shows, lectures and even theatrical performances," said Culturehub director Soh Jae-yong, who has been working on the endeavor for the past three years. "We are still in the beginning stages but expect to make vast improvements."
Samuelson, who had attended a Culturehub session as a member of the audience in New York, said he was excited to take part in the project as a performer in Korea.
"The sound quality is actually better in Korea, and the performance today was actually much better too because the musicians on both ends knew one another," Samuelson said. "The reality is you want to be in the same room (as the other players)… There is no substitute for the real thing, since there is nothing better than face-to-face, skin-to-skin interaction. But this is great because the basic idea is still there."
He explained further, "New technologies that permeate contemporary life … offer greater exposure to a wider range of arts and ideas… Tradition is never stagnant and has always both produced and accepted change over time."
The American musician-cum-scholar is no stranger to timely cross-border interactions and projects.
The flutist became exposed to Japanese music while studying ethnomusicology and went on to live in Japan in the 1970s. There he learned to play shakuhachi from the esteemed master Yamaguchi Goro.
"Cross-border experiences enable you to experience new things; the mind becomes open and your thinking expands. It's a great for both the individual and for the community," he said.
Samuelson has been teaching both theory and practice of the art in the United States and worked for the Asian Cultural Council (ACC), a fund set up by John D. Rockerfeller III to promote artistic and academic exchange with Asia in the U.S. post-World War II. Local laureates of ACC's grant include the late video artist Nam June Paik and Yoo Duk-hyung, theater director and president of Seoul Institute of the Arts.
He said that Korea is "becoming a very dynamic place for arts and culture," and particularly noted how the local music is unique in that it "combines deep spirituality and rhythmic energy." Yet ACC's ties with Korea, though dating a long time back, remain limited. Now retired and serving as senior supervisor for the organization, he hopes to establish stronger donor relations and partnerships here.
For more information about Culturehub, visit Seoul Institute of the Arts' website www.seoularts.ac.kr. To learn more about the Asian Cultural Council, visit www.asianculturalcouncil.org.