[From UCLA's Daily Bruin]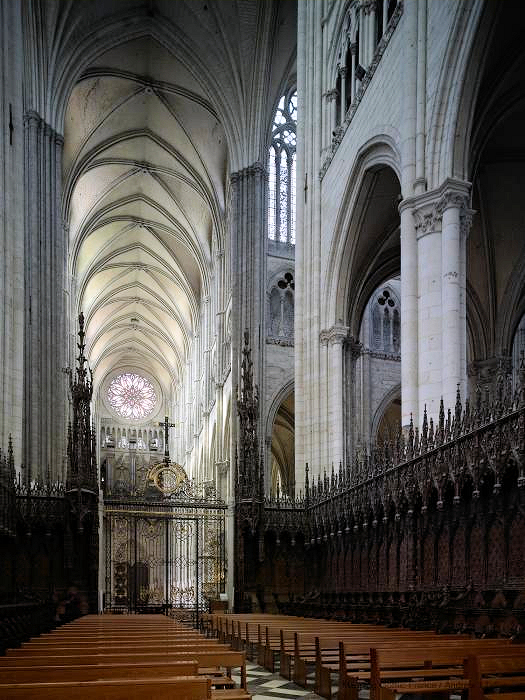 Taking architecture to new dimensions
Virtually mapped French Gothic buildings allow complete immersion through computer models
By James Barragan
Published April 12, 2011
A smile spreads across Stephen Murray's face as he answers a question about the building Royce Hall was modeled after.
"The Basilica of Saint Ambrogio," he says confidently.
He knows. Of course he knows – he is an expert in Romanesque and Gothic art.
The Columbia University professor presented only the second public showing of his new project "Mapping Gothic France" Monday night as a part of the 12th annual Hammer Foundation Lecture at UCLA.
His project is to virtually map France's most famous Gothic buildings. He posts the results as three-dimensional models on the website http://www.mappinggothicfrance.org/.
Previously, students would have to travel to Europe to fully appreciate the grandeur of Gothic architecture. Murray's project gives students a different way to become immersed in their field of study.
"The whole idea of the project comes from the John Ruskin idea of looking at buildings from many different ways: from the back, from the front and from many different entrances," Murray said, referring to Ruskin, an English art critic and social thinker of the 19th century whose essays are influential in the fields of art and architecture.
The site presents visitors with visual representations of more than 160 cathedrals through high-tech photography called QuickTime Virtual Reality.
It also immerses them in the "time, space and narrative" of the building, Murray said. QuickTime Virtual Reality pictures stitch together different sequences of photographs.
The result: a cohesive amalgamation of pictures that gives a fully three-dimensional view of a specified building.
Through controls on the computer, the viewer gets the sensation of being inside a building, Murray said.
Visitors click left, right, up and down to get different views of a cathedral. They can also zoom in and out of a picture to get different views of specific details.
"Gothic cathedrals are huge buildings which are extremely difficult to bring into classrooms," said Meredith Cohen, an assistant professor of art history at UCLA who worked under Murray during her doctoral studies at Columbia. "Now (with Murray's new project) you get a sense of being right there in Europe. It brings the buildings to life."
Cohen added that looking at two-dimensional pictures – the current way of studying Gothic architecture – does not allow the viewer to fully appreciate Gothic architecture, which is what makes the project so thrilling.
"(Murray's) work spans research and physical qualities. It allows people to get immersed in places they may never get to go," said Brett Landenberger, webmaster of the UCLA Center for Medieval and Renaissance Studies.
Beyond the visual component of the project, Murray also incorporated details of narrative and time into the site. In distinct features of his project, site visitors can choose a specific time period to look at buildings from that era.
For example, by highlighting the small fragments of land that were under a French ruler's dominion at a certain time period, Murray aims to show that not all of France was under the same dominion at the same time.
As an accompaniment to the visual and chronological aspects of the website, the narrative aspect of the project gives a concise description of each building.
But because the website has more than 160 buildings, and Murray is busy with research and his duties as chair of his department at Columbia, not all of the buildings have accompanying descriptions yet.
Cohen described Murray as a "pioneer of the digital classroom" and said his innovative ideas of looking at art history are leading a change in the field. Because students have media at their fingertips, this type of approach to research makes it more accessible to students, said Cohen, who required her class to attend Murray's lecture.