[From The Unofficial Apple Weblog (TUAW); a 1:02 minute video is available here]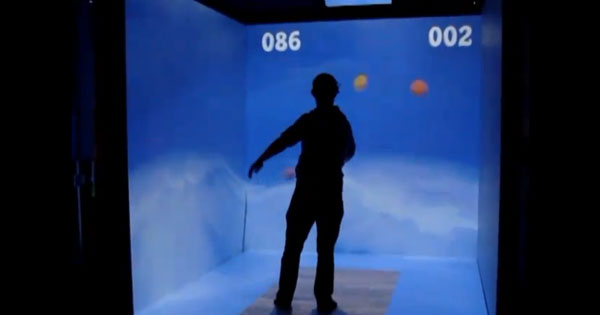 Fruit Ninja live, bring your overcoat
by Dana Franklin (RSS feed) on Mar 28th 2011
Your virtual overcoat, that is. Students in a virtual reality workshop at the FH Wedel University of Applied Sciences cloned Fruit Ninja, the best-selling game for smartphones and tablets, in 3D using the Cave Automatic Virtual Environment (CAVE). The result is a life-size, fully immersive fruit slicing experience that transforms the casual game into a serious workout where players slay seedy sprouts with their (almost) bare hands.
The life-size sword-slasher runs in CAVE, a virtual environment driven by four PCs, four rear-projection 3D displays, four infrared motion-tracking cameras, a 5.1 sound system and two "buttkickers" in the floor that rumble when a player's virtual steel blade encounters a bomb. To get the juiciest experience, players wear 3D glasses and hold a Wiimote for haptic feedback when hitting a fruit.
Developers Thiemo, Alex, Matze and Moritz, media-informatics students at FH Wedel in Germany, took two weeks to complete the project. Perhaps next the foursome could tackle a 3D version of Angry Birds played from the point of view of the birds, Doodle Jump with real jumping, or Plants vs. Zombies with life-size zombies breaking down the front door. In any case, the 3D clone of Fruit Ninja, the fourth best-selling paid app on the App Store, is a delicious showcase of virtual reality technology and these students' skills.