[From The Los Angeles Times]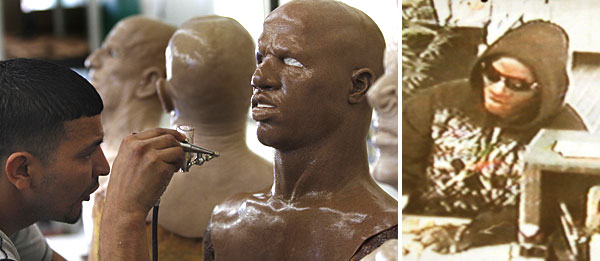 [Image: An SPFXMasks employee, left, sprays a layer of paint on a mask called "The Player." That model was used by a white man, right, in a string of robberies in Ohio. An innocent black man was held until the culprit was turned in. (Bob Chamberlin / Los Angeles Times; Gary Landers / Associated Press)]
Masks so realistic they're arresting the wrong guy
A white man who robbed Ohio banks looked so convincing in a black-male disguise that an innocent man was held. That's not exactly how SPFXMasks of Van Nuys had intended its masks to be used.
By Sharon Bernstein, Los Angeles Times
December 8, 2010, 6:21 p.m.
They're not just for Halloween anymore.
Expensive, realistic masks — the kind that are the hit of the costume party — are increasingly being used out of season, and not always for laughs.
A white bank robber in Ohio recently used a "hyper-realistic" mask manufactured by a small Van Nuys company to disguise himself as a black man, prompting police there to mistakenly arrest an African American man for the crimes.
In October, a 20-year-old Chinese man who wanted asylum in Canada used one of the same company's masks to transform himself into an elderly white man and slip past airport security in Hong Kong.
Authorities are even starting to think that the so-called Geezer Bandit, a Southern California bank robber believed for months to be an old man, might actually be a younger guy wearing one of the disguises made by SPFXMasks.
News coverage of the incidents has pumped up demand for the masks, which run from $600 to $1,200, according to company owner Rusty Slusser. But he says he's not happy about it.
"We're proud of the fact that our masks look real, but I'm not proud of the way they were used," said Slusser, a 39-year-old former makeup artist. "We're very embarrassed this has happened. We were shocked that this happened."
Conrad Zdzierak, a 30-year-old Polish immigrant, used one of Slusser's masks to disguise himself as a black man during a series of Ohio robberies last spring. The costume was so good that six of seven bank tellers wrongly identified an African American man as the culprit in a photo lineup, said Det. Keenan Riordan, who investigated the case for the Springdale, Ohio, Police Department.
"We showed the picture to his own mother, and she thought it was him," Riordan said.
The man remained in jail until Zdzierak's girlfriend tipped police off after finding money and a mask in his hotel room. Zdzierak pleaded guilty last week to six robbery counts.
Police found two of Slusser's masks in Zdzierak's safe — one of a young black man called "The Player," and another of an old white man called "The Elder." A search of his computer revealed videos of the robber modeling the old-man mask and trying to speak like an elderly person.
It also showed that he had sent e-mails to Slusser under a fake name, claiming to be a movie producer who wanted to know how the African American mask would look on a white man and whether the matching hands would tear in a fight, Riordan said.
Riordan was also intrigued to find that Zdzierak had saved copies of news stories about Southern California's Geezer Bandit, so named because surveillance video from bank teller windows appears to depict an elderly man.
The images in those videos resemble Slusser's "Elder" mask.
Authorities are investigating the possibility that the Geezer Bandit was actually wearing a disguise, said FBI Special Agent Darrell Foxworth, whose office is investigating the robberies in San Diego, Riverside and Kern counties.
Foxworth noted that an eyewitness at a Bakersfield robbery last month suspected the bandit might have been wearing a mask. Slusser also confirmed that investigators have contacted him about the case.
The use of lifelike masks to commit crimes is just the latest example of crooks adopting new technology, Foxworth said.
In one New York case last year, thieves stole a car with a GPS device and used the navigation system to find the victim's home, where they stole a second car.
"Whether we're talking about this kind of mask or using the computer, it's a reflection of how criminals are using technology to commit crimes," he said. "We have to stay one step ahead of them. That's certainly a challenge for us."
Slusser opened SPFXMasks in 2003. His six-person crew uses silicone that looks and feels like flesh, down to the pores. Each strand of hair — and it's human hair — is sewn on individually. Artists methodically paint the masks to create realistic skin tones.
"I wanted to make something that looks so real that when you go out for Halloween no one can tell," Slusser said. "It's like 'Mission: Impossible' — you pull it over your head one time and that's it. It's like a 10-hour makeup job in 10 seconds."
He experimented until he found the right recipe for silicone that would seem like skin. A key discovery was that if the inside of the mask is smooth — even if the outside is bumpy with pores, a nose and other features — it will stretch over most faces and move with facial muscles.
Customers include Halloween revelers, theme parks and a few TV shows and horror movies, Slusser said. The main character in the film "Hallows Point" wore an SPFX mask, he said, as do the dancing old man characters who perform at Six Flags amusement parks.
Slusser's customers also include a few Hollywood celebrities who use the masks to fool paparazzi, but he declined to reveal their names.
The masks are time-consuming to make, and they're not cheap. Slusser's first effort to sell them through a Manhattan Halloween shop was a flop, simply because customers weren't expecting to spend hundreds of dollars for a mask.
Slusser moved his sales operation online. The company projects $500,000 in sales this year and expects to turn a profit for the first time.
Lawbreakers have always tried to hide their identities, wearing hats, pulling bandannas or ski masks over their faces, or donning wigs. Slusser's masks pose additional challenges, but the larger issue remains human nature, said Riordan of the Springdale police force.
"It's not SPFX masks or Rusty Slusser that's making these people commit crimes," Riordan said.