[From Parade]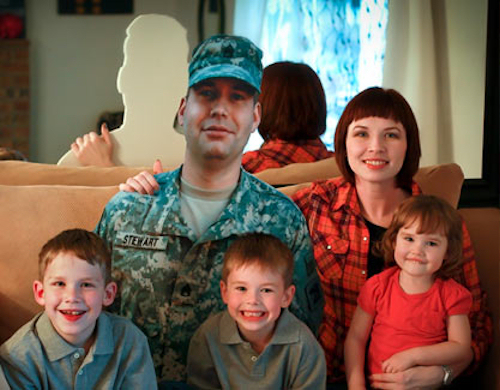 [Image: Family portrait: Jeff, Joel, Marissa, and Mira with Flat Jared. [Photo: Adrianne Stewart]
The Stewart family deploys a novel solution to stay close to Dad
By Brad Dunn
When her husband shipped out to Iraq in August 2008, Marissa Stewart knew nothing could replace Daddy for her three young children. Still, she was afraid they would start to forget about their father. How could she fill the void he left behind?
Today, she points to a lifelike, life-size photo of U.S. Army Staff Sgt. Jared Stewart perched on a chair in her Seattle living room. "That bit of foam board has brought a lot of peace to our family," she says.
Before Jared left, Marissa saw a story about Flat Daddies—a group that provides large images of deployed servicemen and -women for their families—and decided a Flat Jared might help Jeff, Joel, and Mira through the tough transition. She ordered one, and the boys, then 6 and 3, fell in love with the cutout. They played games with it, dressed it in costumes, and propped it up at the dinner table. Marissa, 32, was surprised by the boys' enthusiasm and wanted to share it with her husband. She started a blog called "A Year with Flat Daddy" and posted photos of Flat Jared, or " FJ," in funny scenes around Spokane, Wash., where they lived until last summer. From 7000 miles away in Ramadi, Iraq, the real Jared could check the blog and see himself still at play with his kids back home.
"A Year with Flat Daddy" is now in its 27th month. Real Jared, 35, has been home for only one extended stay, while Flat Jared gets more wear and tear every day. He's been trick-or-treating and even sledding in Spokane. He's attended soccer games and the first day of school. He ran a 12K race on his brother Jordan's back. He slides down slides, plays hide-and-seek, goes to the movies, and sits on Santa's lap.
"It's good he's gotten so beat-up, because it means we've taken him lots of places," says Jeff, now 8.
In fact, the Stewarts are rarely without their 2-D dad, so they tend to attract attention wherever they go. "People see us—three rambunctious kids, a foam-board soldier, and a stressed-out mom trying to keep it together—and feel compelled to say something," Marissa observes. "They'll say, 'God bless your family,' or tell the children, 'Your dad is so brave.'"
FJ also inspires humor. Women will say he looks like the ideal husband—strong and silent—for which Marissa has a stock reply: "Yeah, but he doesn't lift a finger around the house."
Many reactions are solemn. "We were at Chuck E. Cheese's one time, and Mira wouldn't sit still for a photo with her dad," Marissa says. "Two teenage girls tried to help by distracting her. I saw their parents watching us. The father smiled at me but got choked up and had to look away. Finally, the mother came over and just said thank you."
Although FJ provides solace at critical times, Marissa has faced many of the family's toughest challenges alone. Jeff was diagnosed with Asperger's syndrome two years ago and undergoes regular therapy. Mira was hospitalized with a severe rotavirus infection at 18 months. Marissa also had to take on part-time work as a transportation security officer to make ends meet.
"It's hard raising three kids and going through the tough stuff alone," she says. "But Jared's job is to focus on his work, to protect himself and his troops. My job is to hold down the fort back home."
The worst moment was when Marissa's car was stolen with Flat Jared inside. Police found the vehicle in a field and FJ bent and broken in the mud. "The kids were devastated," Marissa says. "We put a lot of symbolism and love into that foam board. They said, 'Why would someone hurt our dad?'"
A stranger read about the incident online and anonymously donated a new Flat Jared. Today, the replacement FJ smiles as he always has, sitting next to the kids at their favorite pizza place. Joel, now 5, says the best part of a Flat Daddy isn't the silly pictures or games. "It's that I can tell him 'I miss you' and 'I love you' anytime I want…I can hug him, too."
At press time, Real Jared was due home by Thanksgiving, more than two years after leaving his family. When he returns, Marissa says, FJ will go in the garage—but if rumors of another overseas deployment come true, FJ may need to come out again.
"There's definitely a flip side to all this," she says. "Here's a big picture of someone who might not come back again, a daily reminder of everything we could lose. Jeff is aware of the elephant in the room. He knows there's a chance his dad won't come home." Marissa pauses, holding back tears. "But no matter what happens, I'd rather have Flat Daddy photos and memories than have my kids slowly forgetting about their dad."
Mira finishes a chocolate sundae and gives her foam-board father a kiss on the nose. "Oh, be careful!" Marissa says, grabbing a napkin. "We don't want to get chocolate on Daddy."
"It's okay, Mommy," the 3-year-old replies, smiling wide. "He likes chocolate."
"I can't tell you how much this photo means to them," Marissa says. "Jared has missed all three of Mira's birthdays, but her first word was still 'Daddy.'"
Give a Flat Dad or Mom
To donate a Flat Daddy or Mommy to the family of a deployed service member or to learn more about the program, click here.
EDITOR'S NOTE: After this story went to press, Staff Sgt. Jared Stewart returned home to his family. Read more about his homecoming at Marissa's blog: A Year with Flat Daddy.