[From Telepresence Options]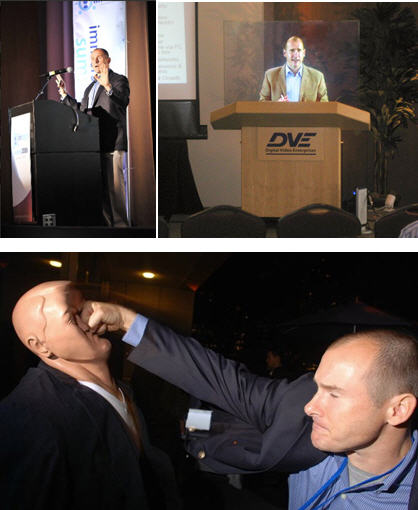 The Immersive Technology Summit – A Review
November 10, 2010 | Howard Lichtman
Two weeks ago I spoke at the Immersive Technology Summit in Los Angeles, an event put together by the non-profit ImTech, which is supporting the development and adoption of immersive technologies.  The one-day summit, emceed by Ken Rutowski of KenRadio,  drew hundreds of participants from around the world with tens of thousands more watching the live streams.  The summit took place at Los Angeles Center Studios in the heart of Hollywood and created a hot tub atmosphere that brought together luminaries from technology and the arts to discuss, debate, and promote how immersive technologies from telepresence to augmented reality would shape entertainment, communications, and media in the coming years, On the same day I addressed the SYNNEX FOCUS conference in San Francisco via a DVE Telepresence Podium and got to "Punch Bob".  Get the scoop on what was new and cool in Immersive Technologies. 
 Two Speeches in One Day Via the Magic of Telepresence
[Image: To appear on a DVE Telepresence Podium you are captured against a black background where light colors show better so a wardrobe change was required.]
I goofed and double booked myself to speak at the Immersive Technology Summit in LA and SYNNEX's FOCUS Conference in San Francisco on the exact same day. I had been planning on addressing the SYNNEX FOCUS event using a DVE Telepresence Podium anyway but had been planning on doing the event from the studio in my office on the Silicon Plantation of Northern Virginia. Luckily, the DVE's offices are in Irvine, California right outside of LA so I was able to use their studio, their LifeSize Room 220 codec and unlimited bandwidth before heading over to the Summit. An illustrative case study in how telepresence is revolutionizing communications. 
The Speech I Wish I had Given to the Immersive Technology Summit
So I goofed a second time in not really understanding the audience ahead of time.  While I knew that the Summit was taking place in Hollywood, I didn't really understand that the majority of attendees were from Hollywood. It wasn't until I arrived and began to meet the other speakers, attendees, and exhibitors that I began to realize that one of the main functions of the summit was to showcase the emerging immersive technologies so the entertainment industry could expand their digital toolboxes. I gave a general overview on telepresence, why companies and academia were spending hundreds of thousands of dollars per room, and the growing utility of telepresence as disparate organizations begin to connect together at telepresence and video exchanges to do business globally at the speed of light. 
If I had understood the audience dynamic a little better I would have discussed how Hollywood, and the advertising and content industry was incorporating telepresence into global "transmedia" events like the recent launch of the Doobie Brother's new album or how telepresence / high definition video conferencing and IP networks were being used to conduct remote interviews on MSNBC. Or how ESPN is using telepresence / high definition videoconferencing to replace broadcast trucks to connect to multiple teams in real-time for the NFL and NBA draft.  Or how the Oprah Winfrey Show has upgraded from standard definition Skype to high definition Cisco umi home telepresence to bring in remote guests. Or how corporations are building their own studios, creating their own content, and using high quality streaming to augment or bypass completely the existing network distribution system. But, alas, I will have to save these thoughts and others for next year's summit.      
Here was some of the cool immersive tech at the Summit: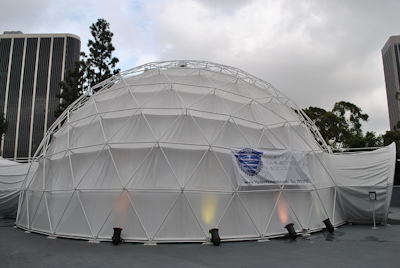 The Vortex Dome was set up outside the summit and was a digital dome studio and immersive events venue where immersive content can be projected on to the 50′ foot diameter dome.  It seats 140 people or 280 standing.  The summit had it set up with couches, bean bags, and seats with a variety of engaging content.    
The T.O.O.B is a personal, immersive half dome surround screen for gaming, IMAX movies, and 3D movies.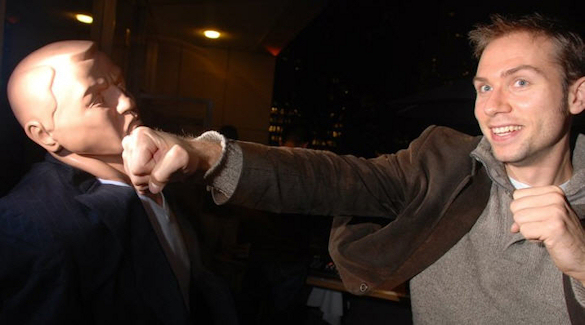 Punch Bob creator Richard "Dick" Whitney of Grain Design slugs "Punch Bob" his creation which snaps a photo as you "Punch Bob".  Jared Newman of Technologizer called the gizmo "the most entertaining thing he saw at the summit." I am going to agree completely. There is something remarkably satisfying about Punching Bob and the photos provide both instantaneous gratification and a nice memento from the experience. Even though Bob only has a torso, this tech has got some legs.  Coming soon to a party, club, arcade,Chuck E. Cheese, and/or Dave & Busters near you!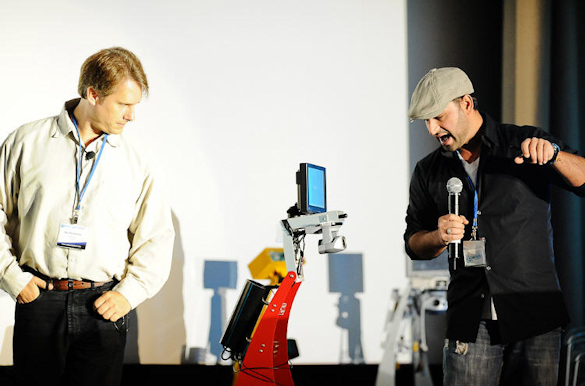 Telepresence Robotics was represented at the summit.  Here is the event's moderator Ken Rutkowski, host of KenRadio, with TiLR the Telepresence Robot, and Fred Nikgohar, TiLR's "dad"  and CEO and Founder of RoboDynamics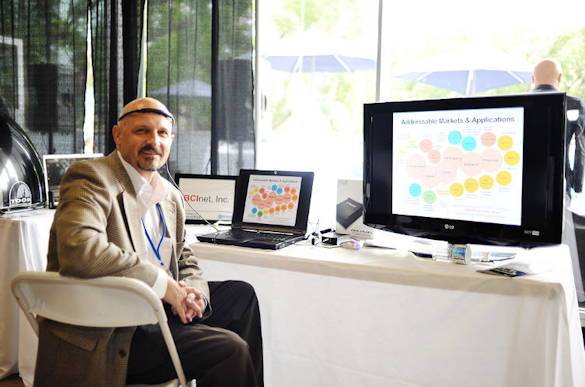 Greg Hyver, Vice President of Business Development at BCInet, sports the Neural Impulse Actuator (nia) a brain computer interface that detects biofeedback signals from brain waves and facial movements to control a variety of PC software including gaming.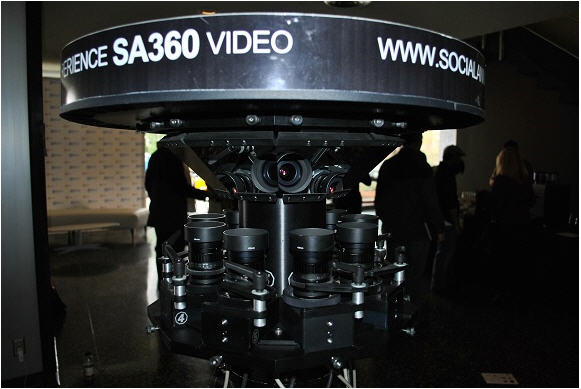 Picture: Jared Newman @ Technologizer – more here
Social Animal's SA360 camera uses a 9 camera ring to shoot 360 degree video for cinema quality interactive video. 
Amusement Parks on Fire 360 Video – Widescreen Version from Social Animal on Vimeo.
Click link above to Play Full Screen to get the Full 360 Degree Effect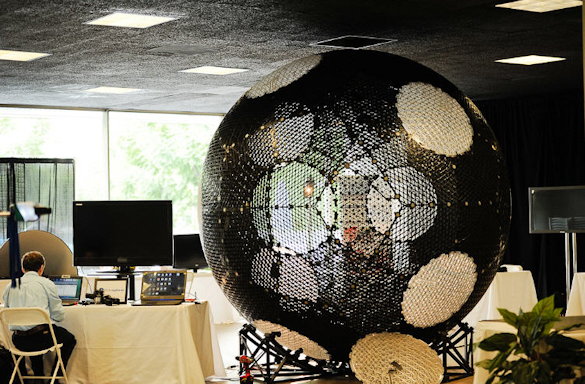 The Virtusphere – a 10 foot diameter human hamster wheel that allows you move around in virtual worlds while wearing a wireless head mounted display. 360 Virtual Ventures, the developer, has them deployed at a couple of Las Vegas casinos where three and 1/2 minutes will run you ten bucks.  The game, which involved blasting aliens in a virtual world, had a distinct Version 1.0 feel to it and movement in the sphere took some getting use to but you definitely got a taste of the future: Natural location through immersive virtual worlds.  Here is another potential solution: Cyberwalk: a giant omni-directional treadmill.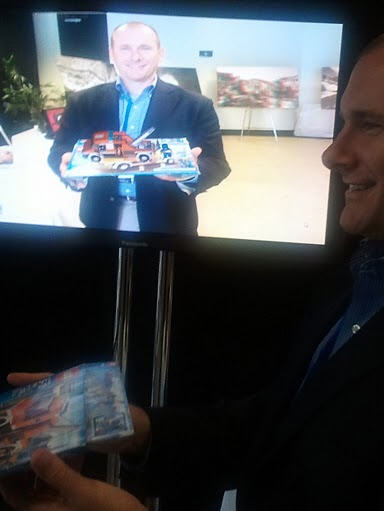 Metio, an augmented reality company that can recognize objects on physical objects (like the toy box I am holding) and then adds an augmented reality version on-screen (among other tricks and applications).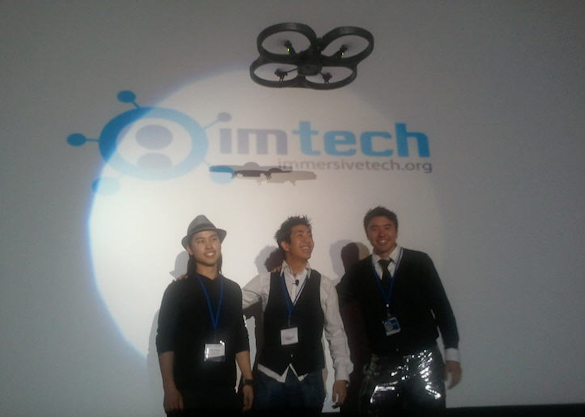 The Parrot AR Drone, a four rotor quad copter with two cameras that can be controlled with an iPhone or iPad hovers over the ImTech co-founders and summit organizers: Kevin Wong, COO, Nathan Makino, CEO, and Harold Tan, CSO of ImTech.  ImTech has developed http://www.createthematrix.com/, a project on kickstarter.com. "We're creating a simulation system that previously existed only in science fiction," Makino said. "Our goal is to provide the ability to create digital simulations that, as far as your brain can tell, are indistinguishable from physical reality. We essentially want people to be able to lucid dream in a waking state. The simulation system will enable you to see virtual worlds in a 3D 360° first-person perspective, allowing you to exist in it, rather than watching it as a spectator."
My Visit to Digital Video Enterprises in Irvine
Since I had to stop in to use the DVE telepresence studio to project myself into San Francisco to speak to the SYNNEX FOCUS conference, I got the complete tour and got to play with the latest and greatest.  DVE has a complete showroom in Irvine including a full size Immersion Room. 
HSL in the DVE Immersion Room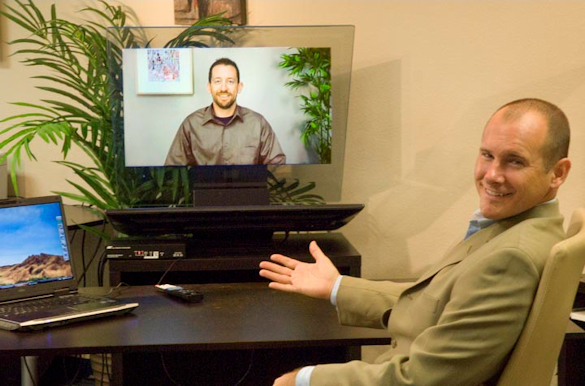 The DVE Silhouette with a hidden eye-level camera for true eye-contact