[From Goal.com ("Score to Live")]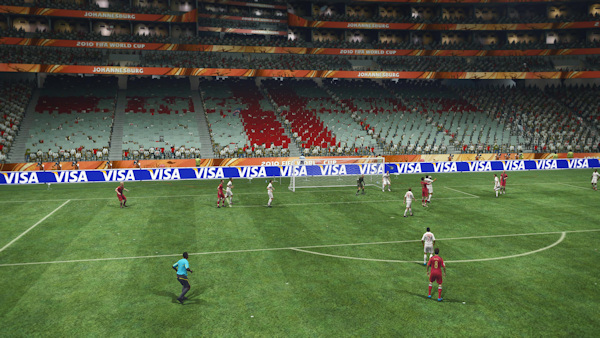 Virtual Reality: A Search For The Heart Of America's Game
Eric Betts finds video games convert fans to the beautiful game
By Eric Betts
Apr 21, 2010
One of the joys of being a soccer fan in the United States is the opportunity to convert the unbelievers, to watch as someone who was once indifferent or antagonistic falls in love with the game.
To love soccer is to know it. People can't develop a life-long passion for the game without a basic understanding of what's happening on the pitch. Knowing the rules isn't enough; I mean having a basic grasp of the tactics that drive the play, being able to recognize what each team is trying to do and how the other team is attempting to stop them. This knowledge sustains our interest during the lulls in the game, keeps our attention focused on the play even though teams don't score every twenty-four seconds or five minutes or however often you like points put on the board in your sport of choice.
For most fans, this knowledge comes from having played soccer, usually in their youth. Others garner it from watching a lot of games. This is why World Cup years are big years for American soccer even when the U.S. team doesn't do all that well; more games equals more opportunity for potential neophytes to discover that they really like soccer. In today's world, however, there's a third way, one that requires neither the physical skills required to play nor the time commitment of watching lots and lots and lots of 90 minute games.
Take Steve. Steve's an information studies student at Syracuse. Steve played some soccer as a kid — mostly, he says, as a goalkeeper — but quit in middle school to focus on baseball and football. Growing up, he watched one or two Champions League games per year, and could probably have recognized players like Thierry Henry, Dennis Bergkamp, and Alan Shearer if they were standing in front of him in uniform kicking a ball around.
Then, he found FIFA, that is, EA Sports' 2006 FIFA World Cup for the Xbox 360. "A friend and I were sitting around a few months before the actual World Cup in 06 and stumbled upon the demo for the game," Steve told me via e-mail. "We both loved the game, the sport, the whole deal. We went out and bought [2006 FIFA World Cup] immediately." 
Today, Steve's a dues-paying member of the Philadelphia Union supporters club, the Sons of Ben. He's watched every game the Union have played in this still-young MLS season, and also every game Liverpool have played in their by-now-quite-old EPL and European campaigns. He plays on an indoor intramural team with some of his friends, and has owned every incarnation of FIFA and Football Manager since that first download.
He's not the only one. I've talked to members of Sam's Army and former high school players who say they owe at least part of their passion for soccer to a virtual version of the sport. I even have some personal experience with the matter; three of my close friends, guys who haven't played organized soccer since they were seven, took to the game in the real world after I introduced them to FIFA 2002.
What makes games like FIFA and Pro Evolution Soccer such effective promotional tools? For one, they can serve as a kind of Cliff Notes to the sport, a handy-dandy guide to the teams and players that form the dramatis personae of world soccer. "I've always been someone who cannot sit down and watch a game where I do not know the players involved," Steve tells me. "I was able to enjoy the beautiful game after playing FIFA because I knew the players." He's not the only one who gets this kind of utility from them. In a promotional video for FIFA's 2010 edition, Bayern Munich midfielder Bastian Schweinsteiger talks about using FIFA to familiarize himself with some of his team's smaller European opponents.
Secondly, and perhaps more importantly, soccer video games are able to multiply a player's effort. It's been said that Rock Band provides players with 50 percent of the experience of playing live music at only 3 percent of the effort. For FIFA and PES, I'd estimate it's something closer to five percent of the experience of playing soccer for 0.5 percent of the effort. But it's an important five percent. You can't learn to play soccer from a video game, but you can learn how soccer is played: the sophisticated movement required of player and ball in order to create space, the way teams pass defensive responsibilities as the opponents move through different zones on the field, or that slide tackling the goalkeeper from behind while he's getting ready to punt the ball is a bad idea.
Soccer video games don't teach how to play the game; they teach you how to watch it. The angle at which you view the pitch is more or less identical in the game and on television. So if you can spot a player's late run into the box or the hole in the defense for a through ball or the angle you need to take to cut off that passing lane in the game, then there's no reason why you shouldn't be able to do it when you're watching on TV or in the stands. It's what my friend Jordan — one of those three who were brought to soccer on the back of FIFA 2002 — calls the difference between active and passive viewing, anticipating what's going to happen rather than reacting to what does happen.
Steve gave an example: Jordan Harvey's goal for the Union against Toronto last week. "The majority of people — the casual American fans who don't watch soccer often — won't have noticed Harvey's initial run from the backline or the perfect backheel from [Sebastian] Le Toux to [Roger] Torres.
"Thanks to FIFA giving me the ability to read the game more effectively, I was able to say 'goal' before Le Toux dropped the ball back to [Roger] Torres, who was then able to whip in a beautiful cross to Harvey."
It's the active viewers, the ones who recognize sequences like the one above before they happen, who are more likely to be the true diehard fans, those who will watch a game whether it's Barcelona-Real Madrid or Seattle Sounders-Real Salt Lake or Local High School A-Local High School B. And as FIFA grows in popularity, this country's going to see a lot more of them.
Did you fall in love with soccer with help from a video game? Or do you just have an idea about what constitutes America's Game? Send an e-mail with your story to americas.game.book@gmail.com.