[From InformationWeek]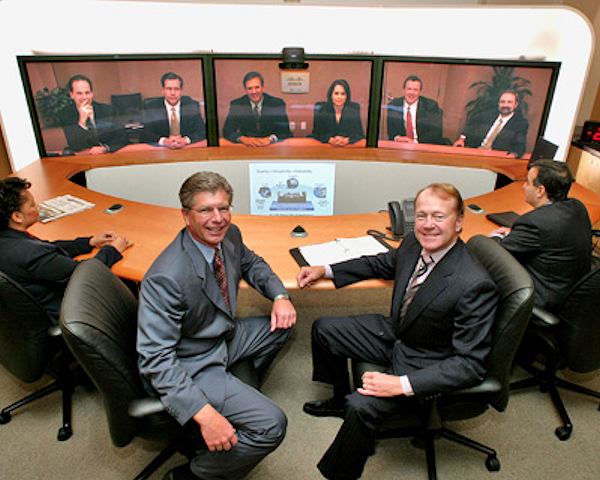 Down To Business: Cisco Talks Telepresence Direction
Cisco coined the term and raised market awareness. Now it's looking to drive adoption into wholly new areas.
By Rob Preston
InformationWeek
March 24, 2010
Cisco coined "telepresence" five years ago to describe its vision for super-high-quality videoconferencing, and as a mark of its success the term is now the industry norm. Rivals Hewlett-Packard, Polycom, LifeSize Communications, Teliris, Huawei Technologies, and even lower-end providers like Vidyo have adopted the Cisco label.
I sat down yesterday with Chuck Stucki, VP and general manager of Cisco's TelePresence Systems unit, to discuss the present and future of telepresence. Here's some of the ground we covered:
• Since Cisco launched its first telepresence product in late 2006, it has become one of the fastest-growing internally developed products in the company's storied history. Cisco counts 600 telepresence customers worldwide-50 of the Fortune 200-encompassing 3,000 installed systems (all of them paid for, Stucki adds in response to critics who claim that Cisco is giving the systems away to seed the market). The hottest verticals: telecom and banking, and more recently healthcare, government, and consumer products.
Stucki's unit, which he says is profitable, will easily exceed $1 billion in revenue with the pending acquisition of Norway's Tandberg, Counting related managed services, Stucki estimates the global telepresence market at around $3 billion and thinks it can grow to $10 billion within five to seven years. Stucki, who's moving to Oslo from California, will oversee one global team, including 400 Cisco engineers and 500 from Tandberg.
• With the Tandberg acquisition, now subject to regulatory approval, Cisco's telepresence offerings will scale from simple desktop systems to one that includes three 65-inch plasma screens, two rows of specially designed tables that seat up to 18 people, an LCD display, and integrated cameras, lights, microphones, and speakers. The highest-end system, including bandwidth, room remediation, and other related expenses, costs anywhere from $15,000 to $25,000 a month if rolled up as a lease, Stucki says. The lowest-end systems (excluding Cisco's WebEx Web conferencing products, part of a separate unit) can cost under $1,000 a month.
• The ROI, of course, is still mostly in the avoidance of travel costs. The more global a company is and the more travel its executives do for product development, sales, training, and other reasons, the quicker the potential payback, especially if suppliers and partners can be integrated over telepresence calls.
• System interoperability has been a big gotcha: It has been difficult to get Cisco and other proprietary telepresence systems to talk with one another. Cisco is trying to advance its Telepresence Interoperability Protocol license, which it offers for free, as an industry standard, though Stucki admits that Cisco has some convincing to do in the interoperability area.
• Telepresence is still a CXO or line-of-business executive sale-embraced by CEOs, CFOs, heads of sales, and other senior execs and almost always sponsored by the CIO. Those in charge of lower-end videoconferencing systems are usually cut out of that process. As for usage, companies are opening these high-end systems to most of their employees, not just the muckety mucks, Stucki says.
• As desktop telepresence gets more sophisticated, won't those systems cannibalize the high-end business? Stucki acknowledges that Cisco will go aggressively down market, mostly with its Cisco-branded Tandberg systems, but he says he's not concerned about the high end. He compares telepresence to the PC market: Though much of the device innovation of late has been in smartphones, the PC continues to evolve and remains as integral as ever for many applications. Stucki notes that with all the telepresence systems at Cisco employees' disposal, the ones used the most are the 18-person room systems. "I don't buy into the notion that we'll all end up huddled in our cubicles," he says.
• Where does the telepresence market go from here? Business to consumer is the next frontier, Stucki says. Not just telepresence in the home office, he says, but also in the living room or den "for play, for fun." Think guitar lessons or poker games over telepresence links. Stucki sees widespread B2C telepresence as at least five years out. A big challenge: Not so much system prices and bandwidth, he says, but how do businesses manage a bunch of home telepresence subscribers? Through partnerships, Cisco is already opening up telepresence to SMBs and other organizations who want to rent the service by the hour.
Rob Preston,
VP and Editor in Chief, InformationWeek
rpreston@techweb.com
Telepresence: Living Like The Jetsons
Telepresence is turning video communications into a near in-person experience. For a price, it's the next best thing to being there. This report identifies best practices for selecting and implementing telepresence systems and examines bandwidth, interoperability and other problems that can trip you up. Along with this Analytics Report is an ROI model that lets you test several video communications options and determine what's best for your company. Download the report here (registration required).