[From Wired magazine's Autopia blog]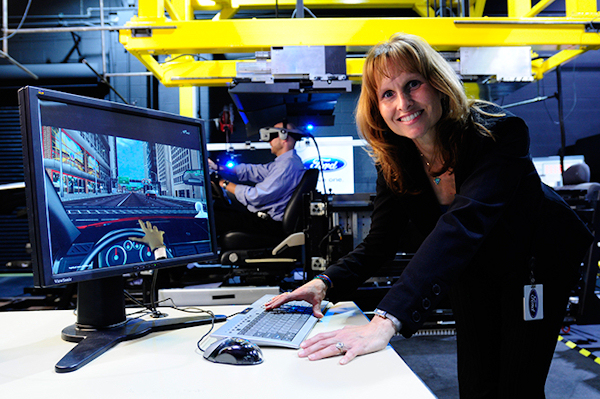 Ford Goes to Cyberspace to Help Astronauts
By Chuck Squatriglia  January 20, 2010
Ford and United Space Alliance are cribbing from the movie and gaming industries by using virtual-reality software to create better cars — and spaceships.
The automaker and the aerospace company — a lead contractor for the space shuttle — are sharing their experience with animation software to create simulations that benefit astronauts and motorists. In Ford's case, engineers and designers work in cyberspace to design automobile interiors. United Space Alliance uses the same technology to track launch debris during liftoff.
Now a new partnership has them working together to customize the software so it can help make quick decisions about maintenance and repairs and decide how best to deal with unexpected events during a mission.
"Teaming up and sharing ideas with USA for the benefit of our space program is a whole other level of cool," said Ford's Elizabeth Baron, who has the unwieldy title of virtual reality and advanced visualization technical specialist.
Ford has been playing in virtual reality since 2005, when it introduced the tech to its "immersive" Virtual Evaluation Lab in Dearborn, Michigan. As many as five techies work with the dozens of engineers and designers who develop Ford vehicles, helping them navigate the computer realm to figure out the best design for automobile interiors. Working in virtual reality allows them to quickly and easily test dozens, even hundreds, of configurations to create a cabin that is comfortable, with a dashboard and controls that are intuitive and easy to use.
Every model in Ford's lineup went through Baron's lab during development. For example, the lab tested several iterations of the center stack in the Lincoln MKS sedan, using sims to find the best location for things like the climate-control buttons and entertainment system controls.
"We can try things out and hit the mark without going through as many physical prototypes," Baron said. "We still build prototypes, but we build a lot less of them."
In the five years since the lab opened, Ford has shaved eight to 14 months and "astronomical" amount of money from the time and budget needed to develop new cars or updated models.
United Space Alliance use the same technology at Kennedy Space Center to build space vehicles more safely and efficiently. For example, it used the tech to develop a process for more efficiently removing and installing reinforced carbon panels on the leading edge of the shuttle's wings. It's now used to track and characterize launch debris during the shuttle's ascent.
The company hopes to use the same tools to develop a model for accurately predicting how the loss of any material on a spacecraft during ascent might affect the vehicle or the mission. Looking further down the road, it hopes to develop VR software for simulating repairs. That's where Ford came in. United Space wanted to see how Ford uses virtual reality to allow people to interact with cars that don't exist.
"We were amazed how similar our tools were and how similar our approaches were," Baron said.
Turns out each company had something to learn. Ford has helped United Space tweak its human simulation software and motion tracking technology. The aerospace guys have helped the car guys improve the response time of their software, making the environment more lifelike. They've also given Ford some hardware advice.
"The opportunities working with the Ford visualization team are providing us invaluable knowledge in combining ergonomic analysis with visualization technology," Brad Lawrence, United Space Alliance computer science lead, said in a statement. "It was extremely interesting to see how similar our efforts are regarding automobile and spacecraft processing."
Baron agreed.
"It's turned out to be a wonderful collaboration," she said.