[From This Is Bristol ("At the Heart of All Things Local")]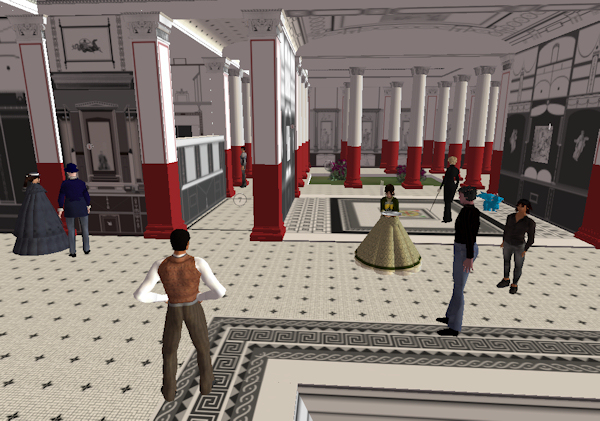 Bristol historians give the old world a Second Life
Wednesday, January 20, 2010
Back in 1854, the life-sized replica of a Pompeian villa was one of the highlights for visitors to the newly-reopened Crystal Palace.
Victorian thrill-seekers gazed in awe at the interactivity of the exhibit – though of course, they probably didn't use the word "interactivity".
Four years after the Crystal Palace had attracted crowds for The Great Exhibition in Hyde Park, it was rebuilt as an ultra-modern museum in Sydenham, south London, with a series of life-sized models of ancient landscapes.
When Dr Shelley Hales of the department of Classics and Ancient History at the University of Bristol wanted to revive the spirit of the great Victorian "palace of learning", she couldn't simply rebuild the replica villa for real – the Crystal Palace was engulfed by fire and destroyed in 1936.
The Pompeian Court – complete with elaborate paintings traced from the wall frescoes uncovered in Pompeii's ruins – was just one of the tragic losses that day.
But Shelley realised that the modern equivalent of an "interactive exhibit" is the virtual reality world of the internet.
So she teamed up with her colleague Dr Nic Earle, of the university's Education Support Unit, to "rebuild" the villa in the virtual world.
"When I heard that Nic had a PhD in "virtual realty technologies", I realised that if we put our heads together, we could recreate the villa in an updated form – there's no doubt that as an "interactive learning space", the Crystal Palace at Sydenham was the internet of its day."
The pair of academics have spent the last year rebuilding the villa in a 3D virtual version, which has now been integrated into online virtual reality game, Second Life – a constantly-growing "virtual landscape", which is populated by virtual versions of people – known as avatars.
"Second Life is massive now," says Nic. "It's hard to get your head around how much the concept has developed in the past couple of years.
"It now has thousands of members, many of whom spend hours at a time living in and exploring this virtual world. In real terms, the Second Life world is now as big as Greater London – so there's a lot to explore.
"Sometimes it's pure escapism – in Second Life, users can create their avatar's looks and personality from scratch – but I'm hoping that projects such as ours will prove that this kind of technology can also be used for educational purposes."
Through their online avatars, visitors can explore the villa, join guided tours, meet other visitors, take part in learning activities, or even interact with virtual Victorian and Pompeian inhabitants.
"The model helps us to compare the strategies the Victorians used to build, inhabit and engage audiences with their immersive Pompeian environment with the techniques made possible by the technology at our disposal today," Shelley says.
The project was funded by the Joint Information Systems Committee (JISC) – an independent advisory body that works with universities and colleges to improve online educational facilities.
It is part of JISC's digitisation programme which has invested just under £2 million to develop the range and quality of digital resources available to students, lecturers and researchers in colleges and universities.
Shelley and Nic reconstructed the virtual villa using the original Victorian floor plan, and filling in the details by viewing contemporary photographs and descriptions of the house from 19th century press reviews.
"When visitors arrive, there is a virtual Victorian on hand to give you a virtual copy of the original guidebook, so you can read up about different mosaics and sculptures in the villa as you walk around," Nic explains.
"After more than 12 months working on the project, it's wonderful to see the avatars viewing the exhibit – knowing that somewhere in the real world these people are really interested in the history that's on offer.
"To mark the launch of the project we had a party, with both real champagne and virtual champagne being passed around. But as users can create their own avatar from scratch, it made for a very surreal scene. At one stage, I found myself offering a tray of virtual champagne to a dragon."
Shelley and Nic have worked with a number of Bristol schools on the project.
"Although you have to be 18 to sign up to Second Life, we think the virtual landscape can make an excellent learning environment, as long as the session is carefully monitored by a teacher," Nic says. "So we've been teaching the schoolchildren about both Roman and Victorian history, by allowing them to explore the villa with our avatars."
Shelley adds: "The villa is also an excellent learning environment for my undergraduate students, who gather in there to talk to other history students from around the world."
For more information, visit the website at sydenhamcrystalpalace.wordpress.com  or search for "Sydenham Crystal Palace villa" on Second Life. Access to Second Life is free, though you need to be over 18 to register. For details, visit www.secondlife.com.
* Launched in 2003, Second Life is a virtual world accessible via the internet.
* It launched in 2003.l Users, known as residents, interact with each other through avatars.
* Residents can explore, meet other residents, socialise, participate in individual and group activities, as well as create and trade virtual property and services with each another.
* They can "travel" throughout the world, which residents refer to as 'the grid'.
* Second Life is for anyone aged 18 and over, while Teen Second Life is for players aged 13 to 17.
* Built into the software is a 3-D modelling tool based around simple geometric shapes that allows a resident to build virtual objects.