[Complimenting the announcement of a fourth Matrix film (see Variety for details), the very positive CNN Business review below of a new VR experience set in the world of HBO's Westworld series highlights the value of fiction to illustrate and explore presence phenomena. It also touches on the current status and challenges of VR. Follow the link in the second paragraph for more information and a video trailer, and see other positive reviews in The Verge and UploadVR. –Matthew]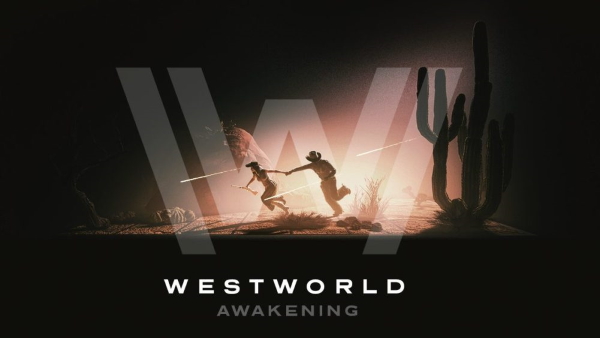 A new Westworld game actually delivers on virtual reality's promise
By Rachel Metz, CNN Business
August 20, 2019
San Francisco (CNN Business) -On a recent weekday, I pulled a virtual-reality headset over my eyes and, in an instant, left behind a bland office and entered a rustic-looking frontier land. The spot in front of me where a table had stood was now a decaying, foreboding home. The wind blew in my ears and the sun shone overhead.
I was checking out a demo of "Westworld Awakening," a new virtual-reality game from HBO and VR game studio Survios that's based on HBO's hit sci-fi western "Westworld." Players take on the role of Kate, an AI robot (known in the TV show as a "host"), who suddenly awakens in the lab of her makers and realizes she isn't who or what she thought she was.
For those who haven't watched, the TV show's fictional Westworld park is a place where incredibly realistic-looking hosts interact with human visitors who can pretty much do whatever they want in a Wild West setting. It could have simply been remade as the setting for a virtual shoot-'em-up game. Instead, Survios and HBO, which is owned by CNN parent company WarnerMedia, worked together to create something much more complicated and fascinating.
I was captivated by virtual clothing so intricate you can examine the ruffles on collars and see through diaphanous fabric. People I came across didn't appear photorealistic, but they were impressive-looking nonetheless. This is a game with a lot of blood and gore, so it might not be for those with queasy stomachs, but even the lifeless bodies I came across were worthy of inspection.
Even the way you move through this world is unique — swinging your arms while holding a game controller in each hand. The faster you swing, the closer you get to running. If not done just right, with all the visuals matching up properly to what you see as you move, it could have been nauseating. Instead, it worked surprisingly well, matching with the pace and a sense of fear that permeates the game.
In short, "Westworld Awakening" shows off the power of VR better than other games I've seen. It makes you feel truly transported to another time and place (and character) that you want to explore.
There is, unfortunately, a problem too big to ignore. The game, which costs $30 and comes out Tuesday, is limited for now to powerful, PC-tethered VR headsets, which most of us don't have. If you want to explore life as an android waking up to a mystifying hellscape, you'll either have to buy a compatible Oculus Rift or HTC Vive device, each of which retail for hundreds of dollars (not including the price of a computer to go with it), or else find an arcade. ("Westworld Awakening" will be available at over 400 arcades in the US, UK, Mexico and elsewhere, though it's not yet clear which arcades will carry it).
And so while the game may be a triumph of an emerging medium, it faces a major obstacle from the get-go: finding people to play it.
Looking at the numbers
The numbers bear this out. Virtual reality is expected to grow steadily in the coming years, though specifics depend on whom you ask. This year, tech market researcher IDC predicts 7.6 million VR and AR headsets will ship, the vast majority of which are expected to be VR. That's up from 5.9 million headsets, also mostly VR devices, shipped in 2018.
IDC expects VR will become increasingly popular over time, with 37 million VR headsets shipping out in 2023.
Yet, these headsets aren't all going to people who want to play at home. A third of the VR headsets sold this year will be for commercial use, IDC forecasts. And the overall numbers pale in comparison to established entertainment devices like video game consoles, and even other emerging gadgets (the market researcher predicts, for instance, that 138.5 million smart speakers will ship out this year).
All of which is to say that "Westworld Awakening" is starting at a huge disadvantage.
Smart choices
From the small portion I got to play, however, it was clear that the companies behind the game made some really smart choices that could attract both fans of the show who don't use VR and fans of VR who aren't already interested in the HBO spectacle.
Rather than dealing with the complexity of including actual characters from the TV show— such as one of the robot hosts that populate the Westworld park or the employees of Delos Incorporated, which runs the park and controls the hosts — players take on the role of Kate.
Meeting Kate and figuring out who she is and what she needs to do is confusing, but in a good way. You, as her, start out standing in front of the aforementioned rundown house, which you can tell you need to explore. It's quickly clear that you're playing the character of a woman, even though all you have to go by are her hands and Southern-style internal monologue.
As Kate, you spend some time wandering around the house, but quickly encounter a serial killer named Hank. Then you open your eyes inside the Delos building, which is the next environment you need to explore.
Fans of the Westworld show will likely understand what's going on here a little bit faster, but it's not necessary to play. In many ways this sense of bewilderment helps the game along: you can imagine, were you really an android waking up in a lab, that you'd probably be pretty out of it.
After walking around the Delos building for a while, holding a slender tablet like the ones used by Delos employees in the show while trying to turn off a breaker box, I felt a (real) tap on my (actual) shoulder. It was time to take off the headset and leave Westworld and Delos behind, but I felt almost sad: For once, I really didn't want to come back to the real world.