[I want to go to The Dali Museum in St. Petersburg, Florida – this story from Creative Loafing Tampa Bay describes how the museum has incorporated VR, AI and now AR to enhance the presence experiences of visitors. More information about the current AR exhibit is available from the museum's website and for more examples of the use of VR and AR in museums see Blooloop. –Matthew]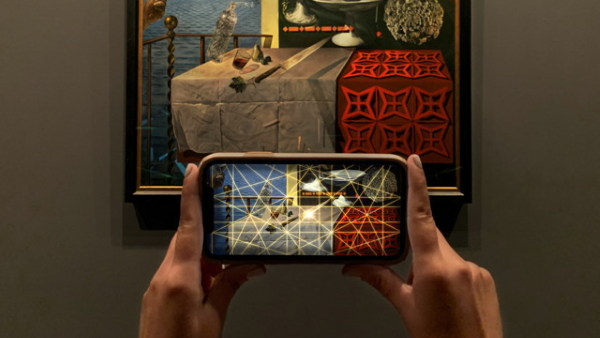 [Image: Salvador Dalí. Nature Morte Vivante (Still Life-Fast Moving), 1969-70, oil on canvas. Collection of the Dalí Museum, St. Petersburg, FL (USA). Credit: Worldwide: ©Salvador Dalí, Fundacio Gala-Salvador Dalí (artists rights society), 2019. In the USA: ©Salvador Dalí Museum, Inc., St. Petersburg, FL, 2019]
The Dali Museum introduces augmented reality to its St. Pete experience
Think you really know Dali?
Jennifer Ring
June 14, 2019
Can you spot Lincoln in "Gala Contemplating"? Do you know who the woman is in the top left-hand corner of "The Discovery of America by Christopher Columbus"? Do you know why Dalí loved cauliflower so much? What inspired his mustache? Why there are so many flies in his paintings? These are the types of questions the Dalí Museum's new augmented reality experience answers.
Augmented reality (AR) is the latest new technology to arrive at the Dalí Museum. "So we now have VR, AI and AR," says Chief Operating Officer Kathy Greif. Each of these technologies offers exciting new ways to experience Dalí's work.
Virtual reality requires a headset, and transports you to a different reality. The Dalí started using it in 2016 with Dreams of Dalí, a virtual trip through Dalí's "Archaeological Reminiscence of Millet's Angelus."
In May 2019 they introduced artificial intelligence, bringing Dalí back to life to speak with museum guests from three human-sized screens. Now Dalí greets you at the Museum entrance, chats with you about his art outside the third floor galleries, and takes his selfie with you in the gift shop as you leave.
Starting Saturday, June 15, you can view Dalí's masterworks using an augmented reality app developed by Guru, a technology company based in San Diego. Augmented reality works by using a device, like a smartphone, to enhance a real experience. The museum brought the new tech in specifically to showcase their masterworks, according to Museum Director Hank Hine. "For the first time ever, all eight Dalí masterworks are being presented side by side," says Hine. It's pretty incredible seeing them all in one room.
In Visual Magic, you use the Dalí Museum app on your cell phone to enhance your viewing of Dalí's masterworks. When you open the Dalí Museum app on your cell phone, a menu of options appears, from which you want to select "augmented reality." Select "continue," and you will see a list of all eight masterworks with a red button underneath reading "Start AR." Select "Start AR" for the painting you're interested in. Then point your cell phone at the painting as if you're going to take its picture. Make sure you can see the entire painting on your phone's screen, then hold it steady while the AR loads and plays.
Each AR segment begins with an animation. When you point your phone at Dalí's "The Discovery of America by Christopher Columbus," the ship actually sails toward you. When you aim toward "Nature Morte Vivante," the items in the 'still' life begin to move. The flies fly right off the canvas in "The Hallucinogenic Toreador." When the animation ends, you're left with four areas of the painting highlighted on your cell phone. Tap on these "hot spots" to discover the answers to the questions above and much much more.
I've experience Dalí's masterworks in many ways over the years. Docent tours, audio tours with iPhones running a Dalí Museum app, and now augmented reality.
No offense to the Dalí's amazing docents, but AR might be my new favorite. I wondered, "Do I just like animation and playing with my phone?" Then I realized that this technology is letting visitors do something they've never been able to do before — to physically engage with Dali's work. You can't just walk up to a 60 year old museum painting and touch it, but AR is the next best thing. When you tap on the hot spots on your phone, you're as close as you'll ever get to touching an original Dalí painting. The iphone audio tours are great, and the docent tours are better, but these are only engaging your sense of sight and hearing. AR engages your sense of sight, hearing and touch.
The Dali museum is now one of only a handful of art museums in the US to use augmented reality technology. Greif credits Dalí's innovativeness as inspiration for bringing these new technological innovations to the museum. Paul Burke, co-founder and CEO of Guru, credits his niece and nephew. If it weren't for their excessive cell phone usage during a tour of the Roman Colosseum, he might never have realized the potential of cell phones to enhance cultural experiences.
—
Visual Magic: Dalí's Masterworks in Augmented Reality
June 15-Nov. 3
The Dalí Museum
1 Dalí Blvd.
St. Petersburg
727-823-3767
thedali.org