[Here's another example of the potential of presence to enrich and expand education. The story is from the Waco Tribune-Herald, where it includes two more images. For more information see an earlier story in Baylor's Instant Impact and Amanda Gardner's website. –Matthew]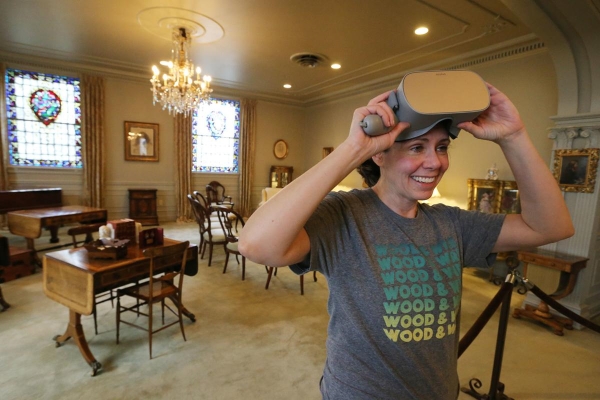 [Image: Baylor graduate student Amanda Gardner puts on the virtual reality goggles to experience a film shot in the Armstrong Browning Library's salon room, a recreation of the living room of poets Robert and Elizabeth Barrett Browning. Credit: Rod Aydelotte.]
Baylor virtual reality project puts viewers in Victorian poets' living room
By Carl Hoover
April 11, 2019
Baylor graduate student Amanda Gardner always treated English and literature as immersive subjects for her high school students to plunge into and find shared experiences that could be transformative.
Her latest educational project also immerses participants, but in a virtual way: a short virtual reality film that puts viewers in the living room of British poet Robert Browning, where Browning, his son Pen, their friends and family recall the life and poetry of Browning's wife Elizabeth Barrett Browning.
For Baylor's Armstrong Browning Library, which preserves one of the world's largest collections of Browningiana, Gardner's Cinematic Virtual Reality project offers an unusual way to celebrate the library's annual Browning Day on Friday.
Gardner and her virtual reality collaborators will talk about the project with participants able to see for themselves through Oculus Go VR goggles.
The library's salon provided the ready-made and authentic setting during filming last year. It's a recreation of the Brownings' living room in Casa Guido, their home Florence, Italy, complete with Elizabeth's writing desk, a prayer stand and two tables used by her sisters.
Baylor theater professor Steven Pounders and students Noah Alderfer and Bailey Harris led a cast of about 10, all dressed in period costumes and working off a script written by Gardner.
Those who put on the VR goggles can walk through the room and eavesdrop on several conversations as those at the memorial, set in 1866, share their memories of the poet and some of her work.
If they are more inclined to explore her work and her life, then the immersive film has done what Gardner thinks VR filmmaking will bring to 21st Century classrooms: open students' eyes to subject matter that they'll then want to explore on their own.
Gardner, 48, taught English, literature and Latin for some 20 years in high schools and colleges in California and Nevada, becoming ever more frustrated with administrative strictures on teaching styles, end results and the gradual domination of worksheet-driven instruction.
The thought of using virtual reality technology as a teaching device led her to quit the classroom, although she's presently teaching at Carver Middle School, and create a company that will allow her to enable the teacher-driven, student-empowering type of education that she believes in.
"I want to use this technology to get out of the technology," she said. "This is what I want to do for the rest of my career."
Her project, part of her doctoral dissertation toward a degree in curriculum and teaching, led to an interdisciplinary collaboration between Baylor's School of Education, the Departments of Film and Digital Media and Theatre Arts and the Armstrong Browning Library.
Baylor FDM student Gabe Lipton directed the film, shot on a Sunday last spring when the library was unoccupied. Gardner discovered the challenges of the 360-degree filming that virtual reality requires: working around a mirror in the salon so a cameraman would not be seen; no extra light sources that would be seen in the room; recording audio that could recreate the sense of space as one walked through, virtually.
Gardner and her collaborators will talk about the project at 3:30 p.m. Friday in the library's Treasure Room, a Browning Day activity open to the public, and several Oculus Go goggles will be available for people to watch the VR film.
Library director Jennifer Borderud viewed a clip earlier and admitted she didn't catch all the dialogue in the scene, captivated as she was by the experience.
"I could look up and see the ceiling … I was amazed I was in the room and looking around," she said.
Plans are in the works to set up a viewing station with goggles at the library so visitors can see the virtual Robert Browning, his son and friends in the VR film.
Gardner's intent in employing VR is primarily educational, but Borderud sees possible use by museums and libraries such as the Armstrong Browning Library as scholars and students from around the world could download a VR film or tour through their computer or phone.
"What it will allow is people who can't physically come here can still see what we have," Borderud said. "I think it has a lot of potential."