[This story from Apple Must describes a new use of augmented reality to add social presence to receiving parcels. The original version includes a second image and a 0:37 minute video, and for more information including other examples of companies using AR in packaging, see coverage in Mobile Marketer. –Matthew]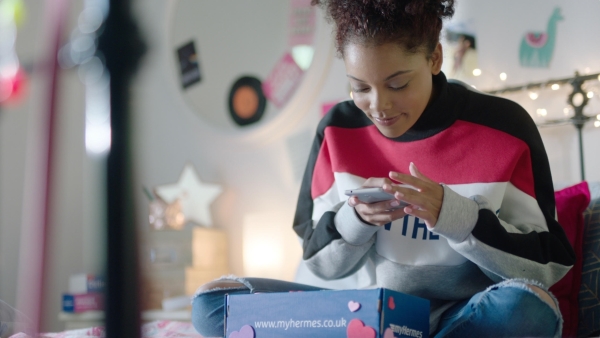 Hermes shows how AR is the future of home delivery
By Jonny Evans
February 26, 2019
A lot of people order gifts online.
The problem when doing so is that the experience becomes a little less personal, now Hermes has come up with a way to make online shopping a lot more personal thanks to use of Augmented Reality.
Send a video message with your parcel
Hermes Play, which was created at the Hermes Innovation Lab, allows the sender to pre- record a personal message which is then uploaded via the Hermes Send app. The system then creates a 2D barcode (like a QR code) which is added to the parcel label.
When the package arrives, the recipient can scan the code and watch the video message recorded by the gift giver on their phone or tablet.
The video uses augmented reality (AR) and plays on top of the parcel itself. Videos are saved for 30 days and can be downloaded and shared on social media.
The company tells me the system will first be made available to anyone using the Hermes Send app (previously myHermes) later on this year and is compatible with both Android and iPhones.
This doesn't quite mean you can send a happy and loving video message when you buy items from mail order companies using Hermes, at least, not yet, though it will be made available to the company's retail customers later on, and they may use it to personalize their services.
Making parcels personal
Martijn de Lange, CEO at Hermes UK, said:
"At Hermes this year our mission is to make parcels personal again and our digital teams have been working hard to create new and exciting initiatives.
"Hermes Play is a fantastic service that can be used by consumers to send messages to family and friends or by businesses for a more commercially focused approach. It's designed to create a personal connection and make the experience of sending and receiving a parcel just that little bit more special!"
Retail ecommerce sales will hit £67.9 billion this year (+12.5% year-on-year), increasing to £95.1 billion by 2020, and most delivery services and online retailers will be looking for ways to strengthen their connection with customers.
Emotional connection is everything
With this in mind it makes sense for huge retailers, such as Amazon, to think about using this kind of technology to improve customer experiences.
How much nicer would it be when sending gifts to faraway friends if you could also send them an accompanying video message they could then enjoy when they get their gift? Doing so surely makes the slightly impersonal online shopping experience way more personal.
The strength of this idea is in that emotional connection, particularly given that in an increasingly digital age most people are becoming increasingly keen on establishing human connection.
It will be interesting to see if this innovative idea takes off – and, by extension, if these kinds of AR video greetings become something that could be made available with other traditional items, such as greetings cards, wedding invitations, and other physical manifestations of personal connection and care.
It could give a whole new significance (and a layer of interest) to the labour of convincing your kids to write a thank you card – now they can send an AR message too!