[As a cyclist with poor vision even with corrective glasses, I'm particularly interested in this post about using presence to reduce accidents by increasing driver-cyclist empathy. A report in Australia's Nyngan Observer about how the government there is using VR to reduce accidents with quad bikes on farms led me to the short story below from Campaign that describes a Ford program that uses VR to give motorists the experience of bicyclists and vice versa. For much more information including videos, see Ford's Share the Road website and the Ford Europe blog. For a recent published study on this topic, see "Enhancing Bicycle Safety Through Immersive Experiences Using Virtual Reality Technologies" in Augmented Cognition: Intelligent Technologies. And for a discussion of how these efforts fit into broader approaches to enhancing bicycle safety see coverage in Cycling Weekly. –Matthew]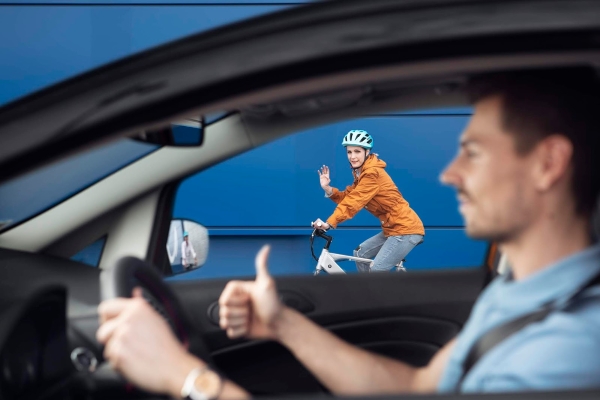 [Image: Source: Ford Europe blog]
Ford's VR experience convinced 91% of drivers and cyclists to change their behaviour
June 06, 2018
Emily Tan
Ford, its WPP agency team, and Happy Finish have created a VR experience called "WheelSwap" in which motorists are transported to a cyclist's point-of-view and vice-versa.
In the cyclist's point-of-view, motorists experience how scary it can be when drivers overtake too closely, swerve without indicating, and open car doors without checking for bikes.
The alternative version of the experience enables cyclists to experience what it is like for drivers when they jump red lights, cycle down one-way streets the wrong way and swerve unexpectedly.
The videos were produced by Rain Osgood of Happy Finish under the creative direction of Elliot Graves, Happy Finish.
More than 1,200 people across five European countries took part in the initial research conducted by Ford in April. The study found that 70% of those who used WheelSwap showed greater empathy towards their driving and cycling counterparts after watching the VR experience compared with those who had not and 91% said they intended to change their behaviour.
Furthermore, just two weeks after experiencing WheelSwap, 60% of participating road users had already changed their behaviour on their day-to-day travels. Those who said they did not change their behaviour claim they were already being as cautious on the road as they could.
Ford is now integrating the 'WheelSwap' VR experience into its driver training program for 17- to 24-year-olds – Ford Driving Skills for Life – which gives young road users free, hands-on classes that cover hazard recognition, vehicle-handling and speed and space management.
This is the second time a VR experience by Happy Finish has been included in the program. "Reality Check", a VR app that educates users on the dangers of getting distracted behind the wheel was included in Driving Skills for Life courses globally back in 2017 and has been a regular feature ever since.
"Being early practitioners in the creation of highly immersive VR experiences, we anecdotally already knew the power of such a level of immersion and the potential that has to prompt behavioural change. It's genuinely exciting to now have hard scientific evidence to that effect," Daniel Cheetham, Happy Finish global chief executive, said. "If our work helps to save just one life on theroad, then our mission is accomplished."
WheelSwap is also part of a larger Ford cyclist safety campaign called "Share the Road". This pan-European campaign was launched in late May and there are plans to roll it out in other regions including North America and Asia-Pacific.
Ford is currently reviewing its global creative relationship with WPP.