[This story from Asahi Shimbun describes a very positive and meaningful use of presence. The original story includes a second image. –Matthew]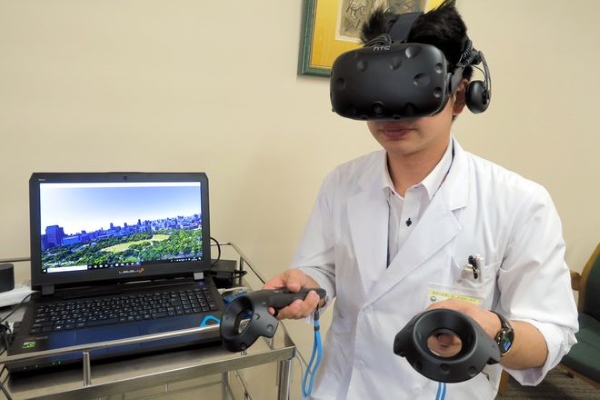 [Image: A virtual reality device used in the clinical study is demonstrated at the Ashiya Municipal Hospital in Ashiya, Hyogo Prefecture. The image shown on the personal computer screen is also displayed inside the goggle. (Credit: Akiyoshi Abe)]
Virtual reality takes terminal cancer patients to dream places
By AKIYOSHI ABE/ Staff Writer
March 19, 2018
ASHIYA, Hyogo Prefecture–Cancer patients in a palliative care unit at a hospital here are ticking off their "bucket list" destinations or attending events that are otherwise impossible to reach by using a virtual reality headset.
The experience, a limited provision at the Ashiya Municipal Hospital as part of a health-care research project, has largely been seen as a positive experience by recipients.
Hospital officials are hoping the practice will help improve the patients' quality of life in their final days.
A 40-year-old woman staying in the hospital was given an opportunity to watch a VR video recording of a concert that had been held late last year. The sound from the device's headphone was in perfect sync with the movements of the performers, each playing a flute, a piano and percussion.
"The sense of reality goes to a different level when sound is added," the woman said. "That allows me, even as I am staying in this hospital, to take pleasure in thinking about what I will be doing next."
A VR system allows a user to feel as if he or she were really attending a scene, as its 3-D imagery rotates in accordance with the orientation of the user's head.
The study involves fixing a goggle-type image display on the head of a patient, who is asked to use a remote control to choose, for example, where they want to go.
The device works with Google LLC's video software app that allows the user to step into views and landscapes of choice anywhere around the world. It can also be operated with the imagery of a patient's home or other fond places if image data taken with a special 360-degree camera is available.
The VR system is the brainchild of Kazuyuki Niki, an Osaka University assistant professor, who also works as a pharmacist for the Ashiya Municipal Hospital. He got the inspiration for using VR technology when he learned last year about a case where a sickroom space for a patient who could no longer go home was remodeled by using a curtain and bedclothes brought in from home.
Niki started the practice last autumn after obtaining the approval of the hospital's ethics committee as a clinical study project.
The first to receive the VR experience was a woman who liked mountaineering. She enjoyed views from the peak of a mountain that she had wished to climb.
Others have come up with various requests. One "went to see" a park in their native Kyushu, to which they wanted to donate a cherry tree. Another "revisited" Kyoto, where they had been as a newlywed.
Yoshinobu Matsuda, director of the hospital's Department of Palliative Care, said that most of the VR experience recipients were apparently content.
The goggle-type device, however, weighs about 500 grams, so it is a lot of work for a physically weakened patient to roll around the head under its weight. It should also be noted that patients in palliative care are prone to dizziness or feelings of nausea because of their diseases, drugs and other factors.
The woman who watched the concert video requested improvements.
"I find it painful to remain seated," she said. "But if I lie on my back, the sky or the ceiling is about the only thing that comes into my view."
Niki has started a separate, joint study at Gratia Hospital in Minoo, Osaka Prefecture, in February. The research project will hopefully address a total of 20 subjects, ask them questions before and after the VR experience and study changes in their physical and mental conditions.
"I hope the VR experience will help improve the patients' quality of life, although its effectiveness has yet to be evaluated," Niki said.