[First Airlines isn't an airline at all but a clever use of presence-evoking technologies to simulate a flight and visit to vacation destinations. This story from tnooz includes a 4:33 minute video (in Japanese); Reuters has more details and another video (in English), and the Independent's coverage highlights the founders' insights about VR. –Matthew]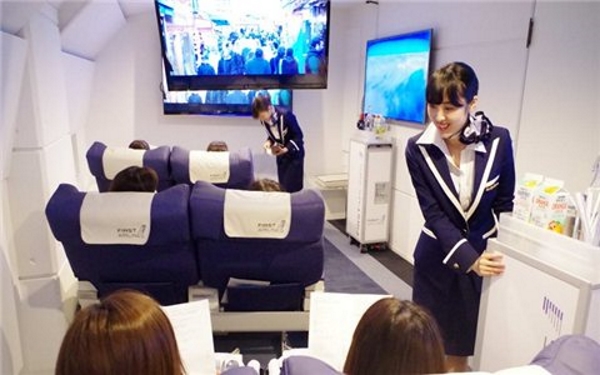 For 'First Airlines' passengers, the journey is the VR destination
Marisa Garcia
February 16, 2018
This one's a trip. Japanese airline-themed restaurant First Airlines, offers visitors a First class flying experience that includes a virtual reality immersive tour of Hawaii, New York, Paris or Rome.
To make the airline-experience complete, guests arrive to a "check-in desk" before boarding and get a paper boarding pass to commemorate the journey. "Passengers" sit in plush genuine aircraft seats in a mocked-up aircraft cabin that includes environmental elements such as engine sounds and views of the tarmac on take-off playing on large video screens and ambient light shows during the flight portion of the evening with images of starry skies projected onto the ceilings, walls and aircraft windows. "Flight attendants" even perform a safety briefing before take-off, complete with demonstration of how to buckle seat belts and don life jackets.
The "in-flight meals" are themed around the country of destination for the evening's flight and served from airline trolleys.
First class tickets sell for under 6000 Yen (under $60) for a 110 minute journey, and there are also Business class tickets available for under 5000 Yen. The only difference between the two is where passengers sit in the mock-cabin, relative to the large video screens. Both classes enjoy the same meal service and the destination VR experience.
A sampling of the VR tours that guests experience is posted on First Airlines website and a collection of images from previous "flights" can be seen on its Instagram account.
First Airlines manages reservations on a dedicated booking engine and offers guests discounts at three local shops when they present their boarding pass—like Duty-Free shopping at the terminal on landing.
The airline themed restaurant business is nothing new. The Pan Am experience in Los Angeles, for example, appeals to the nostalgia for the iconic airline with incredible detail, including period costumes. For an evening, guests can experience what it was like to fly on the Pan Am 747 in its hey-day. The popularity of these venues proves that aviation still has big fans among the public, even if day-to-day experience is a bit of a downer for some.
It's the VR destination video portion of the flight that makes First Airlines unique. It also plays "relay video" featuring pre-taped interviews of locals who describe what it's like to live in their destination cities.
It's an amusing VR attraction, and evidently more successful than some real-world airline start-ups. This "airline" has been grounded since its 2016 opening, but is also fully booked. In fairness, it never had to deal with heavy competition, high overheads, or stringent regulations.
The appeal of this venue may be an argument in favor of VR destination tours offered onboard genuine airlines flying at altitude, or even at the airport lounge.