[This uplifting story from the Kokomo Perspective (in Indiana) is a nice way to start the new year. –Matthew]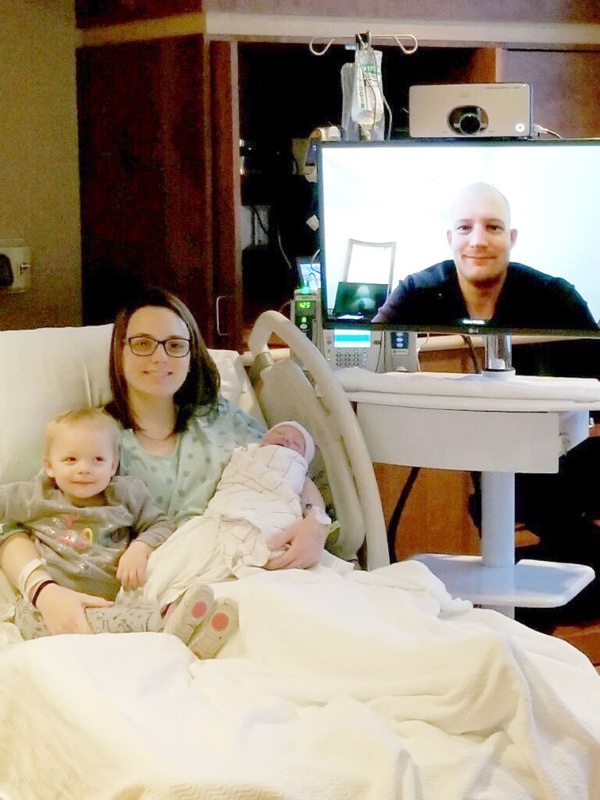 [Image: Kyle Miller (right) smiles on camera after the birth of his son, Wyatt [to wife Shelby]. Miller was able to be a part of the delivery from Cuba, where he's stationed.]
Community Howard teleconferences birth for deployed father
Seeing success, hospital given the go-ahead to offer the technology to other military families going forward
Alyx Arnett
December 29, 2017
From 1,200 miles away, one deployed father watched the birth of his second child at Community Howard Regional Health last month.
The hospital set up a video conferencing system so that Kyle Miller, who's stationed in Guantanamo Bay for approximately the next year with the Army National Guard, wouldn't have to forgo the experience of being a part of the birth of his son, Wyatt, and be able to be there for his wife, Shelby.
"It was definitely the next best alternative to me actually being there," said Kyle. "Being able to see Wyatt in real time was awesome."
The idea for the teleconferencing came from Barb Miller, Kyle's mother and manager of the IT department at Community Howard. The hospital regularly uses a system called telepresence to video conference with stroke victims and psych patients. Knowing it's secure and reliable, Barb said she wondered whether it could be used to securely live stream births.
Since the technology used to video call with patients is different than what had to be used in this instance, Barb worked with the director at the network, Kevin Hartzburg, to determine what could be done.
"We could not use that same technology because they have to be a network provider with a network log-on, so then I reached out to the director of our telephone voice team for the network, and he's the one who helped me come up with a plan," said Barb.
The next step was to test it out, and it went according to plan. Kyle was able to be present in the room virtually—and interact and talk to all the nurses, doctors, Shelby, and his 2-year-old daughter, Emmalyn—via a large monitor that was set up next to Shelby's hospital bed.
The video conferencing was a surprise to Shelby, who's also an employee of the hospital, and she said it meant everything to her.
"It meant a lot and was very comforting to me that he was able to be as involved as possible from 1,200 miles away. He was able to know what was happening in real time, and the nurses and doctors were great at interacting with him and including him in the experience," Shelby said.
Since the conferencing went so well, the hospital was given the approval to begin offering this service to other military families that find themselves in situations like the Millers.
Shelby said she's excited for other families to have this type of experience as well.
"This will definitely be a great resource to have available for other families in similar situations, and hopefully it will be able to be implemented throughout all of Community Health Network," she said.
Community Howard's OB Director Stacy Fackler, who's also an Air Force veteran, said she saw the value in this type of service immediately after Barb brought the idea to her.
Fackler spent 12 years in Alaska with the military in personnel, and she said she constantly was processing paperwork for requests for emergency leaves that would get denied. For the lucky ones whose requests were granted, Fackler said it was common for parents to still miss the births of their children in the process of getting back home.
"You can't predict when a mom is going to deliver, even in a planned situation. So a lot of times they get home and miss it completely," she said.
The ability to teleconference with deployed parents at Community Howard, she said, is "priceless" since other applications, such as Facetime, Facebook Live, and Skype are prohibited due to the potential of violating HIPPA regulations.
"It's priceless. We know that when dads are present and feel supportive and feel a part of that experience that they just have a better bond with their babies and a closer connection," she said.
Fackler stressed the security of this conferencing system, saying telepresence takes the video offline afterward, whereas other types of recordings always will be on the Internet.