[This new all-virtual art museum, an apparent milestone, has the potential to provide a high presence experience that eventually will be available to more people than a brick-and-mortar museum. The story is from Bloomberg, where it includes a second image and a 1:19 minute video. –Matthew]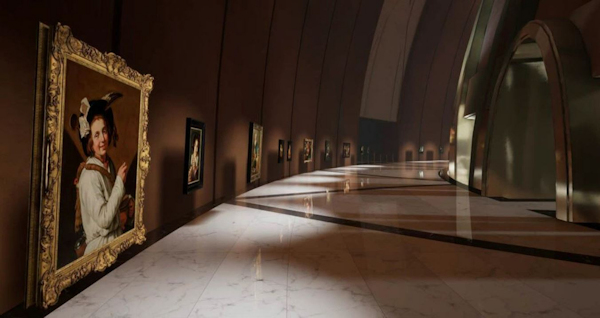 Virtual Reality Museum Puts Rembrandt in High-Def
Visitors can don a headset, enter an architect-designed VR gallery and view the Kremer Collection's 70 Old Masters.
By Molly Schuetz
October 26, 2017
The Kremer Collection has spent the past two decades loaning out its collection of 17th-century Dutch and Flemish art to museums and galleries around the world. As of Thursday, the collection will have a new permanent home in a virtual museum.
VR has improved dramatically in recent years as Microsoft, Facebook, Samsung and others invest heavily in technology that many believe will eventually supplant PCs and smartphones as the preferred human-machine interface. With the headsets getting cheaper and less bulky, virtual reality is showing up in many more places—including museums.
Because art collections are so large and the technology still nascent, institutions such as the Smithsonian and the British Museum have mostly only incorporated VR into parts of their exhibits. The smaller Netherlands-based Kremer Collection has gone all-in. Using photogrammetry—a technique that involves taking thousands of pictures of each painting—the collection has captured versions of more than 70 Old Masters and can now provide what it says is an unparalleled museum experience.
Donning an HTC Corp. Vive headset, the visitor steps into an orb-shaped virtual gallery with a painted blue sky, a trademark of Old Dutch paintings, and a web of walkways that seem to float in space. While most virtual worlds are created by game developers, the Kremer Collection's new home was designed by architect Johan van Lierop, who was trying to capture the scientific and artistic vigor of the Golden Age. The experience feels exclusive, like a private tour, without other visitors elbowing in or distracting with chatter.
You use a handheld wand to point and click your way across the walkways to galleries housing different masterpieces. The photogrammetry technology presents the paintings in high resolution with ideal lighting—an effort to recreate, and even improve upon, an actual museum visit.
Walking up close to Rembrandt's Turkish General, or Michael Sweerts's A Young Maidservant, one can see the layers of paint and the cracked canvas surface. With a click of the wand, you can go behind the painting and observe writing, notes and other historical artifacts normally hidden from view. There's also an audio track, narrated by the collection's founder, George Kremer, who appears with his wife Ilone, as a hologram alongside the painting.
The idea for a virtual museum was born of conversations between Kremer and his son Joel, who previously worked at Google as an industry manager for retail and entertainment. The elder Kremer, 67, wanted a permanent place for the collection he began assembling in 1994, but building a brick-and-mortar museum would take a lot of time and money, and would ultimately be limited mostly to people visiting the Netherlands.
For now, the collection will travel to popup events around the world with the virtual reality setup. By early next year, there will be a mobile application on Google Play for Daydream. People will pay to download the app and pricing will depend on the number of visits. As the technology improves, the museum experience will too, Joel Kremer says.
George Kremer also wants to give school kids a chance to see the art. Hence the TKC Mighty Masters program, which will provide headsets to select schools around the world. Kremer says he had his eyes opened to art as a 10-year-old boy visiting the Rijksmuseum in Amsterdam. He hopes that Kremer museum will inspire the next generation of art enthusiasts.  "If you get them young," he says "chances are you've got them for their whole lives."