[According to this story from Adweek, VR dating has "started to breach pop culture," including a new dating program set in virtual reality. You can watch the 1:04 minute trailer on YouTube and the 7:56 minute first episode on Facebook. The reviews (e.g., in The Verge and New York Post) have been negative, but it's interesting to imagine ways in which both actual VR dating and the program could be made more interesting and useful. –Matthew]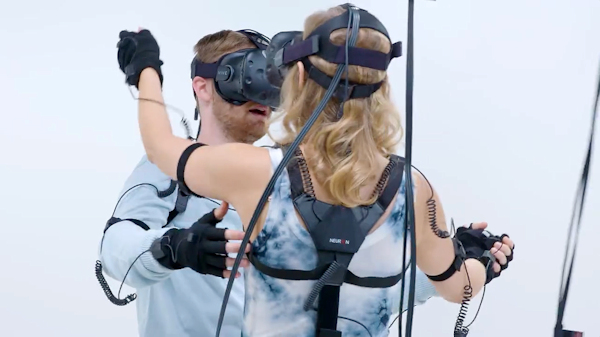 [Image: Source: VRScout]
Condé Nast and Facebook Are Debuting a Virtual-Reality Dating Show
Will VR blind dates lead to real love?
By Marty Swant
August 30, 2017
While reality dating shows like The Bachelorette seem to consistently make for an easy hit, Condé Nast and Facebook are betting on a new kind of dating show—in virtual reality.
On Wednesday, Condé Nast Entertainment is releasing the first episode of a VR dating show called Virtually Dating, a series that pairs up real people on blind dates in VR to see if their VR personalities make for a real-life match. The five-episode series, which debuts Wednesday at 12:01 a.m., will be available on Facebook's new Watch platform, which will soon be home to dozens of original shows created by media companies and other content creators.
In the trailer below, the couples can be seen awkwardly getting used to the VR headsets and haptic gear as they walk, talk and dance in virtual worlds. The scenes are plenty different than your average coffee shop, bar or romantic helicopter ride. In the first episode, a man and a woman meet in VR outer space. A future episode features a postapocalyptic world with zombies (no word yet on whether they make for a good wingman or woman), while yet another shows a couple traveling to the ancient world.
The people are not always even human, at times taking the form of a dragon, a donkey or cactus. (One scene in the trailer shows the Abominable Snowman embracing Bigfoot.) According to Condé Nast, the series was designed with technology from Pomp&Clout and Superbright to create "lifelike human representations and realistic, yet fictional, environments."
The idea of VR dating is something that has started to breach pop culture. It's a theme in Ernest Cline's sci-fi novel Ready Player One, which will become its own feature film directed by Steven Spielberg next year. It's also bound to become more of a question as Facebook's own Spaces VR social platform gains traction and headsets become cheaper and more ubiquitous, allowing friends to create avatars of themselves for virtual worlds and 360-degree videos.