[Here's an interesting use of virtual reality and presence: To help new lottery winners practice responding to hints and requests from family, friends and co-workers for a share of the windfall. The effort may eventually benefit a broader segment of society too because the last two paragraphs in this story from CTV News note that the project is a precursor to using VR to combat bullying and workplace discrimination. For more information see the Canada NewsWire press release. –Matthew]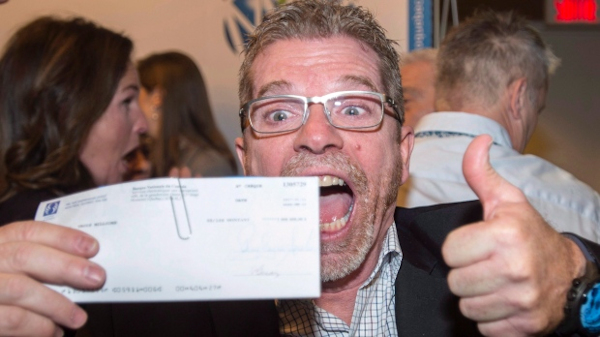 [Image: Lottery winner Gilles Leprohon celebrates after receiving his cheque, Thursday, January 12, 2017 in Montreal. Credit: The Canadian Press/Paul Chiasson)]
Loto-Quebec to use virtual reality to counsel winners on coping with windfall
Cassandra Szklarski, The Canadian Press
Published Wednesday, August 30, 2017
Lottery winners in Quebec are getting a new way to practice saying 'No' when asked for money.
Loto-Quebec began offering virtual reality technology Wednesday to winners who might have trouble knowing what to do or say when faced with exuberant family members excited by their windfall, siblings offering unsolicited investment tips, or friends hinting that they'd like to join them on a big trip.
Lotto spokesman Brian LeCompte says it involves wearing a headset that immerses the user in various scenarios they will likely face at a house party or in the workplace.
"One of the situations that they're put in is they're at a party at someone's house with friends and family and the mother pops into the frame and says 'Congratulations!' and then goes on to talk about how she's always dreamed about having a condo in Florida," says LeCompte.
"They're all just little situations where the person is speaking to you. It's virtual reality so you feel like you're in the shoes of the person who won. And it just prepares them for what might be coming once they walk out the door with their cheque."
The eight-minute experience is meant to compliment existing counselling services, available to the roughly 1,500 people a year who win prizes of $25,000 or more.
Winners are advised to seek out help from professionals, to identify their true needs, to learn to say no, and to think things through before making any decisions.
Winners are then contacted one month and six months after their initial meeting at the prize claim office, with the vast majority reporting "a very positive post-win experience," says LeCompte.
Still, stories abound of people who fritter away big jackpots within years of winning, their lives upended by extravagant splurges, lawsuits, addictions and opportunists.
LeCompte says the impact of a big win can vary greatly from person to person and his agency doesn't keep statistics on how winners fare overall.
But the provincial agency notes that a big windfall does bring big changes in a person's life — they are immediately confronted with important emotional and financial decisions.
The agency says virtual reality can provide meaningful support to winners, believing the technology "sensitizes them better than any other tool."
LeCompte says the first candidate is a man who scored a $500,000 prize on a mobile game, who was to pick up his prize Wednesday afternoon.
There's no obligation to use the headset, adds LeCompte, and winners of lesser amounts can request VR if they feel they need it.
He says their Montreal and Quebec City offices have a dozen headsets, and that the project cost $100,000 for work that included casting and shooting the VR footage.
The project is a partnership with Fondation Jasmin Roy, a group that hopes to one day use virtual reality to combat bullying and discrimination in the workplace.
"We're kind of the test for the others and they'll be able to gain knowledge on what we've been through and the adjustments we had to make along the way," says LeCompte.