[Netflix is experimenting with interactive programming; here's a key quote from the director of product innovation at Netflix: "The children's programming space was a natural place for us to start since kids are eager to 'play' with their favorite characters and already inclined to tap, touch and swipe at screens. They also talk to their screens, as though the characters can hear them. Now, that conversation can be two-way." This story is from The New York Times, where it features another image and the Netflix "Kids Interactive Adventure" trailer; for more details see coverage in The Verge. –Matthew]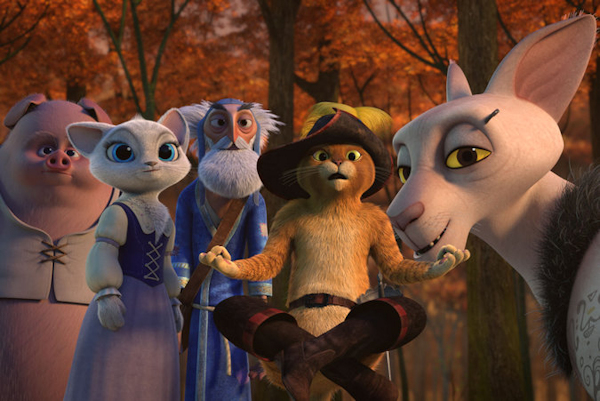 [Image: An image from "The Adventures of Puss in Boots." Netflix released an episode of the show that includes interactive elements.]
Netflix Lets Viewers Pick the Plot
By John Koblin
June 20, 2017
Attention, kids: Netflix just put you in charge.
Netflix on Tuesday released a new episode on its streaming service of the animated show "The Adventures of Puss in Boots" with an interactive twist. About a half-dozen times during the episode, viewers — most likely children — will be prompted to choose which plot point the show should follow. Each decision will send the story in a different direction.
At one point, for example, viewers must decide whether Puss will confront nice bears or angry bears. On a touch screen, a press of the finger will do the work; on a television, a remote control will be required.
The first interactive episode, called "Puss in Book," will last 18 to 39 minutes (depending on which path viewers go down), with viewers being asked to make a decision every two to four minutes.
"They are used to pressing play on the remote, setting it down and then just leaning back on the couch and letting Netflix roll," Carla Engelbrecht Fisher, the director of product innovation at Netflix, said of viewers. "In this case, we actually need them to hold on to the remote. We don't want it lost in the couch cushions. We need you to lean forward a little bit to engage with the choices."
The introduction of such a feature — which Netflix will roll out for another children's series next month, and a third next year — is, at this point, an experiment. But if it's a hit with subscribers, and if Netflix executives are impressed with the results, the implications for the TV industry could be significant.
Although the streaming service has not made plans to feature this kind of interactive viewing in, say, a future season of "House of Cards," the potential is there for it to eventually expand beyond children's programming.
The interactive initiative comes as Netflix is locked in a battle with the rival streaming services Amazon and Hulu over creating and acquiring as much children's programming as possible.
Last year, Nielsen released a study that said that children 2 to 11 were watching two fewer hours of live television a day but that the amount of content they watched on digital platforms had spiked.
And the streaming services, which depend on paid subscriptions, are doing everything they can to hook children, and, by extension, their parents' wallets. Last summer, Amazon acquired a significant amount of PBS's library of original series to exclusively stream on its service, stealing away many titles previously available on Netflix and Hulu.
HBO is involved in the game, too: Two years ago it acquired first-run rights to "Sesame Street." (The episodes still air on PBS at a later date.)
Netflix, which has spent serious money on original dramas, stand-up comedy and even Emmy campaigning, has made a huge investment in children's programming. Currently Netflix has 47 original shows for kids, a number expected to jump to nearly 60 by year's end and to 75 by the end of next year, a spokesman for the service said.
Netflix said its interactive project was more than two years in the making. As the creative team behind "Puss in Boots" developed plot points, Netflix needed time to improve its technology. Netflix will release another interactive episode next month involving its "Buddy Thunderstruck" series. Next year will bring an interactive episode of "Stretch Armstrong."
In a blog post published on Tuesday, Ms. Fisher said: "The children's programming space was a natural place for us to start since kids are eager to 'play' with their favorite characters and already inclined to tap, touch and swipe at screens. They also talk to their screens, as though the characters can hear them. Now, that conversation can be two-way."
It is an open question whether other streaming services will follow with similar interactive programming.
Hulu has a virtual reality project in development tailored for adults for its VR app. The series, called "Door No. 1" is a choose-your-own-adventure show that revolves around a 10-year high school class reunion, though it has not been picked up to series yet. There are no interactive children's programs in the works.
PBS, as part of its PBS Kids live stream, is planning digital interactive games that will complement programming that children have just finished watching. It is expected to be available later this year.
Amazon declined to comment on any plans.
Ms. Fisher said Netflix did not consult with educational experts before kicking off this experiment.
Nevertheless, some experts applauded the effort on Tuesday. "They guessed right," said John Black, the director of the cognitive science program at the Teachers College at Columbia University.
"Having kids think about different ways in how stories could play out will lead some to think more deeply about the stories and to comprehend them more deeply," he said.
There are others, however, who have concerns about the sheer volume of children's programming developed by streaming services.
"A lot of this is unexplored territory," said Melissa Henson, program director for the Parents Television Council. "The potential pitfall is video streaming services aren't subject to the educational video requirements put on traditional broadcasters."
Whether or not this kind of interactivity could be used with expensive dramas remains to be seen. TV's top dramatic shows can cost $7 million to $10 million an episode to produce. Adding shooting time, and various plot lines that only a percentage of viewers may see, would make costs rise further.
At this point, Netflix is in wait-and-see mode.
"As you can imagine, with two years of development, I'm really excited to see how our members engage with this," Ms. Fisher said. "From there, we've built this tool set for our creators, and it's ultimately about finding creators who want to tell complex stories in this way. We'll see where things go."