[This story from The New York Times describes a presence experience with the potential to alter opinions on a timely social issue, addresses some of the challenges of designing experiences in emerging media, and comments on the role of artists in determining the future success of those media (see the last paragraph in particular). The original story includes an additional image. –Matthew]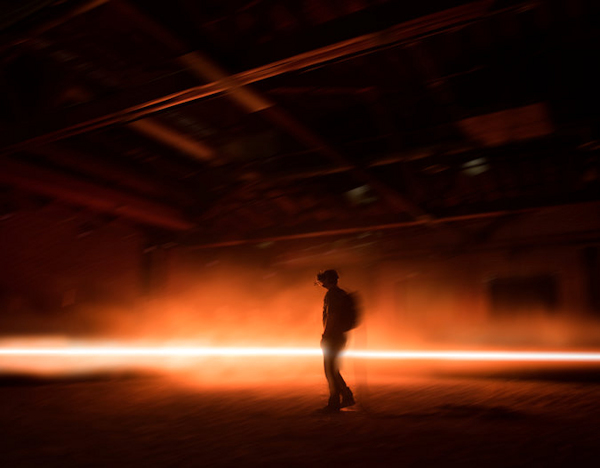 Iñárritu's 'Carne y Arena' Virtual Reality Simulates a Harrowing Border Trek
By Jason Farago
May 17, 2017
CANNES, France – After weeks in the desert, dehydrated and afraid, refugees and migrants who are apprehended crossing the United States-Mexico border are regularly locked in what are called las hieleras: the freezers. They are meant to be short-term holding cells — they have no beds — but they also exact a kind of extrajudicial punishment. As revealed by a Freedom of Information Act request in 2015, migrants are trapped there for nearly two days on average. Children are separated from their families; detainees are deprived of food. Sometimes their lips split. Sometimes their skin turns blue.
The cold of the hieleras is the first thing you feel in "Carne y Arena" ("Flesh and Sand"), a groundbreaking hybrid of art exhibition, virtual reality simulation and historical re-enactment by the Mexican film director Alejandro G. Iñárritu on view here ahead of its art-world debut in June at the Prada Foundation in Milan. You enter a cold-storage chamber, spare but for a few industrial benches, and are instructed to remove your shoes and socks. Dusty slippers and sneakers, recovered from the border zone, litter the floor. Barefoot, you exit the cold room and enter a larger one, its floor covered with sand. Attendants equip you with an Oculus Rift virtual-reality headset, headphones — and a backpack. The darkness gives way, and you find yourself on the border, and in danger.
In the gloaming you can make out an old woman who has broken her ankle, moaning in Spanish for help; a people-smuggler, or coyote, complains in English that they're slowing down. You can walk through the sand to get close to them, since your headset is equipped with a motion detector. But soon a helicopter appears overhead, its spotlight bearing down on you, and border agents with guns and dogs are ordering you in two languages to put your hands up. With a rifle in your face, you instinctively throw your hands in the air.
Politically urgent and technically accomplished, "Carne y Arena" is the first virtual-reality installation to screen in the official selection of the Cannes Film Festival, which opened its 70th edition this week. Its debut here in an airplane hangar, far from the glamorous Croisette, is a foretaste of its display in arts institutions. Along with its showing at the Prada Foundation, which produced the work with Legendary Entertainment, it will also travel to two museums on either side of the border that President Trump has promised to divide with a wall. The Los Angeles County Museum of Art will host "Carne y Arena" starting in July; the Tlatelolco museum in Mexico City will also feature the VR work this summer.
Museums will most likely provide a better context for this powerful three-room installation than the world of cinema. Mr. Iñárritu's virtual reality, or VR, project has a sternness and resolve similar to some of his previous movies, notably the survivalist epic "The Revenant" and the California-Mexico strand of "Babel," which netted a best director prize here in 2006. But "Carne y Arena" is not a film, and it succeeds by acknowledging that virtual reality is a wholly different medium, posing different theoretical and narrative challenges. Editing, essentially, is gone. Framing is gone too. Characters must be positioned in three dimensions, not just two. The medium is almost a hybrid of video game and live theater, and to excel, you have to think like a philosopher as much as a techie. "Carne y Arena" took Mr. Iñárritu four years to figure out — he made the relatively low-tech "Revenant" in the process — but he got there.
In "Carne y Arena," whose virtual-reality component runs about seven minutes, traditionally photographed landscapes provide the backdrop for digitally rendered performers. Advances in technology — along with the sand beneath your feet — make the experience truly transporting, and as the dust rises from the ground, you quickly forget that the Riviera is right outside. (The outdoor images, detailed and menacing, were shot near the border by Emmanuel Lubezki, known as Chivo, Mr. Iñárritu's frequent collaborator.)
Some technical limitations of the medium remain in evidence when you get close to the performers: not professional actors, but undocumented immigrants from Mexico or Central America, whose 14 individual stories are evoked in portraits appearing in the show's final room. So that you can perceive them from every angle, they performed on a sensor-equipped soundstage and have been rendered digitally in three dimensions. Though their clothing and movements are convincing, up close their flesh appears reptilian and their faces generic.
But then crouch down, push your head through one of their bodies. You'll find yourself in a bloody, throbbing chamber: their beating heart. "Carne y Arena" may draw most of its power from the real lives of immigrants, but it's a work of fiction, with flights into poetry that set it apart from many documentaries in virtual reality, which has too often been promoted as just an "empathy machine."
Just as the border guards are screaming at the migrants to kneel in the sand, a puff of smoke appears. The officers vanish, and a strange dream sequence begins.
The coyote is sitting on a truck, reading a book of poetry; the woman with the broken ankle is humming a lullaby at a long table that has materialized in the desert. When you move to the table, its wooden surface starts to deform. A cavity appears, containing a capsizing boat — an evocation of another refugee crisis, this one taking place right off the Croisette in the Mediterranean. Like the surreal moment when you discover you can walk into these migrants' hearts, this mournful reverie serves to humanize people we still think of mostly in aggregate.
One reason the experience of migration and helplessness feels so potent in "Carne y Arena" is because you experience it alone. In this way, VR is completely different from Imax projections, or from cinema watched through 3-D glasses. Directors and artists have to choreograph narratives in space rather than in frames, and they must also calculate for a constantly shifting point of view. When you wear a virtual-reality headset, you become the lead actor, but you're also, in a way, the director of photography as well.
So for all the thematic echoes between "Carne y Arena" and earlier films like "Babel" or "The Revenant," I concluded by my third go-round that one movie above all might have prepared Mr. Iñárritu for the challenge of virtual reality. That film is "Birdman," which he and Mr. Lubezki presented as a single, two-hour tracking shot. The exacting choreography of "Birdman," perceived by a camera wandering through a Broadway theater, may have helped Mr. Iñárritu model the spatial relations and you-are-there imagery that VR requires. Classical Hollywood editing no longer serves, and so narrative has to be conveyed in other ways: through setting, sound and physical encounters.
It may seem strange that "Birdman," Mr. Iñárritu's black comedy, may be the most relevant antecedent for a work as harrowing as this one. And yet virtual reality, in the long run, is not cinema or video art. It's a medium that seeks to become a non-medium — a tissue of images and sounds that replicates or even supersedes true life.
These are old ambitions, of course. The technologies for 3-D viewing have been around for centuries, and convex-lensed optical viewers in the 18th century, or depth-simulating goggles in the 19th, have come and gone. Whether virtual reality will really reshape art institutions, or whether it will fade like those earlier zograscopes and stereoscopes, is unknown. What Mr. Iñárritu has proved, with this formidable new work, is that making VR more than a sideshow medium is the job of artists, and that some stories can compel us more deeply when we are dropped into their protagonists' lives. One of those stories takes place every day along the American border — and in the Mediterranean as well — by people with no greater designs than the pursuit of happiness.
—
Carne y Arena
After Cannes, it runs June 7 to Jan. 15 at the Prada Foundation in Milan, fondazioneprada.org, and July 2 to Sept. 10 at the Los Angeles County Museum of Art, lacma.org.