[The backstory of an ambitious project to create a touring group presence experience is told in this article from Adweek, where it includes more images and a 2:04 minute video. For more information, including images and videos, see the Lockheed Martin Mars Experience website, the Lockheed Martin Generation Beyond press release, Framestone's website for the project (with a 5 minute behind-the-scenes video), an UploadVR interview with Framestore CG Supervisor Theo Jones, and a 6:20 minute video of a demonstration of the Mars Experience bus ride from YouTube. –Matthew]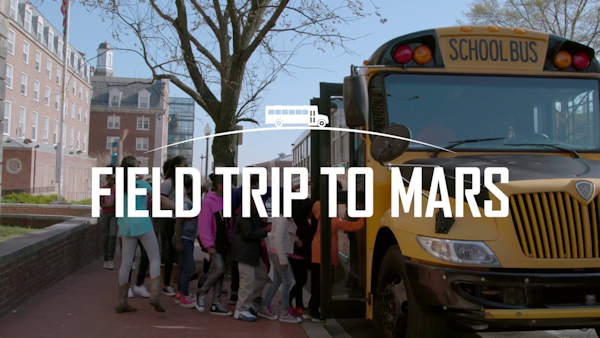 The Inside Story of How McCann New York's 'Field Trip to Mars' Came Together
Winner of Project Isaac's top honor: the Gravity Award
By Marty Swant
August 21, 2016
It was at around 2 o'clock in the morning that Josh Grossberg landed on Mars.
The group creative director of McCann New York couldn't sleep one night back in 2014. Lying in bed, he found himself watching a TV show about the latest in space travel. Space was once again a hot topic, thanks to movies like Gravity and Interstellar and private companies like SpaceX and Blue Origin sending spacecraft into orbit.
Suddenly, Grossberg thought of his client, Lockheed Martin, the company that helped build the Viking 1, which arrived on Mars in 1976 and became the first U.S. spacecraft to land on that planet. Last month, a Lockheed Martin-built craft arrived in Jupiter's orbit. (One engineer at the firm equated the precision to swinging a golf club in New York and hitting a hole-in-one in California.) At the moment, the company is constructing the Orion capsule, which is scheduled to transport humans to Mars by 2028.
Grossberg thought Lockheed Martin should be part of this renewed love affair with space, which he saw as a prime opportunity to promote the company's galactic pursuits as well as its investment in science, technology, engineering and math (STEM) programs in schools. (Lockheed Martin says it spends about half of its philanthropic budget on STEM.)
What resulted was a virtual reality-equipped school bus ride that is the winner of the Creative Isaac and Event/Experience Isaac, both in the Marketing and Advertising category. Those two wins helped propel it to earn the Gravity Award, the highest honor in Adweek's Project Isaac Awards competition—an annual celebration of creative innovation.
"The whole thing came out of this idea of, let's stop being satisfied with going to the stuff we can do and let's keep pushing so we can see all those movies I used to like as a kid," says Grossberg, who collaborated heavily with executive creative director Dan Donovan. "I want to live in those."
Working with VR and special effects studio Framestore, McCann converted an ordinary yellow school bus into a one-of-a kind space experience. From the outside, it looked like any other old bus. Inside, it became a vehicle that transported students across the surface of the red planet.
"With VR, you always think it's goggles and glasses," says McCann senior producer Chance Bassett. "But there's nothing in the definition that says goggles and glasses. That's just so far how we've been able to do it. This just opens up a whole new world. It's VR without being isolated, which just is amazing because as humans we experience things together."
The campaign let Lockheed Martin highlight its space-exploration efforts while also inspiring a future class of astronauts. It was the single most awarded campaign this year at Cannes, winning 19 Lions—five gold, seven silver, six bronze and one Innovation Lions award—across 11 categories, including cyber, PR, entertainment and innovation.
To develop the experience, the team used a system associated with video games to recreate the twists, turns and bumps of a school bus. That required the creation of a 200-square-mile Martian landscape. Whatever the bus did in reality had to be replicated in VR. To do that, the team gathered data about all the maneuvers and speeds of the vehicle. While the bus didn't travel the entire 200 miles, all that extra space was necessary in case the driver had to go off course or change routes.
Virtual reality is nothing new to Framestore. It created VR-equipped postcards for Marriott Hotels, and it developed a VR experience at South by Southwest in support of HBO's Game of Thrones. It also won the Grand Prix in the mobile category at Cannes for a VR film it created with The New York Times' T Brand Studio.
Nor is the shop new to Mars. It worked on the film The Martian, helping to develop landscapes and other graphics. But in the end, the VR version of Mars was more realistic than the Hollywood version, says Alexander Rea, Framestore's head of creative technology. Working with NASA and Lockheed Martin's space team, Framestore and McCann reviewed photos and video from the Curiosity Rover, which has explored Mars for the past four years. They also talked with astronauts who shared their stories about space travel.
The team also had to make the experience sound like Mars. With the help of technicians who worked on The Martian, the creators of the VR bus visited a junkyard where they threw sand and rocks against buses and recorded the audio.
This fall, the virtual reality bus will tour the U.S. Photo: Courtesy McCann Team; Map: Carlos Monteiro
Jon Collins, president of integrated advertising at Framestore, admits there was much trial and error, as such a project had never been tried before. For example, the team knew the bus had to move around inside the game engine, but it didn't know how to make that happen. "The hard part was how the hell to turn a bus into a headset," Rea says. "How do you turn a bus into a game controller? You have to remember, you're inside looking out the windows of a bus that's inside of a video game. So it's kind of an inception moment because you're inside this bus that's a controller. So the bus turns left, it turns right, and that movement has to be represented on the screens in the video game."
Before it was a success, the project nearly "died a thousand deaths," notes Steve Zaroff, chief strategy officer at McCann North America. The original idea was to take over Grand Central Terminal during a United Nations gathering in New York, turning the station's iconic celestial ceiling into a view of Mars' atmosphere. (Lockheed has offices in the Graybar Building, right next door.) A group of journalists was to be transported to Washington, D.C., on a train that had been turned into a Martian vessel. An airplane was considered but was ruled out because of complications with the Federal Aviation Administration. "Sometimes they throw crazy ideas at us, and sometimes they stick," says Jennifer Whitlow, Lockheed Martin's svp, communications. "And this was one that really stuck."
This fall, the bus will tour the U.S., giving thousands more students the same experience, each tailored to the city visited. The road trip will start in Denver and continue to Northern California, Dallas, Houston and Huntsville, Ala.
Maybe the school bus was the best fit all along. In a way, the whole idea brings to mind The Magic School Bus, an educational cartoon from the mid-1990s in which the characters rode on an ordinary bus that could instantly transform into a plane, submarine—or a spaceship.
But who needs magic when you have science?