[I highly recommend watching the 24 second viral video available in this short Huffington Post story. For more internet reactions see coverage in NDTV. And for more items like this, please join us in the (free and public) ISPR Presence Community Facebook group. –Matthew]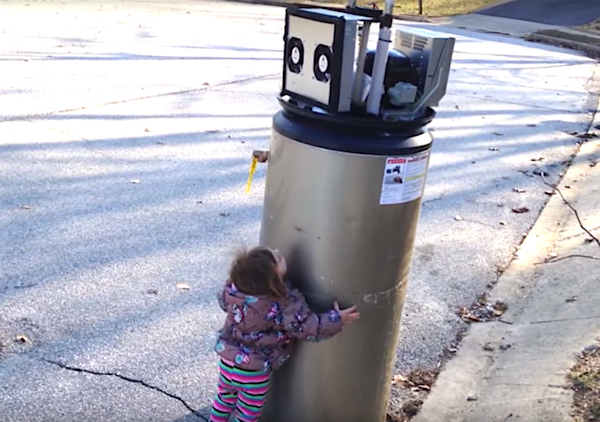 Young Girl Mistakes Water Heater For A Robot And It's Adorable
"I wuv you wobot."
By David Moye
March 27, 2017
It's an age-old story: Girl meets water heater, thinks it's a robot and falls in love.
Actually, it's not that age-old ― it's the basic plot of a YouTube video called, "Rayna meets a 'robot'" that is surely going viral as you read this.
In the video, a toddler sees a discarded water heater on the street, and gives it a friendly, "Hi wobot!"
You can see how she might get that idea. A panel on the top does kind of look like eyes, and the tank is about the right size for a girl to try to hug.
Rayna repeatedly says, "Hi wobot!" but ― spoiler alert ― the robot doesn't respond (maybe, it's shy).
She doesn't let the water heater's personality stop her from making friends. No, she walks up, gives it a hug and says, "I wuv you wobot!" twice.
Darn, it sure got dusty in here.