[IMAX has begun to implement its plans to speed the mainstreaming of VR; the two articles below detail the company's plans and report on the new IMAX VR Experience Center in Los Angeles. –Matthew]
[From the Los Angeles Times]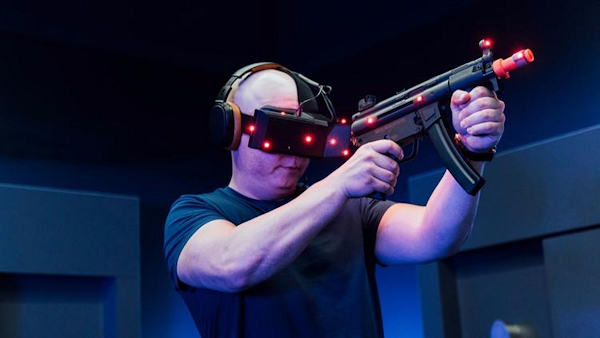 [Image: A guest plays a virtual reality game based on Lionsgate's "John Wick" at the Imax VR Experience Centre in Los Angeles (Imax Corp.)]
Virtual reality industry 'in need of a jump-start,' Imax CEO says at new VR center
Ryan Faughnder
February 15, 2017
Richard Gelfond, chief executive of big-screen company Imax Corp., unveiled his new virtual reality center Tuesday with a bullish plan to turn the nascent VR industry into a mainstream art form just like movies and video games.
It won't be easy. The VR business, Gelfond said, remains stuck in its early stages for now and badly needs a "jump-start."
Though Hollywood and Silicon Valley have been touting virtual reality as the next big thing for several years, there are huge hurdles to its adoption in the entertainment industry. A major one is that the headsets and computing equipment the games require can cost thousands of dollars. Another problem: There aren't enough compelling games to make VR worth the price.
"Whether it's the lack of content or consumer access to headsets, the industry has been in a holding pattern, slow to go mainstream," Gelfond told reporters at Imax's VR Experience Centre in Los Angeles. "It's a complex ecosystem that's in need of a jump-start, and we're here to start to provide the spark."
Gelfond and Imax are hoping to help fix those problems by making big bets on VR. The company plans to open six pilot centers this year, including the Los Angeles location, which opened to the public last month.
The idea is to give people a place to play around with virtual reality games without having to pay that massive upfront cost of a full-on at-home setup. Customers pay $7 to $10 for a virtual reality "experience," including games based on movies such as Lionsgate's "John Wick" and TriStar's "The Walk," which allows daring customers to step on the virtual tightrope between the Twin Towers just like Joseph Gordon-Levitt in the Robert Zemeckis film.
"While VR may not be entirely ready for prime time at this moment, we're excited about the opportunity," Gelfond said. "Someone needs to shake things up."
Imax has made deals to build pilot centers in multiplexes with AMC Theatres and Regal Entertainment Group to test whether such attractions will help bring young people back to movie theaters. Each center costs Imax $250,000 to $400,000 to create, not counting real estate spending, Gelfond said. Imax has additional centers planned for Britain and China and is eyeing projects in Japan, the Middle East and Western Europe.
Imax has also made moves to fix the industry's content shortage. The company recently started a fund with companies including Acer and CAA to finance new games for virtual reality headsets, totaling $50 million. In addition, Imax is working with Google to develop a new cinema-quality virtual reality camera.  Hollywood has shown a lot of interest in virtual reality, but not for full-length movies made for headsets. Virtual reality experiences are meant to last up to 15 minutes at the Imax center.
The company on Tuesday announced deals with David Ellison's production company Skydance Media and game publishing giant Ubisoft to provide content to the new centers. Skydance's upcoming games include a science-fiction first-person shooter called "Archangel" and "Life VR," an experience tied to the company's upcoming space station thriller "Life." Similar to the movie industry, Imax will share ticketing revenue with the gaming studios.
While the games will be available for at-home headsets, Ellison said locations such as the Imax centers are necessary to get the industry off the ground, much like arcades were in the early days of the video gaming industry.
"The place most people are going to experience VR for the first time is going to be in places like Imax," Ellison told The Times. "We very much want to be a first-mover and we hope to establish a brand with what we're doing here."
The flagship Imax VR Centre, located across the street from the Grove shopping center, opened with a soft launch Jan. 6. Gelfond said it has so far attracted 5,000 customers, and sales have steadily grown. But, he admits, the company's involvement with VR is still in very experimental stages.
"These pilots are really going to be the testing ground," Gelfond told The Times. "I look at this as a very flexible platform that is intended to be Imax's flag in the ground and will evolve as we go along."
—–
[The second story is from All About Circuits; the original version includes many images and a 0:36 minute video.]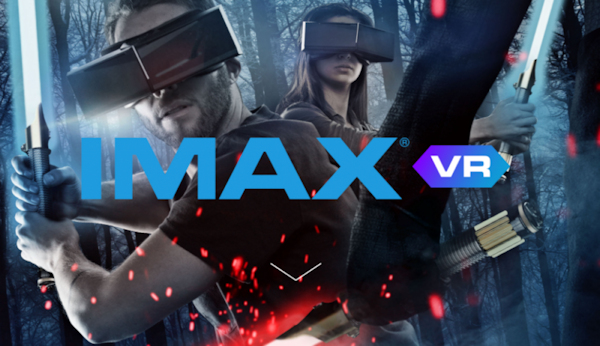 [Image: Source: InPark Magazine]
IMAX VR Centre Shows Off VR Hardware, Brings Virtual Reality to the Public
February 15, 2017 by Mark Hughes
Virtual reality experiences seek to immerse users in a virtual world through the use of video, audio, and haptic input. One of our AllAboutCircuit writers visited IMAX VR Centre with an eye on the technology and user experience.
Virtual Reality, Coming to a Location Near You
Virtual Reality's (VR) goal is to immerse a user in a virtual world by providing artificial sight, sound, and haptic inputs. Unfortunately, the high cost of the complete systems effectively denies most consumers the opportunity to experience the technology. IMAX used existing technology and content from HTC, Valve, StarVR, and Starbreeze Studios to provide individuals and groups 15-minute Virtual Reality gaming experience to consumers for $10.
The flagship location is at 157 South Fairfax, Los Angeles, CA 90036.
AllAboutCircuits got early access on 02/13/2017. The rest of the media will be shown the technology on 02/14/2017 and grand opening will follow in the next several weeks.
The Space
The IMAX VR Centre is a large flat warehouse space that separates an entry and waiting area from the gamespace. Players must digitally sign an indemnity waiver before they are allowed into the VR area. Tickets can be reserved online or in person, and most games are designed for individual players. Multiplayer games must be played while seated to avoid real-world collisions.
This game arena has fourteen pods that use HTC Vive technology and Valve games, and two pods that use StarVR technology and Starbreeze Studio games.
HTC Vive
Inside the HTC Vive headset are two lenses that focus a player's vision onto a single screen with two slightly offset images. The greater the offset, the closer the object appears to be. This design makes the headset light, but the small screen translates into a limited field of view.
Additional hardware includes headphones, a haptic feedback vest, and a controller. The entire system is wired to the helmet and strung from the ceiling to limit tangling. Player and handset positions are tracked on the devices the player wears by means of lasers and photosensors.
Two boxes at the corner of the room emit infrared light flashes and alternating infrared line-laser sweeps. Photosensors on the device deduce their position in the room by first detecting a flash of infrared light and then recording the time it takes for the vertical and horizontal sweeps to hit the sensor. This allows each photosensor to determine their vertical and horizontal distance from each Lighthouse unit, and also allows software to create a three-dimensional map of the objects.
StarVR
StarVR has a headset that houses two screens—one for each eye. This provides users with an expanded field of view and a more optically immersive experience. Additionally, StarVR chose to include haptic feedback inside the headphones rather than use a vest like HTC. Currently, at the IMAX Centre, StarVR's only accessory available is a gun for use in games. Like the HTC Vive, there is a wire harness that hangs from the ceiling above.
This technology appears to function through single or multi-camera tracking of reference LEDs on the user's headset and accessories.
Writer's Experience
I found the staff to be exceptionally helpful throughout the entire visit. It is possible that it is as much fun watching others experience virtual reality as it is to experience it and IMAX seems to have realized this by providing viewing areas for friends and family.
While the visual display is not perfect, I found the experience fun and immersive. I chose a game that immersed me in the Star Wars universe, fixing the Millenium Falcon and fighting stormtroopers with a lightsaber. Near the end of the game, I had unknowingly moved into a corner of the pod and was landing decisive and convincing blows with my "lightsaber" controller—only to find out later that the very convincing "realism" that had been imparted by the controller was caused by me hitting the pod's wall fiercely and frequently with my controller—for which I apologized to the IMAX staff profusely.
The haptic feedback vest was used to augment the sound system to provide the feeling of earth-shaking vibrations from the Millenium Falcon. It was further used throughout the game to provide negative feedback during blaster hits.
Conversations with the staff showed a strong preference for the StarVR headsets with the expanded field of view. The limited number of games and lack of accessories are its primary drawbacks—a problem that will be solved over time.
The HTC Vive system has a wide variety of games available and a thoroughly pleasant experience. The screen will have to increase in size and provide a higher resolution to increase its performance.
Check out [the] video [in the original story] to see me playing the Star Wars game (regrettably, we didn't catch the epic fight with the wall on film).
Conclusion
While this is still an emerging technology, the electrical engineering that went into the design and implementation of both of these systems is truly remarkable. A "holodeck"-like experience is not the goal of these systems. Rather, they are designed to allow a player to suspend disbelief and enter a virtual world that allows them to walk, run, hit, shoot, and believe to a large extent that they are inside the world.
You can join in the fun by designing games and real-life systems that use the Lighthouse tracking technology by going to SteamGames and signing up as a developer. StarVR technology does not appear to be available at the consumer or developer level yet.