[Aside from the important role of (spatial) presence in this story from USA Today (which includes a 3:04 minute video news report), note the solicitor general's comment that jury members develop their knowledge and expectations about real-life law and order from their mediated entertainment experiences. –Matthew]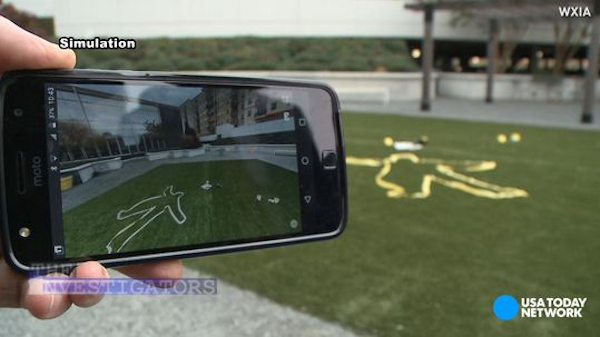 Virtual reality could take jurors inside crimes
Rebecca Lindstrom, WXIA-TV, Atlanta
December 29, 2016
ATLANTA — A Georgia company wants to use body cameras to help jurors experience a crime scene for themselves.
Utility Associates, of Decatur, Ga., is a software company that helps public safety, utilities and transit enterprises stay connected.
Simon Araya, Utility's vice president of technology, said the Smart Scene 360 allows police officers to capture a crime scene or evidence within minutes. It would be used with the company's BodyWorn police body camera.
The program, loaded onto the officer's phone, guides them as they take a series of photos that will be stitched into a virtual image. With the help of special glasses, the picture becomes an immersive experience where the viewer can look up, down, behind them and side to side.
"If you wanted to see where things were in relation to other things, this is a good way of looking at it," said Araya.
While the immediate benefit could be for investigators trying to review evidence or vet a witness statement weeks after the crime scene is gone, Araya believes someday the images will be used in court to give jurors better perspective on what happened.
"There's going to come a day when it's a necessity to have these types of things in evidence," said Barry Morgan, Cobb County solicitor general.
Morgan said jurors are often surprised that courts are still so low tech — especially when they see devices of the future on store shelves now.  Virtual reality headsets for games and movies are already in demand.
"Jurors do come in expecting that a murder case is going to be tried in 56 minutes, with DNA and everything else that was investigated a week and a half ago," he said. "Because that's how it's portrayed on television."
If the technology had been in place for the Justin Ross Harris murder trial, jurors could have sat in the SUV where his 22-month-old son Cooper died.
During Harris' trial, jurors were allowed to walk around the car. Psychotherapist Joyce Morley said jurors already imagined what Harris knew about his actions the day his son died. But this technology could have actually shown them his view of the child left strapped in the car seat.
"Seeing the way the car seat was set up, looking at how close it was — 3 inches from his seat — and beginning to imagine this child must have struggled," said Morley. "What did he go through?"
The images may be too graphic or immersive for some, but that real world context may be just what some juries need.
"You have to be very sensitive, recognizing there are some people who might not have the stomach for it," Morley said.
There also is the possibility attorneys may question the accuracy of the image before allowing it to be admitted as evidence in court.
The Georgia Bureau of Investigation already uses a scanner to capture a 3D computer image of many crime scenes it investigates. It takes more than an hour to record, but it's so accurate, they can put in the height of a suspect or witness to see the crime scene from their view.  The images have been presented to several grand juries, but have yet to be used in court.
Araya said the benefit of Smart Scene 360 is that a scene can be documented in a matter of minutes with gear the officer already has on him, allowing incidents such as traffic accidents to be captured easily.
Araya said the virtual view is uploaded to secure cloud storage the same way the video from the officer's body camera is and can't be altered or deleted.
"I think this is just the beginning," Araya said.