[Technology that connects strangers using social presence has the potential to widen horizons and enrich lives; this story is from the Austin American Statesman, where it includes more images and two videos. See also a 2015 ISPR Presence News post about the use of this technology by the UN. –Matthew]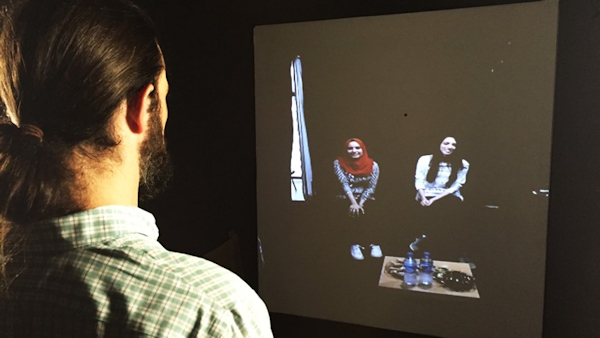 [Image: A virtual portal housed inside a shipping container allows visitors at St. Edward's University to communicating by videoconference with people all over the world. In this photo, Tony Chavez (left), who works at the university and was on the committee for the project with Shared Studios, speaks to Mona Safadi (center) and Amira Alami (right), students who attend college in Gaza.]
Golden shipping container at St. Edward's University is a videoconferencing portal to the world
The installation allows visitors to communicate with people in far-flung cities through November.
Posted October 19th, 2016
Omar L. Gallaga, American-Statesman Staff
My two new college-aged friends — at least I think we're friends, we just met — love to hang out with their friends, shop and hit the beach when it's not too crowded. One of them loves horror movies, the other is really into action films. They've both gearing up for exams coming up in their studies of English and French literature.
The only thing unusual about these students, really, is that they live in Gaza. I met them inside a golden shipping container parked on the St. Edward's University campus in Austin and our 20-minute introductory chat was via videoconference.
While Skype, Facebook Messenger, Apple's FaceTime, Snapchat and many other apps allow this kind of thing via any online mobile device, this experience was a little different.
For one thing, the gold-painted shipping container has been dubbed a "Portal" by Shared Studios, the art and technology team behind it that began out of New York. The shipping containers are in about 16 cities around the world and provide a life-sized videoconferencing experience. The people you communicate with are projected onto a large screen to approximate as closely as possible sharing the same space in real time. It takes a few moments and depending on the internet connection on both sides, audio or video can get a little glitchy, but the effect becomes compelling; you're chatting with people, asking questions, laughing and responding to the visual cues of someone else's body language as if they're on the other side of the same room.
This was certainly the case on a Tuesday morning when I met two sets of students living in Gaza that included Mona Safadi (the horror film fan) and Amira Alami (who admires American action movies).
Amira was taken aback and found humor in the idea that Americans might perceive Gaza to be a violent, scary place. "We live our lives, we go to college, we study, we go shopping sometimes," she said. "You hear that we live in a war all the time?"
The two are familiar with Beyoncé and Taylor Swift, but as far as music, they're bigger fans of Amr Diab, a popular pop singer from Egypt.
They've traveled to Turkey, Tunisia and Morocco, but they're intrigued by Texas based on just a few minutes of video chatting. "We would like to go to Austin!" Mona said, upon hearing about our town's music scene and festivals.
The Shared Studio project began as a single art installation linking New York with Tehran in late 2014. It has since expanded to include American universities and far-flung places including El Progreso, Honduras; Kabul, Afghanistan; Mexico City; and Kigali, Rwanda, facilitating tens of thousands of video chats.
Ben Carneiro, an Austinite working for Shared Studios as a local portal curator, said linking Austin to the world has been "delightful."
"It's been really nice to be able to connect people who have similar interests throughout the world," he said. "We've had photographers in Rwanda talk to photographers here, musicians in Mexico City's arts district perform for musicians in Austin."
Carneiro said, "The most challenging part of the job is you can't really control what happens in the Gaza Strip. Sometimes it's like rainy season in Rwanda and the power is cutting out."
The shipping containers are equipped with a keyboard, speakers, microphone, internet equipment, a room-sized screen and projector and video-chat software. "But the technology is really the least of it," Carneiro said. "The neat thing that Shared Studios did is this experience: You walk into a container and you're in a different world."
The Austin container is parked in front of Andre Hall on campus. Though it's open to anyone who wants to walk up and try it or sign up for a 20-minute chat online via the Shared Studios website, it offers a particular opportunity for students, said Tony Chavez, who works at St. Edward's University and who was on the committee for the portal project.
"It can expose students to different kinds of cultures," Chavez said. "We're learning how to share this experience with the university and connecting artists here."
The portal arrived in August and its stay has been extended; it should be in Austin until early to mid-November. It's available for use 8:30 a.m. to 9:30 a.m. and noon to 2 p.m. Mondays through Fridays and on weekend dates announced through St. Edward's University social media channels.
The portal might not only break misconceptions about places in Africa, South America and the Middle East, but it could also set the record straight about what it's like to live in Texas.
"Do you all have farms?" asks Yasmeen Gehad, another student from Gaza. "I've only heard of cowboys from Texas."