[This fascinating interview with photographer June Korea explores the current and possible future roles of life-sized dolls and the medium-as-social-actor presence responses they evoke. The original story in Highsnobiety includes many images. –Matthew]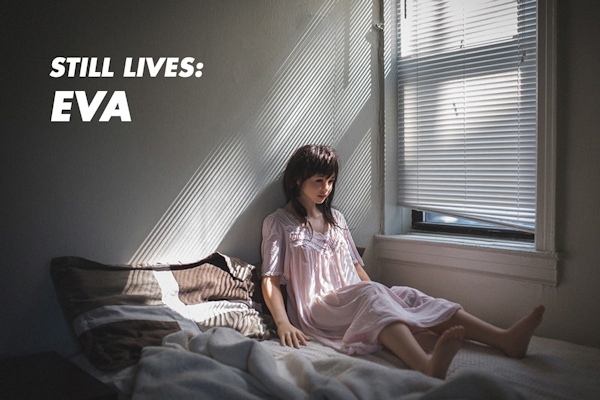 Meet the New York-Based Artist Living With a Sex Doll
By Maddie Holden
July 27, 2016
We get a lot of strange emails here at Highsnobiety: newly formed brands and aspiring artists often reach out in the hopes of being featured, and plenty of these emails are attention-grabbing and unusual. However, South Korean-born and NYC-based artist June Korea stood out more than most.
His new work, Still Lives: Eva, is a staged documentary of a man's life living with a sex doll and the images are certainly eye-catching. We wanted to dig deeper about what motivates an artist to explore this kind of subject matter, and, of course, we had the same question most people have: "Is this guy for real?"
We spoke with Korea about what motivated this project, what he thinks about sex dolls and his relationship with his own doll, Eva.
What is your artistic background?
My educational background began with a Bachelor of Science in Industrial Engineering when I was in South Korea. After I moved to United States in 2009, I received my B.F.A. in Photography and Imaging from Art Center College of Design in California, and extended my field of study at the School of Visual Arts in New York for my M.F.A. in Photography, Video and Related Media.
This isn't the first time you've used dolls as subject matter. Can you explain your fascination with shooting dolls in more detail?
The project began a few weeks after my last relationship ended up in 2014, during my M.F.A. thesis year. It was heartbreaking. All of the most sincere pieces I've made came from a time when I was struggling emotionally, rather than when I was stable.
Still Lives: Eva is a staged documentary of a man's life living with a sex doll. I began photographing dolls in 2001 to see their secret lives, as I did in my childhood. After a few years of inviting them into a photographic world that I'd staged, I started asking myself, "Why do I really photograph dolls?"
For me, it was loneliness. I have an active social life, but I find myself home alone when I wake up in my bed. I always face emptiness when I come home from work or parties. I feel lonely in the crowd, and people, moments and memories I wanted to last forever have left, died or disappeared, and I know the rest of them will do the same. So I became interested in photographing dolls, because human-like but inanimate objects are not going anywhere.
Did you purchase the doll solely to shoot the series, or did you buy it independently?
After I decided to embark on the project, I researched life-size dolls to find one that most closely resembled a human. A month later, I received a giant box from a sweating FedEx deliveryman. I sat down in front of the box with a box cutter, my hands trembling slightly as the cutter went along the taped line. It was Monday afternoon, December 29, 2014, the very first day I met her.
"Eva" is a name that combines two words, "forever" and "Eve"—the first woman, according to the creation myths of the Abrahamic religions. Eva and I have an uncanny relationship that began the day she came of out a box. We sleep and wake up together. We go shopping, dining, driving and even travel together just like ordinary people do. We laugh and cry, we feel happy and lonely.
What's your relationship with Eva in particular, and what does she mean to you?
Many people ask if I have the same relationship with Eva as I appear to in my photographs. My intent is not to show my real life relationships: I am a creator, and this is a constructed fantasy that she and I built together. She does not have a real life in the real world where I live—I am waiting for Google to implant AlphaGo into her. So I created an imagined world through photography, and, in a sense, gave birth to her.
Viewers are interested in the project and my life because I am dealing with an uncanny subject matter that they have rarely seen. However, Eva and I are metaphors: metaphors for our emotions and our relationships with humans, cats, dogs, A.I's and ordinary people living in this lonely world.
I hope my viewers find deeper meanings hidden beneath the metaphors, rather than just focusing on the subjects themselves.
You're waiting for Google to implant AlphaGo into her? What do you mean?
Well, that is a kind of joke – maybe 50% seriousness – I often make when I explain about the future of this project. AlphaGo is an A.I. program developed by Google DeepMind. The A.I. recently beat Sedol Lee –  who is a South Korean professional Go player – in a five-game Go match. DeepMind plans other matches with other players in human games such as Go or StarCraft.
Then what is their ultimate goal?
I believe that is going to be implanting the A.I. into human-like but non-human beings. Then this type of sex doll might be the answer. Tech evolves like we never expected. It might happen in 10 years, or take five years for us to see some progress. I strongly believe art has to be ready for the new generation and new types of relationships, and to deal with new subjects related to our emotions, morals and lives.
What inspires your work, and are there other photographers you try to emulate?
Rather than tangible references or influences, the main influences for me are emotions I experience through daily life, relationships or environments.
I am converting those intangible influences into my own visual elements, metaphors and narratives. My photographs are sponges that absorb what I feel, and mirrors that reflect who I am.
What role do you think living dolls play in modern society? Do you see any downsides to them?
Since I started this project, I have been researching the sex doll industry, and also about the people living with the dolls. The market and population are growing bigger and bigger worldwide. Interestingly, people buy the dolls not only just for a sexual purpose, but also for their actual companionship, giving new identity. The dolls make them comfortable and consoled, becoming more real to them as their own story goes by.
This kind of phenomenon might be awkward to you, just like your first impression of my images. You might think they (and me) are freaks, perverts or mentally disordered. However, they are not broken, but just lonely people around us – sometimes including us. Sometimes they desire company but may be too heartbroken or antisocial to maintain relationships with actual human beings. The dolls might be to them like pets are to other people.
I do question myself, though: "What if I create an artificial eternity? What if I give a doll a new birth with a new identity? What if I make the one stay with me forever in the fantasy world I construct?"
What kind of response do you get when you shoot in public?
Shooting in public is always challenging, not only because of the big set, but also the huge crowds. People in public see my crew shooting a human couple, Eva and myself, from a distance, but when they get closer, yes, they freak out and start asking a bunch of questions and Instagramming the set. I give them my postcards as a souvenir.
—
Find out more: http://www.junekorea.com/