[According to this CNBC story (which includes a 1:47 minute video), presence experiences are likely coming to air travel; I'm not sure about using VR to "transport passengers into business class seats" though (!). –Matthew]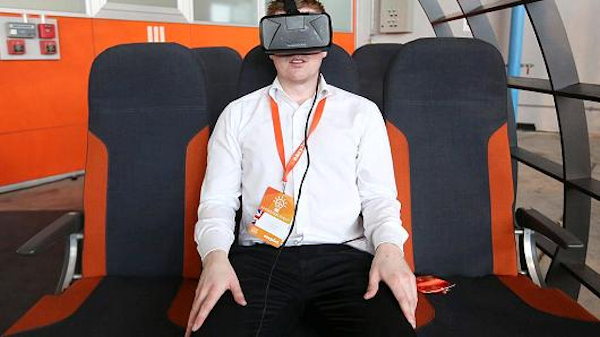 [Image: A member of the Easyjet staff tries out the Oculus virtual reality headset, used to train Easyjet cabin crew, during a demonstration at the 'Easyjet Plc Innovation Event' held at Milan's Malpensa airport in Milan, Italy, on Thursday, June 4, 2015. Chris Ratcliffe | Bloomberg | Getty Images.]
Virtual reality and Netflix: The future of in-flight entertainment is coming
Arjun Kharpal
13 July 2016
Virtual reality and streaming content from sites like Netflix is the future of in-flight entertainment, replacing tiny screens in the back of chairs that often have low quality movies, the aerospace industry's biggest players told CNBC.
Companies had set up virtual reality stations around their stands at the Farnborough Airshow highlighting what the inside of their jets look like and how it feels to fly in one of their planes.
While these are mainly for airlines to experience what a manufacturer's plane is like, aircraft makers are predicting virtual reality technology will be incorporated within cabins soon.
"The consumer market is taking off and people who are keen on this tech expect people like Airbus as industry leaders to be aware of this, and I do foresee in the near future an opportunity for our customers to potentially have this in their cabin," Andy Anderson, deputy chief technology officer at Airbus, told CNBC in an interview earlier this week.
"For a passenger inside the plane, imagine being able to put on the headset and project a whole world across the roof of the cabin and allow them to fly underneath the stars, or allow them to see a movie, it's a new platform for innovation."
Anderson also said that VR can be used to help people who suffer from claustrophobia on planes for example, by projecting people into an open space.
The technology has already been tested by one airline. Last year, Australian airline Qantas trialed providing VR headsets to its first class passengers on select routes. New movies were shown as well as Qantas products for passengers to look at.
Virtual reality is taking off with a number of electronics makers from Samsung to HTC all releasing headsets recently. Total shipment of virtual reality hardware is expected to reach 64.8 million units in 2020, up from 9.6 million this year, according to IDC. Sales of VR hardware are expected to generate $2.3 billion of revenues in 2016.
Some companies are already working on plane-specific applications for VR. A virtual reality production start-up called Trillenium has been working on a project that could make "windowless planes" a reality. The company is working on using a stream from the cameras on the outside of an aircraft, then stitching it together into a VR experience that a passenger could view through a headset. It could also transport passengers into business class seats for example and be used to generate revenues for airlines.
"It will encourage and stimulate first class and business class upgrades prior to travel, while an on-board virtual first class will allow economy passengers to taste the first class menu, explore a wine list, and IFE (in-flight entertainment) in return for a paid premium usage of the VR headset wherever they are seated," Hrvoje Prpic, chief executive of Trillenium, wrote in a LinkedIn post earlier this year.
Bring your own device
Airlines providing hardware is just one route that could transform in-flight entertainment. But the future could also be in increased connectivity within aircraft, given how much people are doing on their smartphones today. Airlines and plane makers are focusing on creating the infrastructure to allow internet on-board an aircraft. This is a big trend, one which could mean people are able to stream content.
"I think what is changing and changing dramatically is entertainment on the aircraft. You remember flying around on airplanes that have little screens that you can barely see, to now everybody has devices that they can bring on, as long as they can connect their device, then they're off and running and I think that's really going to be a dramatic change," Keith Leverkuhn, vice president and general manager of Boeing's 737 Max project, told CNBC on Tuesday.
"That's not ten years from now, that's today and that is something we are making sure the airplane is equipped with."