[Designing presence experiences for older people, as with any demographic, has both challenges and potential benefits. This story is from the Wall Street Journal's Experts blog; the image comes from a November 11, 2015 press release via Hypergrid Business about the Honor 360 program, which brings "National Memorials to those aging and disabled military veterans who cannot make the trip." –Matthew]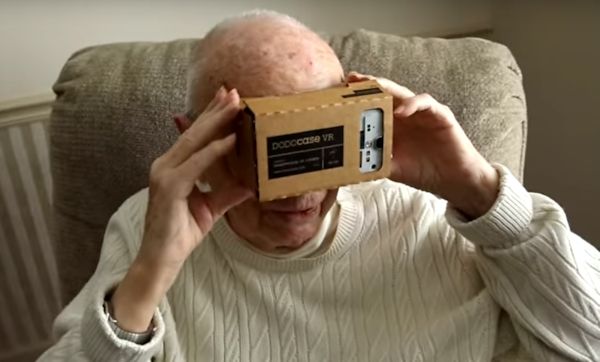 [Image: Veteran with Google Cardboard headset (Image courtesy Veterans United Foundation)]
How Virtual Reality Can Enhance the Life of Older Adults
By Marc Agronin
Mar 21, 2016
Marc E. Agronin is a geriatric psychiatrist at Miami Jewish Health Systems and the author of "How We Age" and the newly released "The Dementia Caregiver: A Guide to Caring for Someone with Alzheimer's Disease and Other Neurocognitive Disorders."
My three teenage boys recently attempted what might seem a cruel experiment, teaching their 75-year-old grandmother to play one of their videogames. They sat her down in front of the wide-screen, high-definition TV, wrapped her hands around the multibuttoned control, gave her a quick lesson on how to walk, jump, duck and shoot several high-powered weapons with a few flicks and twists of her fingers, and then set her off into a virtual world of mayhem.
The experiment didn't last long.
My mother could not comprehend the point of all of the shooting, leaping and thievery inherent to the game, nor could she contort her hands quickly enough to survive more than a few seconds in the brutal urban wasteland. My oldest son remained sanguine at the sight of his battle-shocked grandma. "Don't worry, Meema," he advised, "just wait until we have true virtual-reality headsets to use. Then you'll get the hang of it."
I don't think so. Smaller, cheaper and more awesome headsets in development will no doubt flood the market in coming years, but seniors will have no use for them if gaming is the main purpose. But more useful applications will be those that integrate virtual digital images and sounds with everyday life, allowing the wearer to interact with their environment in novel ways–such as seen with the augmented reality of Google Glass.
For seniors, one can imagine several exciting possibilities:
–Sensory enhancement via augmented and cued auditory and visual sensations to compensate for hearing impairment, macular degeneration and other common age-related maladies. For example, imagine being able to light up the road and add digital warning signals and verbal advisories to a headset or a windshield display used by an older driver at night.
–Cognitive enhancement via visual and auditory cues, symbols and reminders. For example, facial-recognition software can remind someone who they are meeting. Household items can be inventoried and tracked, and then a headset or other device can guide someone to them when a verbal request is made.
–Brain training via regularly cued lessons. Imagine brain games that boost both cognition and function by integrating them into real-world activities. For example, a person could take a stroll through the neighborhood following a virtual ball or other image to exercise muscles while simultaneously shaping visuospatial abilities.
–Musculoskeletal and neuromotor enhancement. Programs could tailor gesture control to help someone with arthritis or Parkinson's disease interact more easily with their environment, while also serving to improve movement, strength and dexterity.
The possibilities are endless for such practical applications, but there are several key considerations when designing and programming for the senior crowd. Headsets must account for age-related changes in visual acuity and hearing loss, and integrate with existing glasses or hearing aides. Non-headset forms of interface such as wearables on arms or wrists or other projection devices could also deliver meaningful images and sounds without obstructing and burdening one's head and neck. The technology must also consider design conventions that are familiar to older users, such as the haptic and auditory feedback of buttons, knobs and switches.
While the goal for young gamers is to escape into a virtual world, the goal for most seniors is to make the existing world more accessible–to bring services to them that might otherwise be missed. These services have to be seamlessly integrated into daily life without being too distracting, dizzying or excessively complex to access and manage. They must also provide what Altitude's CEO Dan Ostrower has described as the "richness, emotional relevance and real experiences" of the analog world–a synthesis he labels Integral Reality.
Anything less, even with the most eye-popping headset experience, will likely fail if not tailored correctly.