[An inexpensive and increasingly common presence technology helps save a life; the story is from the Miami Herald, where it features a 4:02 video and several more images. –Matthew]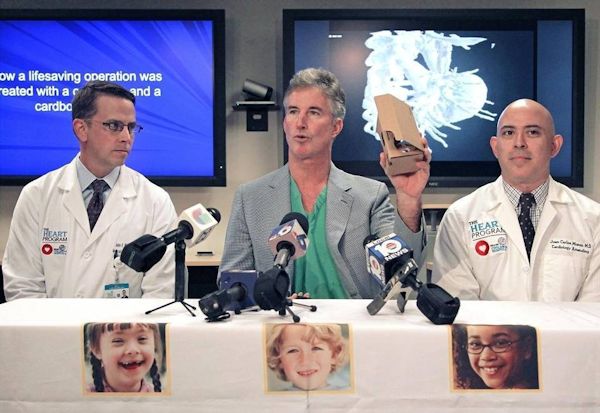 [Image: Dr. John F. Rhodes, left, looks towards Dr. Redmond P. Burke, center, as he holds the Google Cardboard virtual reality device and explains its use in the cutting-edge medical procedure with Dr. Juan Cuarlos Muniz, right. On Tuesday, December 22, 2015 doctors at Nicklaus Children Hospital and the Lexcen family held a press conference on life-saving heart surgery performed on Teegan Lexcen at Nicklaus using a new procedure, virtual reality imaging, pioneered at the Miami hospital. CARL JUSTE Miami Herald Staff]
A virtual miracle in Miami for Minnesota couple's 'inoperable' infant
December 21, 2015
By Howard Cohen
Teegan Lexcen, deemed inoperable after her birth in Minnesota, sleeps in a small crib festooned with Christmas blankets in an ICU room at Nicklaus Children's Hospital. Santa's toy factory couldn't be a happier place.
The 4-month-old is ready for her first Christmas with her family in Miami after a seven-hour open-heart operation at Nicklaus. She's on the mend, doctors say, because of a small cardboard box and a smartphone.
Virtual reality imaging, using an iPhone tucked inside a Google Cardboard device, which looks like the box a Baby Boomer's childhood View-Master came in, was used for the first time to plan Teegan's complex pediatric procedure on Dec. 10. The Google Cardboard turns a smartphone into a low-cost stereoscopic virtual reality viewer that doctors can use to convert a two-dimensional CT scan into a three-dimensional model of a tiny heart. The image is uploaded and used in the operating room for the clearest view in which to make delicate repairs.
Teegan, one of the twins born Aug. 20 to Cassidy and Chad Lexcen of Minnesota, was born with only one lung and a critically deformed heart. The left side of her heart was severely underdeveloped, there was blockage of the main conduit of blood from the heart, no left pulmonary artery and other daunting problems. Since she had no left lung, her heart displaced into her left chest cavity.
Doctors in Minnesota deemed the newborn inoperable — "a word we hate here," said Dr. Redmond Burke, Nicklaus' director of cardiovascular surgery — and sent her home with her healthy identical twin sister, Riley. The Lexcens were told to make their baby as comfortable as possible and prepare to let her go.
"The family was given the worst prognosis you can imagine," Burke said at a news conference Tuesday morning at Nicklaus, 3100 SW 62nd Ave.
Chad and Cassidy Lexcen took to the Web until they found a team at Nicklaus who felt they had the means to attempt surgery.
Yet, even the Nicklaus doctors were divided, Burke said. Dr. Juan Carlos Muniz, Nicklaus' director of cardiac MRI, had been studying three-dimensional technology. "I went to Dr. Muniz and asked him what imaging technology we could use, and we came up with a repair that had never been done before," said Burke, who performed the surgery. "There are certainly more expensive technologies you could use to look at virtual imaging, but I thought this was really elegant because it's essentially a cardboard box."
After four days, Teegan rallied. "This cute little baby inspired all of us because she's the chunky, happy baby we want her to be," Burke said. "You won't find two parents who fight harder for their kids and for their family."
Cassidy Lexcen, a mom of four, including daughter Harper, 6, and son Asher, 3, cradles Teegan's twin, Riley.
"This is a big day for us," she said. "You don't imagine having to spend your first Christmas away from home like we are doing in a hospital setting. But for our first Christmas with the twins, what better gift could we have other than having the gift of life for our baby girl again?"